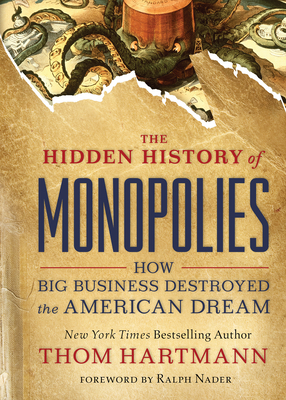 The Hidden History of Monopolies
How Big Business Destroyed the American Dream (The Thom Hartmann Hidden History Series #4)
Paperback

* Individual store prices may vary.
Other Editions of This Title:
Digital Audiobook (8/24/2020)
Paperback (9/9/2020)
Description
"This is the most important, dynamic book on the cancers of monopoly by giant corporations written in our generation."--from the foreword by Ralph Nader

American monopolies dominate, control, and consume most of the energy of our entire economic system; they function the same as cancer does in a body, and, like cancer, they weaken our systems while threatening to crash the entire body economic. American monopolies have also seized massive political power and use it to maintain their obscene profits and CEO salaries while crushing small competitors.

But Thom Hartmann, America's #1 progressive radio host, shows we've broken the control of behemoths like these before, and we can do it again.

Hartmann takes us from the birth of America as a revolt against monopoly (remember the Boston Tea Party?), to the largely successful efforts of both Presidents Theodore and Franklin Roosevelt and other like-minded leaders to restrain corporations' monopolistic urges, to the massive changes in the rules of business starting during the "Reagan Revolution" that have brought us to the cancer stage of capitalism.

He shows the damage monopolies have done to so many industries: agriculture, healthcare, the media, and more. Individuals have taken a hit as well: the average American family pays a $5,000 a year "monopoly tax" in the form of higher prices for everything from pharmaceuticals to airfare to household goods and food. But Hartmann also describes commonsense, historically rooted measures we can take--such as revitalizing antitrust regulation, taxing great wealth, and getting money out of politics--to pry control of our country from the tentacles of the monopolists.
Praise For The Hidden History of Monopolies: How Big Business Destroyed the American Dream (The Thom Hartmann Hidden History Series #4)…
"What Thom eloquently describes as 'the cancer stage of capitalism' is the disease causing the symptoms of climate change, terrorism, income inequality, political turmoil, and so much more. In this groundbreaking book, he prescribes ways each of us can be part of the immune system that will heal this cancer."
―John Perkins, New York Times bestselling author of The New Confessions of an Economic Hit Man


"Never one to shy away from the truth, Thom Hartmann has written books that are inspiring, wise, and compelling. His work lights the way to a better America."
―Van Jones, CNN political contributor and New York Times bestselling author of Beyond the Messy Truth


"Thom Hartmann seeks out interesting subjects from such disparate outposts of curiosity that you have to wonder whether or not he uncovered them or they selected him."
―Leonardo DiCaprio, actor, producer, and environmental activist
Berrett-Koehler Publishers, 9781523087730, 192pp.
Publication Date: August 25, 2020
About the Author
Thom Hartmann is the four-time winner of the Project Censored Award, New York Times bestselling author of thirty-two books, and America's #1 progressive talk radio show host. His show is syndicated on local for-profit and nonprofit stations and broadcasts nationwide on Sirius XM and worldwide through the US American Forces Network, the Thom Hartmann apps, and YouTube. It is also simulcast on television into nearly 60 million US and Canadian homes by the Free Speech TV network on Dish Network, DirecTV, and cable television nationwide.