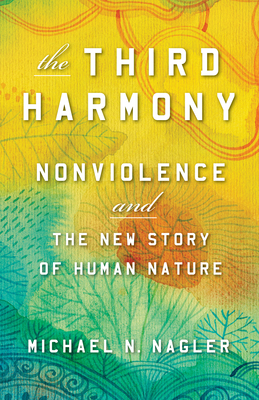 The Third Harmony
Nonviolence and the New Story of Human Nature
Paperback

* Individual store prices may vary.
Other Editions of This Title:
Compact Disc (5/26/2020)
MP3 CD (5/26/2020)
Description
In the latest fruit of a brilliant career, Michael Nagler argues that nonviolence--not just as a tactic but as a way of being--is the only way to unite deeply divided people and enable progressive movements and leaders of all stripes to fulfil their promise and potential.

So many of the problems that beset us--war, poverty, isolation, and the climate crisis--have their roots in an old story about the universe: we are purposeless matter in a random void, and scarcity, competition, and violence are inevitable. Citing the convergence of modern science and the essence of the world's wisdom traditions, Michael Nagler argues for a new story: the universe is conscious and purposeful, humans are spiritual beings, and cooperation and collaboration are our natural way of interacting. This "new story" has had other champions, but Nagler is the first to realize that a piece is missing. For the new story to take hold, we have to embrace nonviolence, not only as a social change tactic but as a way of life.

Nonviolence is the only power strong enough to "move the heart" toward this deep and revolutionary change in worldview. Nagler refers to this as the "third harmony," which is the harmony within and among us to resolve the crisis of the human image. Calling on us to realize the urgency of nonviolence for resolving our personal and collective problems, Nagler focuses on how to shift to our story on a personal, everyday level and then integrate it into the very foundations of our understanding of humanity and community, for our sake, for the sake of future generations, and the sake of nonviolence itself.

Reading group discussion guide available.
Praise For The Third Harmony: Nonviolence and the New Story of Human Nature…
"Professor Nagler is a trusted interpreter of my grandfather's life and message. In this book he reveals the unique importance of Gandhiji's great discovery of nonviolence for our time and brings out its indispensable role in the shift to a sustainable civilization on which our life, and possibly all life on earth, now depends."
—Rajmohan Gandhi, Professor, University of Illinois
 
"Coming from his deep understanding of Gandhian nonviolence, he identifies missing elements in our development of a 'new story,' especially where we fail to focus on our inner being ('third harmony') and find there the precious resource of metta (nonviolence) that the Buddha and all the great teachers tell us lies within. May every lover of life read and be empowered by this passionate and compelling book."
—Joanna Macy, author of Coming Back to Life
 
"A powerful 'new story' rooted in wholeness is being called forth! Michael Nagler's important and groundbreaking new book is an insightful exploration and guide for the social healing and transformational possibilities urgently needed for these times!"
—Belvie Rooks, coauthor of I Give You the Springtime of My Blushing Heart
Berrett-Koehler Publishers, 9781523088157, 224pp.
Publication Date: March 31, 2020
About the Author
Michael Nagler is president and cofounder of the Metta Center for Nonviolence and is one of the most respected scholars and advocates of nonviolence worldwide. He also founded the Peace and Conflict Studies Program at the University of California, Berkeley, where he is a professor emeritus of classics and comparative literature. He is the author of The Nonviolence Handbook, Our Spiritual Crisis, and The Search for a Nonviolent Future, and his writing has appeared in the Wall Street Journal and elsewhere.
or
Not Currently Available for Direct Purchase