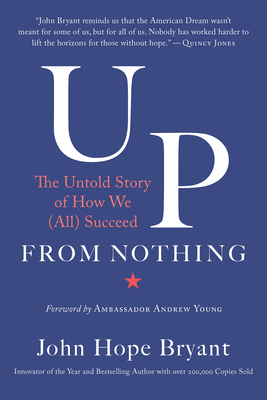 Up from Nothing
The Untold Story of How We (All) Succeed
Hardcover

* Individual store prices may vary.
Description
American opportunity is not dead. Bestselling author and entrepreneur John Hope Bryant outlines the mindset and practices that will allow us to achieve the American Dream, no matter what our current circumstances are.

Facing a challenging economy, too many Americans despair of improving their lives. But John Hope Bryant insists that America is still the Land of Opportunity. Up from Nothing revives the forgotten story of the American Dream. It's about our beginnings as a nation of go-getters who believed they were winners before they won.

Using the inspiring story of his own rise from humble beginnings, and that of his parents and grandparents, Bryant shows how individually we can change our mindset from survivor to thriver to winner and move beyond just getting by or being financially independent to becoming wildly successful. Collectively, we need to become a nation of winners once again.

By ensuring that every stakeholder in America has access to the Five Pillars of Success--massive education, financial literacy, strong family structure, self-esteem, and supportive role models--Bryant shows how we can fulfill the promise of America's greatness. But to do so, we must turn away from distractions--such as political in-fighting or racial and class divisions--and focus on what we can control. This is not a book of tips on how to get a better job or make more money. It's about adopting a new way of thinking that will do all that for us and more. Up from Nothing is the new (old) business plan to keep us winning as a country.
Praise For Up from Nothing: The Untold Story of How We (All) Succeed…
"In this time of change and uncertainty, John Hope Bryant's fundamental optimism and clear vision are necessary and inspiring. He challenges us to renew our commitment to the American Dream and create inclusive opportunity for all Americans. John's voice is essential to our national dialogue on how we build the future."
—Dan Schulman, President and CEO, PayPal

"Up from Nothing explains how to really level the playing field—ensuring everyone can attain the Five Pillars of Success—with critical tools like education, financial literacy, and access to role models. In this book, John Hope Bryant shares how your perspective and passion can help determine your potential in life and demonstrates the power within each of us to influence and control our own reality."
—Roger Goodell, Commissioner, National Football League

"My friend John is the real deal. He came from humble beginnings to become the premier authority on financial literacy. At a time when it's needed the most, John has written an inspiring book that will provide the tools needed to improve this nation's financial health, restore families, and embrace our communities once again. I strongly encourage you to read it."
—Dikembe Mutombo, NBA Hall of Famer and Global Ambassador

"Up from Nothing" is essential reading about a once-in-a-generation reset. The creation of an equitable and sustainable future requires strong communities and shared accountability. This all starts at the local level where neighbors, local businesses, and meaningful connections have the power to create a rising tide that lifts all boats."
—Sarah Friar, OBE, CEO, Nextdoor Inc.
Berrett-Koehler Publishers, 9781523090358, 192pp.
Publication Date: October 6, 2020
About the Author
John Hope Bryant is the founder, chairman, and CEO of Operation HOPE Inc., CEO of Bryant Group Ventures, CEO of Promise Homes Company, and cofounder of Global Dignity. He has been recognized by the last five US presidents and served as an advisor for the last three. Bryant is the recipient of hundreds of awards and citations for his work, including being named as one of the Atlanta Business Chronicle's Most Admired CEOs for 2018, American Banker's 2016 Innovator of the Year, Inc.'s the World's 10 Top CEOs (honorable mention), and Time's 50 for the Future. He is the author of three bestselling books, The Memo, How the Poor Can Save Capitalism, and Love Leadership.