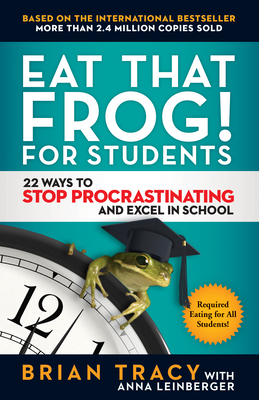 Eat That Frog! for Students
22 Ways to Stop Procrastinating and Excel in School
Paperback

* Individual store prices may vary.
Description
Adapted from Brian Tracy's international time-management bestseller, Eat That Frog!, this book will give today's stressed-out and overwhelmed students the tools for lifelong success.

Like adults, students of all ages struggle with how to manage their time. Encountering the necessity of time management for the first time, high schoolers juggle classes, extracurricular activities (all but mandatory for college admissions), jobs, internships, family responsibilities, and more. College brings even more freedom and less structure, making time management even more critical.

Brian Tracy's Eat That Frog! has helped millions around the world get more done in less time. Now this life-changing global bestseller has been adapted to the specific needs of students. Tracy offers readers tips, tools, and techniques for structuring time, setting goals, staying on task (even when you're not interested), dealing with stress, and developing the skills to achieve far more than you ever thought possible. This is the book that parents and teachers have long been wishing Tracy would write.
Praise For Eat That Frog! for Students: 22 Ways to Stop Procrastinating and Excel in School…
"BEWARE: This book will have a profound impact on your working practices and the results you'll achieve. Eat That Frog! challenges your working practices, it explains the self-discipline needed to succeed, and [it] firmly gets to the root cause of why people procrastinate. Then it effortlessly explains how to boost your productivity once and for all."
—Micro Business Hub

"If you find procrastination to be a consistent problem in your life, Eat That Frog! offers a concise and valuable collection of tactics to try. The reasons for each person's procrastination are different, so it's good that Tracy's tactics are fairly diverse and attack many different avenues of procrastination."
—The Simple Dollar

"Eat That Frog! is my favourite book on productivity, and I often find myself rereading it in January to remind myself of the disciplines and practices I'd like to follow in the coming year. Each time I read the book, I find new nuggets of productivity gold."
—Liz Gooster, Change for the Better

"Everyone has a frog, and eating that frog is the best thing you can do to stop procrastinating. Procrastination is a time-killer, and Tracy has a way of making getting over that frog fun and exciting. Every chapter presents a new idea, tip, and technique that will help you overcome that inner laziness that keeps you on the couch at night instead of in the gym."
—Peanut Press

"Eat That Frog!, small in pages but huge in content, offers a cure for the curse of modern-day living: procrastination. Even though the medicine sounds painful (bush tucker trail kind of stuff), it isn't. Like you, I have read zillions of books—and most of the time I can't remember anything that I have just read. Not with this one. I'm eating frogs daily and feeling better for it! I can't recommend Eat That Frog! enough."
—Corinna Richards, The Coaching Academy

"This book gave me the kick in the pants I needed to organize my to do lists, plan my days, become more productive, and get focused."
—Beth Anne Schwamberger, Brilliant Business Moms

"Eat That Frog! is the most accessible book on time management and personal productivity—I recommend you read this one before you learn any particular time management system. There are tons of exercises and techniques that you can implement right away, and that is what I like the most about the book—it gives you actionable steps so you can start right away."
—Thanh Pham, Asian Efficiency

"An impactful read. The 21 ways that [Tracy] shares are real game changers, if you read with an eye towards self-improvement and an intention to make a change. I have benefitted greatly from this book, and I highly recommend that you pick up your own copy today."
—Chris Moore, Reflect on This

"We strongly recommend this book to anyone who wants to manage her time well and also add value to herself in this competitive world."
—The Journal of Applied Christian Leadership

"I wasn't expecting all that much from the book initially, as the whole 'eating a frog' seemed like some new age nonsense that didn't really apply in real life. I couldn't have been more wrong. The best thing about this book is that it actually tells you what you should do. It doesn't just spout philosophy after philosophy about dreams and hope. It gives solid, practical advice that applies to pretty much every one—students, employees, stay-at-home moms, entrepreneurs, etc. Whether you're having time management issues or not, I'd recommend you pick up this book. You're sure to learn something useful from it."
—Fab, Shocks and Shoes

"This book distinguishes itself from others of the same type by laying out specific guidelines for developing the self-discipline that allows you to start and complete important tasks in sequence. Each of the 21 chapters offers clear instructions and practice exercises to help you determine if you are making the best use of your time at any given moment. You'll learn how to prepare yourself mentally and physically to tackle the task at hand, along with strategies for dividing it into manageable segments to keep you moving forward. You'll even find out what to tell yourself to do if you're having trouble getting started, or become distracted and need to get back on track."
—Carnegie Library Business Librarians, Pittsburgh Post-Gazette
Berrett-Koehler Publishers, 9781523091256, 168pp.
Publication Date: December 29, 2020
About the Author
Brian Tracy is chairman and CEO of Brian Tracy International. As a keynote speaker and seminar leader, he addresses more than 250,000 people each year and is one of America's leading authorities on the development of human potential and personal effectiveness. He has worked with the executives and staff of such firms as IBM, Arthur Andersen, McDonnell Douglas, and the Million Dollar Round Table. He is the author of over seventy books and more than 300 audio and video learning programs.

Anna Leinberger is an editor, writer, and former high school teacher. She started her teaching career at King's Academy in Madaba Jordan, and for the past seven years has worked on books with startup founders, award-winning peacemakers, and New York Times bestselling writers.