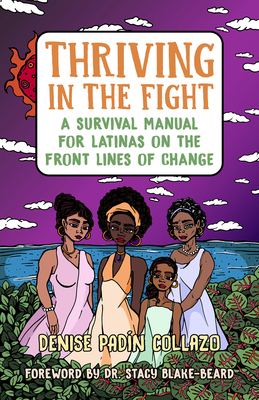 Thriving in the Fight
A Survival Manual for Latinas on the Front Lines of Change
Paperback

* Individual store prices may vary.
Description
Social justice work is more crucial than ever, but it can be physically and emotionally draining. Longtime activist Denise Collazo offers three keys to help Hispanic women keep their focus, morale, and energy high.

Winner of the gold medal at the International Latino Book Awards for Best Latina-Themed Book and Best Self-Transformational Book!

Doing the work of social change is hard. Waking up every day to take on the biggest challenges of our time can be overwhelming, and sometimes progress is hard to see. She understands that Latina and all women of color activists do their best work when they are thriving, not simply surviving.

Denise Padín Collazo has been there. She is the first Latina, the first woman of color, and the first woman period to raise a family and stay in the work of community organizing at Faith in Action, an international progressive network of 3,000 congregations and 2 million members. Drawing on her own experiences of triumph and failure, and those of other Latina activists, Collazo lays out three keys to thriving in the movement for social change: leading into your vision, living into the fullest version of yourself, and loving past negatives that hold you back. She also warns about the three signs that you may be surrendering: wishing for a future reality to emerge, wondering where your limits are, and waiting for permission and answers to come from others.

Using this framework, Collazo offers wise and compassionate advice on some of the most important leadership challenges facing Latina activists. She explains how you can integrate family and work, step out of the background and claim your leadership potential, confront anti-Blackness in your own culture, keep focused on your ultimate purpose, and raise the necessary resources to keep fighting for justice. This honest, practical, and inspirational book will help Latina activists to burn bright, not burn out.
Praise For Thriving in the Fight: A Survival Manual for Latinas on the Front Lines of Change…
"Denise is one of the nation's most experienced community organizers. She's been in the fight for most of her life. I'm sure her ideas will ignite and inspire many emerging leaders in the movement for change!" —Edgar Villanueva, author of Decolonizing Wealth; founder and Chief Strategist, Decolonizing Wealth Project; and Senior Vice President of Programs and Advocacy, Schott Foundation for Public Education

"A must-read for Latinas on the journey to justice. The stories in this book are our stories, and Denise tells them with wisdom, authenticity, and love." —Thriving in the Fight Advisory Board: Andrea Marta, Brenda Gavin-Garcia, Catalina Morales, Crystal Walthall, Denise Lopez, Erin Williams, Gabby Trejo, Heather Cabral, Johana Bencomo, Nanci Palacios, Rich Morales, and Tere Flores Onofre

"At a time when so many in this country are struggling to contend with a new era of racial and gender oppression, we need the power, the wisdom, and the experience of women of color now more than ever. Denise's book is a clarion call to Latinas in the movement—and to the rest of us—that they are ready and poised to lead with hope, love, and light!" —Rev. Alvin Herring, Executive Director, Faith in Action International Network

"This book is a must read. It is definitely a helpful resource for Latina organizers and activists. Additionally, it provides important insights for white leaders who want to get better at supporting Latina leadership." —Aaron Dorfman, President and CEO, National Committee for Responsive Philanthropy
Berrett-Koehler Publishers, 9781523092505, 192pp.
Publication Date: February 23, 2021
About the Author
Denise Padín Collazo is the senior advisor for external affairs at Faith in Action, the nation's largest faith-based, progressive organizing network, where she has advanced the cause of social justice over the past twenty-five years. She is also an official member of the Forbes Nonprofit Council, an invitation-only organization for executives in successful nonprofit organizations.