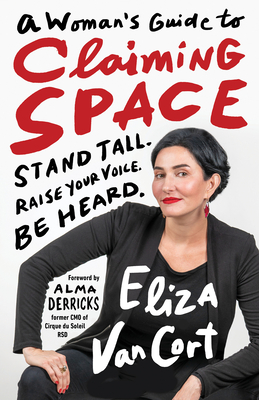 A Woman's Guide to Claiming Space
Stand Tall. Raise Your Voice. Be Heard.
Hardcover

* Individual store prices may vary.
Description
For too long, women have been told to confine themselves--physically, socially, and emotionally. Eliza VanCort says now is the time for women to stand tall, raise their voices, and claim their space.

Women fight the pressure to make themselves small in private, professional, and public spaces. Eliza VanCort, a teacher, consultant, and speaker, provides the necessary tools for women to rewrite the rules and create the stories of their choosing safely and without apology.

VanCort identifies the five key behaviors of all "Space Claiming Queens": use your voice and posture to project confidence and power, end self-sabotage, forge connections, neutralize unsafe spaces, and unite across differences. Through personal narrative, research, and actionable strategies, VanCort provides how-tos on combatting challenges like antimentors and microaggressions and gives advice for building up your "old girls" club, asking for what you're worth, and owning your space without apology.

Bold, fun, and enlightening, this book is birthed from VanCort's incredible story. Having a mother with schizophrenia forced VanCort to learn to be small and invisible at an early age, and suffering a traumatic brain injury as an adult required her to rethink communication from the ground up. Drawing on these experiences, and those of real women everywhere, VanCort empowers women to claim space for themselves and for their sisters with courage, empathy, and conviction because "when we rise together, we rise so much higher."
Praise For A Woman's Guide to Claiming Space: Stand Tall. Raise Your Voice. Be Heard.…
"Every woman should read this book; it could change your life. Highly recommended. Five stars."
—The Bookbag

"Inspiring others to claim their space at the table."
— Cheddar News
 
"Tired of the physical, emotional, and social jail that women have been held hostage in by hundreds of years of patriarchal repression? Ready to claim your space, but want to wield your sword with a degree of elegance that elicits respect rather than resistance? This book's for you. "
—Ms.CareerGirl.com

12 Women in Business Books by Today's Female Founders and History-Makers 
—Bookpal

14 Must Read Books On Women's Rights! 
—Pretty Progressive

21 Business Books to Read in 2021 
—Bookpal
 
"Empowering, honest, and no-nonsense how-to manual that I wish I'd had on my nightstand twenty-five years ago. And again, fifteen years ago. And once more about six months ago…. With uncommon wisdom, grace, and grit, Eliza brings a h
ug-kick-thunderclap that every woman needs in her life. Again and again and again."
—from the foreword by Alma Derricks, Former CMO, Cirque du Soleil and Founder of REV

"If a book was a hug, a high five, and a help session all in one, it would be Eliza VanCort's book. VanCort shares her hard-earned lessons and heart-filled advice in this intersectional guidebook which will help women empower themselves and become 'good-ish' allies to others. I will be sharing it with my students, friends, and daughters."
—Dolly Chugh, Associate Professor of Management and Organizations, NYU Stern School of Business, author of The Person You Mean to Be: How Good People Fight Bias
 
"Eliza VanCort's book digs deep into how we can bravely 'claim space' at work – physically through posture and voice – but also emotionally, behaviorally and energetically by creating the types of networks and connections that break glass ceilings and elevate us. All of these aspects of power and bravery are essential if we want to live and work as we dream to. This powerful, comprehensive guide book is for every woman (and every leader) who wishes to access concrete tools to stop apologizing for being human, for being herself or for things that aren't her fault, and to claim her space in the world while owning her own worthiness to achieve her ultimate potential."
—Kathy Caprino, Career and Leadership Coach, Senior Forbes Contributor, author of The Most Powerful You, and host of the Finding Brave podcast

"A combination of big ideas and concrete, actionable advice, this powerful guidebook delivers transformative value to women in their 20s and 30s striving to make our mark and make a difference in the world. It's the roadmap we wish had when launching our careers and a critical call to action for women to unite across differences to drive change."
—Octavia Abell & Kyleigh Russ, cofounders of Govern for America & Forbes 30 Under 30 honorees
 
"As a father who values self-sufficiency, confidence, and strength, I'll be giving this book to my teenage daughters! It's absolutely a must read!"
—Joe Desena, CEO and Founder of the Spartan Race, and bestselling author of Spartan Up and Spartan Fit

"Eliza VanCort is on a mission to empower every woman to claim her space. With insightful wisdom and actionable advice, she shows you how to be seen and heard with confidence and to embrace that there is enough room for every woman to succeed. Eliza shows you how to take power and seed power to honor intersectionality and claim space for all women. I'm gifting her book to my women friends and colleagues—this is a must read!"
—Caroline Dowd-Higgins, author of This Is Not the Career I Ordered and Thrive Where You Are, host of Your Working Life podcast

"Bold, powerful, and brimming with practical advice, A Woman's Guide to Claiming Space is a must read, a smart, transformative guide for all women seeking real world confidence, strength, and connection."
—Deirdre Martin, New York Times bestselling author
 
"Women of every race and background who want to Claim Space confidently and unapologetically will find concrete answers and edifying inspiration—challenging, motivating, and transformative."
—Misty Monroe, actor, educator, and creator of the award winning, critically acclaimed one-woman show, "Unapologetically Black"

"Women who want to be their most empowered selves both at home and at work, while raising up the women around them, must read this book!"
—Christine Guest, Associate Professor in the Department of Media Arts, Sciences, and Studies at Ithaca College, Emmy-nominated filmmaker, producer of the award winning documentary, "The Women of Titmouse Animation"

"This is the kind of brilliant book that you build your life and tribe around. So much more than a book—it's  a master class on how to genuinely show up, Claim space, plant your flag, and put the world on notice that you have arrived! That's what this book did for me!"
—Toi Sweeney, Founder of The Well Dressed Brand, award winning fashion stylist, and author of Secrets of a Well Dressed Brand

"Simply brilliant! Wounded by a careless driver that almost silenced her, Eliza found her voice and claimed the space that was rightfully hers.This book reminds us  that we each have something the world needs, and greatness within. More than a toolkit and a manifesto, VanCort provides the radically necessary jolt that we need to claim our space together and collectively to take this journey to liberation."
—Dr. Froswa Booker-Drew, author of Rules of Engagement:  Making Connections Last and Ready for a Revolution: 30 Days to Jolt Your Life

"This welcome book is a warm, funny, and genuinely edifying resource which combines big ideas with real-world strategies. VanCort seamlessly emphasizes both transformative individual growth and the power of intersectional engagement."
—Andrew Chignell, Laurence S. Rockefeller Professor in the University Center for Human Values at Princeton University, and codirector of the Hope and Optimism project

"With authenticity, warmth, and humor, VanCort's book educates, uplifts and inspires us all to claim space. Comprehensive, accessible, and edifying, this is the roadmap women of all backgrounds can use to embrace life courageously and unapologetically!" 
—Anna Kelles, New York State Assemblywoman
 
"This book is as warm, authentic, empathetic, funny, and edifying as Eliza's (in-person) talks and seminars. I respect Eliza's works, and more importantly, the students I work with in higher education have truly benefited from her transformative practical advice, tools, and resources for years. With this important book, the world has access to her as well."
—DiOnetta Jones Crayton, Associate Dean and Director of the Office of Minority Education at the Massachusetts Institute of Technology

"This book does more than equip women of all backgrounds to find success, even in the face of life's challenges, while lifting each other up. It also helps men, men who truly care about justice and equity, become better advocates for the women they care about. It's a comprehensive, transformational book we need now more than ever!"
—Dr. James Smith, President, CEO, and three-time author, including  The No Excuse Guide to Success: No Matter What Your Boss or Life Throws at You, (NAACP Image Award nomination)

"As a non-binary trans person who has dedicated my life to educating people about gender diversity, it was refreshing to see a book that does not rigidly define gender and does not exclude all but the White straight cis woman from the conversation. The advice VanCort gives is often universal, will help people of all genders help themselves, and perhaps more importantly, will help each of us amplify each other."
—Shelley Roth, entrepreneur, consultant, and five time author, including the groundbreaking, A Field Guide to Gender Neutral Language and Don't Call Me "Ma'am"

"There are those that consciously or unconsciously try to diminish the voices of women as well as Black, Indigenous, and other people of color of any gender. Eliza presents us with powerful and practical strategies we can use to be our own champions and better champions of others as we individually and collectively claim our space to be heard."
—Sara Xayarath Hernández, Associate Dean of Inclusion & Student Engagement, Cornell University Graduate School


Praise from women on the go!
 
"I'm a mom of young girls and a small business owner. I'm busy! Any book better hold my attention, really teach me something, and make me think. I have three copies: Two for my girls when they get older, and one for me now. Real women everywhere need this book. This is the book we've been waiting for."
—Suzan Senovich, Owner of Half Crown Hill Orchard, mom of two future space claimers

"The world needs this message right now. The world has had to shrink down to cope. Women have had to shrink with it. Now, it's time to Claim Space!"
—Kira Sholeen Wagner, mom of three

"This is a must read for every college-aged woman who wants real guidance on how to be a real, kick-ass woman."
—Kieren Munson-Burke, college student
Berrett-Koehler Publishers, 9781523092734, 256pp.
Publication Date: May 11, 2021
About the Author
Eliza VanCort is a Cook House Fellow at Cornell University, an advisory board member of the Performing Arts for Social Change, and the creator of a highly regarded talk commissioned by MIT that focused on mentorship and institutionalized racism. She is the founder of the Actor's Workshop of Ithaca and has dedicated herself to empowering women of all experiences and backgrounds to claim space. VanCort gave a 2018 TED Talk called "Women, Power and Revolutionizing Speech," in which she shared her personal story and offered concrete yet transformative tools for real change.