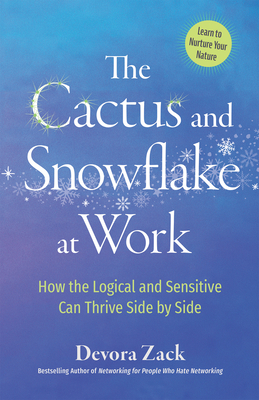 The Cactus and Snowflake at Work
How the Logical and Sensitive Can Thrive Side by Side
Paperback

* Individual store prices may vary.
Description
This hilarious and profound workplace guide proves the rigorously rational and the supremely sympathetic can meet in the middle and merge their strengths. Readers will discover how blending with their opposite opens the pathway to being their truest selves.

Carl Jung's personality typology introduced the distinction that Feelers (who lead with their hearts) put more weight on personal concerns and the people involved, and Thinkers (who lead with their heads) are guided by objective principles and impartial facts. This book calls them Cacti and Snowflakes—each singularly transcendent. But can people with such fundamentally different ways of making sense of and engaging with the world work together?

Yes, says Devora Zack! The key is not to try to change each other. Zack says we can directly control only three things: what we say, what we think, and what we do. The best use of our energy is to focus on our own reactions and perceptions rather than try to "fix" other people.

This book includes an assessment so readers can learn where they are on the Thinker/Feeler spectrum—and because it's a spectrum, readers might well be a snowcactus or a cactusflake. Then Zack helps them figure out where other people might be, guiding them through a myriad of modes of communication and motivation based on personality type. She includes real-life scenarios that show how to nurture one's nature while successfully connecting with those on the other side.

As always, Zack fearlessly and entertainingly dispels myths, squashes stereotypes, and transforms perceived liabilities into strengths. And she once again affirms that, like chocolate and peanut butter, we are better together.
Praise For The Cactus and Snowflake at Work: How the Logical and Sensitive Can Thrive Side by Side…
"A few years ago, Devora Zack challenged misguided perceptions about introverts and extroverts in her bestselling book Networking for People Who Hate Networking. Now, with The Cactus and the Snowflake at Work, she tackles common errors in judgment about two temperaments: thinkers and feelers. Since every person has characteristics of both types, you'll learn things about yourself and everyone else too! It's a fascinating, fun read—so read it!"
—Ken Blanchard, coauthor of The New One Minute Manager and Servant Leadership in Action
 
"Devora blends deep expertise with offbeat humor that will forever alter how you meld practicality and empathy in all your relationships."
—Jeffery M. Weirens, Global Financial Advisory Leader, Deloitte
 
"What an eye opener! As I turned each page of The Cactus and the Snowflake at Work, there were so many aha moments that helped me better understand family, friends, and colleagues. This book answers the fundamental question 'What makes you, you?'"
—Howard Wiener, International Tax Principal, KPMG

"Invest in yourself with the gift of this playful, practical, insightful book. An invaluable must-read. Highly recommend!"
—Liz Janssen, Vice President of Learning, HR Technology, and Transformation, ICF

"Another masterful look at personalities in the workplace. Zack helps us identify the personality styles that make us who we are—and see them as our superpowers."
—Amy Lemon, Program Manager, Smithsonian
 
"Laugh-out-loud and transformative, this book is equal parts creative and profound."
—Anne Robertson, Associate Dean of Faculty Development, Swanson School of Engineering, University of Pittsburgh
 
"A masterful mix of wisdom and wit."
—John Johns, Vice President of People and Organization, Monroe Energy/Delta Air Lines
 
"A brilliant, playful voice that changes how you might live in the world. Devora opens hearts and minds in ways that inspire and delight."
—Peter Borden, Vice President of Strategy, Growth, and Engagement, Cognizant
 
"Zack does it again. With incomparable wisdom and charm, she offers the essential guide to navigating disparate personalities."
—Lara Hejtmanek, Director, Eugene Lang Entrepreneurship Center, Columbia University
Berrett-Koehler Publishers, 9781523093366, 192pp.
Publication Date: November 2, 2021
About the Author
Devora Zack is CEO of Only Connect Consulting, a Washington Post bestselling author, and a global keynote speaker with books in twenty languages. Her clients include Deloitte, the Smithsonian, Delta Airlines, the FDA, Johns Hopkins, and the National Institutes of Health. She has been featured by the Wall Street Journal, USA Today, US News & World Report, Forbes, Cosmopolitan, Self, Redbook, Fast Company, and many others. She is the author of Managing for People Who Hate Managing and Singletasking.
or
Not Currently Available for Direct Purchase