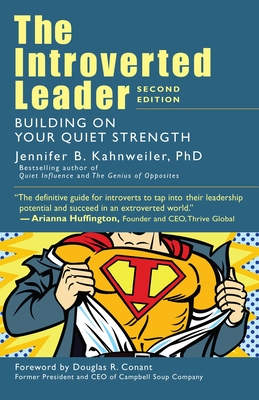 The Introverted Leader (Paperback)
Building on Your Quiet Strength
Berrett-Koehler Publishers, 9781523094332, 216pp.
Publication Date: March 6, 2018
* Individual store prices may vary.
Description
Succeeding in an Extroverted Workplace

You don't have be an extrovert--or pretend to be one--to get to the top! Jennifer Kahnweiler points to Mark Zuckerberg, Arianna Huffington, and Warren Buffett as prime examples of self-identified introverts who have done quite well for themselves. In this new, expanded edition of her pioneering book, she lays out a well-tested four-step strategy introverts can use to build on their quiet strength and make it a source of great power. The book includes fresh information on the unique challenges faced by introverted women, how leaders can shape a more introvert-friendly workplace, customized hiring and coaching strategies for introverts, and the positive correlation between introverted leadership and company performance.
About the Author
Jennifer B. Kahnweiler, PhD, CSP, has shared her message about harnessing introvert power around the world, including in Vietnam, Australia, Germany, and Paraguay. Her clients include GE, NASA, Freddie Mac, and Boeing. She has been featured in the Wall Street Journal, Forbes, and Fortune. She is also the author of Quiet Influence and The Genius of Opposites.
Praise For The Introverted Leader: Building on Your Quiet Strength…
"The definitive guide for introverts to tap into their leadership potential and succeed in an extroverted world."
—Arianna Huffington, Founder and CEO, Thrive Global
 
"Finally, a book that recognizes the immense value that introverts bring to the workplace. You'll learn how to lead with quiet confidence through powerful personal examples and practical tools."
—Daniel H. Pink, author of Drive and When
 
"I recognized some of my own long-used strategies among the ones highlighted here. Introverted leaders who want to pull from their natural strengths and claim their seat at the table will benefit from this guide for navigating an extroverted world." 
—Beverly Daniel Tatum, PhD, President Emerita, Spelman College, and author of Why Are All the Black Kids Sitting Together in the Cafeteria?
 
 "Right now, we're in the midst of a renaissance of introverts in leadership roles. But too often, introverts still feel unprepared and uncertain about how to lead most effectively. Jennifer Kahnweiler has spent years working with introverted leaders, and this book is full of advice from the trenches."
—Adam Grant, New York Times bestselling author of GIVE AND TAKE, ORIGINALS, and OPTION B with Sheryl Sandberg

 "Extrovert Jennifer Kahnweiler is one of introversion's first and most articulate and insightful advocates. Drawing on a tide of new research, this timely update of her now-classic book provides powerful new tools to help introverts step forward as leaders and help extroverts understand the benefits of personality diversity in the workplace."
—Sophia Dembling, author of The Introvert's Way and Introverts in Love
 
"This new edition combines fresh research with a nuanced, enlightened extrovert's perspective on the world of the introverted leader. Jennifer gets introverts! Her deep dive into how we can be our best is a gift to introverts at any stage in their leadership journey. Necessary reading for introverted leaders and those who mentor them."
—Beth L. Buelow, PCC, author of The Introvert Entrepreneur
 
"This book shows you that your ability to get results determines your success as a leader, and your personality style is secondary to that."
—Brian Tracy, author of Get Smart!
 
"Kahnweiler believes that we must recognize the many thoughtful, inwardly focused, quiet 'gems' within our midst. If you count yourself as introverted some or all of the time, this book is a must-read."
—Liliana de Kerorguen, MBA, President, La Palette Gourmande
 
"In this timely latest edition, Jennifer Kahnweiler shows that she understands the challenges and more importantly, the opportunities introverted leaders face daily. With this book you will grow your influence as a global leader in Asia and around the world."
—Fabrice Egros, PhD, MBA, President, Asia Pacific and Japan, Lupin
 
"Does the thought of working a room make you want to run from the room? The good news is, you don't have to be the life of the party to be a successful leader. This book teaches you skills you can use to lead with confident, compassionate authority so you command the respect, loyalty, and results you want, need, and deserve. Read it and reap."
—Sam Horn, author of POP! and Got Your Attention?
 
"I've been an executive coach for more than fifteen years and only wish I'd had this book sooner for my many introverted clients. Jennifer's four-step process—clear, concrete, and centered on results—helps 'not-so-noisy' leaders avoid career derailment and achieve success. If you're an introvert—or you coach, mentor, or manage one—this is the book you've been waiting for. Buy it, read it, and put it to work!"
—Sharon Jordan-Evans, executive coach and coauthor of Love 'Em or Lose 'Em
 
"This is an important book for introverts and extroverts alike. Extroverts will benefit by gaining deeper insight into the mind of the introvert. Introverts will learn to embrace their introversion and the true value that they bring to the organizations they serve. The tips and tools that Kahnweiler introduces will help introverts navigate an extroverted corporate world. Shhh. Hear that? It's the sound of your confidence growing!"
—Bill Treasurer, bestselling author of Courage Goes to Work and Leaders Open Doors
 
"Jennifer Kahnweiler's experience with numerous high-level organizations speaks loudly and clearly in this first-of-its-kind book for introverted leaders. Those who are reluctant to step out of the shadows will learn to do so while keeping their personality intact."
—Tom Darrow, founder and Principal, Talent Connections, LLC, and Career Spa, LLC, and Past Chair, SHRM Foundation Board of Directors