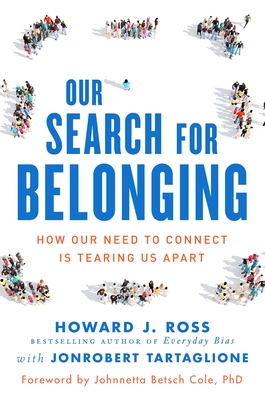 Our Search for Belonging
How Our Need to Connect Is Tearing Us Apart
Hardcover

* Individual store prices may vary.
Other Editions of This Title:
Digital Audiobook (5/7/2018)
Description
We are living in a time of mounting political segregation that threatens to tear us apart as a unified society. The result is that we are becoming increasingly tribal, and the narratives of life that we get exposed to on a daily basis have become echo chambers in which we hear our beliefs reinforced and others' beliefs demonized.

At the core of tribalism exists a paradox: as humans, we are hardwired with the need to belong, which ends up making us deeply connected with some yet deeply divided from others. When these tribes are formed out of fear of the "other," on topics such as race, immigration status, religion, or partisan politics, we resort to an "us versus them" attitude. Especially in the digital age, when we are all interconnected in one way or another, these tensions seep into our daily lives and we become secluded with our self-identified tribes. Global diversity and inclusion expert Howard J. Ross, with JonRobert Tartaglione, explores how our human need to belong is the driving force behind the increasing division of our world.

Drawing upon decades of leadership experience, Ross probes the depth of tribalism, examines the role of social media in exacerbating it, and offers tactics for how to combat it. Filled with tested practices for opening safe and honest dialogue in the workplace and challenges to confront our own tendencies to bond with those who are like us, Our Search for Belonging is a powerful statement of hope in a disquieting time.
Praise For Our Search for Belonging: How Our Need to Connect Is Tearing Us Apart…
2018 Gold Nautilus Award Winner in the Social Change & Social Justice category.

"Our country's divisive climate is stifling both our public and private discourse. In Our Search for Belonging, Howard Ross offers actionable steps on how we can begin to dismantle the walls between us for the benefit of our workplaces and our society. An insightful read for all leaders."
—Ron Shaich, founder and Chairman, Panera Bread
 
"This book is profoundly 'for such a time as this.' In the book of Esther, we learn that as she contemplates the decision of her lifetime she is reminded, 'For all that you know, all that you have has prepared you for such a time as this.' At this time, we need this body of work to help us lead, follow, listen, and learn. Whether we are engaging in courageous conversations, moving toward bonding and bridging, or seizing the opportunity to recognize and reconcile our urgent need for difference and belonging, this work is the go-to for the why and the how-to. We must now admit that 'The past is never dead. It's not even past' and that 'We can continue on the pathway to separation or take on the challenge.' I will use this as my favorite and most resourceful guide for content and context. Belonging is your labor of love, and the timing is perfect. We need this now! God bless you, Howard."
—Wendy Lewis, Chief Global Diversity Officer and Vice President, Community Engagement, McDonald's Corporation
 
"Howard Ross transformed our understanding of both bias and unconscious bias with his wonderful book Everyday Bias. Now he is transforming our understanding of why we have people in America both tribalizing and too often fighting each other in damaging and dysfunctional tribal ways. This book is a must-read for anyone who wants to understand the mess we are in today and what we need to do now to give us a better future for our organizations, our communities, and even our nation. This will be another iconic book."
—George Halvorson, former CEO, Kaiser Permanente
 
"Our Search for Belonging is a powerful statement of hope in a disquieting time. Our social divide is creating major challenges on college campuses, in workplaces, and in society itself. By helping us understand the reasons for the divide and the things we can do about it, Howard Ross has provided guidelines for a future that does not have to be limited by our past. A must-read!"
—Dr. Kristina Johnson, Chancellor, State University of New York
 
"Our field has an abundance of talkers, folks who have an opinion they feel obligated to share. We don't need more of either. We need more thinkers, more analysts of substance. In a world where national and tribal boundaries impose a defensive obsession with our differences, Howard has stepped in to fill that void. Legendary IBM CEO Thomas J. Watson, Jr., said, 'We serve our interests best when we serve the public interest.' In my own work I have focused on the thought, 'We talk to one another, not about one another.' In Our Search for Belonging, Howard is connecting those dots at a time when our societal survival is threatened. Global, national, local, or tribal—connect and respect are challenges we seem unable to execute. In this book, Howard is providing a mirror that makes us confront that picture and frames how we can navigate a treacherous road to higher, safer ground—a place where your place is not a bad place, and my place is not the only place for me."
—J. T. (Ted) Childs, former Chief Diversity Officer, IBM
 
"In a compelling narrative style that rests on a foundation of cutting-edge research, Howard Ross describes a paradox of belonging: a psychological need to be embedded in a group has produced an ideologically segregated America. To erase those tribal boundaries requires a deeper sense of belonging, which Ross suggests we might first achieve in an unexpected place: at work. At work, people see and experience difference as beneficial. And at work, people can learn behaviors that produce a more inclusive belonging." 
—Scott E. Page, PhD, Leonid Hurwicz Collegiate Professor of Complex Systems, Political Science, and Economics, University of Michigan, and author of The Diversity Bonus and The Difference
 
"Our Search for Belonging serves as a GPS for the human condition and daily navigation of this thing called life. Howard offers an empowered and emboldened perspective on how we can simultaneously find ourselves and find ourselves within others. This book has something to help all people where they are, and there's not a person out there who wouldn't benefit from the guidance this book provides."
—Caroline A. Wanga, Chief Diversity Officer, Target
 
"The increasing polarization that exists in our society today can be a real impediment to producing the results we need and want in business and in politics. In this book, Howard Ross helps us understand the importance of breaking down those barriers and provides powerful tools for how to do it."
—Manny Chirico, Chairman and CEO, PVH Corp.
 
"In a nation with so much division, Our Search for Belonging is a much-needed read to educate us all on the importance of the inclusion of women and men across all distinctions of diversity both personally and professionally. Howard Ross explores and captures a broad range of topics and issues that I believe is crucial to uniting humankind and our divided nation."
—Dr. Sheila A. Robinson, Publisher and CEO, Diversity Woman Media
 
"Our Search for Belonging is a timely and wonderful gift to our national community as we struggle to find connection in the disparate views and feelings that divide us. It offers a guiding light of innovative and creative thinking grounded in impeccable research and scientific observation. This book is a necessary must-read to those wishing to further connect with the better in themselves regarding the isms and biases that we all carry as baggage in our lives. Our Search for Belonging is beautiful, powerful, and uplifting as it shares that goodness is latent in us all and how to achieve it."
—William H. "Smitty" Smith, EdD, Founding Executive Director, National Center for Race Amity
 
"If you are at all concerned about how we can pull our polarized nation back together, buy this book. Get copies for coworkers, friends, and especially your children. Howard Ross illuminates practical pathways for courageous leaders to shape a better future for us all." 
—Bonnie St. John, Paralympic medalist and CEO, Blue Circle Leadership Institute
 
"Howard Ross has done it again! In Our Search for Belonging, Ross puts a human face on America's 21st-century conundrum and in doing so shows a path out of our current quagmire. He delves deeply into our psyche and neurobiologic drive to connect and shows how that drive to belong overshadows political or other external realities dividing us as a country into warring factions. And he shows us pathways toward healing the divide. This is must-reading for everyone across the political spectrum who really wants to make America great again."
—Robert Wm. Blum, MD, MPH, PhD, William H. Gates Sr. Professor, Department of Population, Family and Reproductive Health, Johns Hopkins University, and Director, Johns Hopkins Urban Health Institute
 
"Once again, Howard Ross has tackled the thorny divisive issues of our day--demographic diversity, politics, social justice--by shining the light of humanity on them. Through solid examples, he gives the reader space and context for understanding how and why we all have the potential to create 'us versus them' dynamics. His book serves as a road map that takes the reader on an empowering journey toward owning our part in creating inclusive cultures and helping others to belong."
—Natalie Holder, diversity executive of a federal law enforcement agency
 
"In this thought-provoking book, Howard Ross delves into one of the most important issues of our time, namely, how the human yearning for belonging can paradoxically sow the seeds of division. Drawing on evidence from a wide range of disciplines, the book delivers potential solutions for mending our fractured society. This book should be required reading for anyone wishing to chart a better course for humanity—in this regard, it could be one of the most important books of the year." 
—Sukhvinder S. Obhi, PhD, Director, Social Brain, Body and Action Lab, McMaster University
 
"Many people know Howard for his research-based approach to implicit bias and his national and international work helping organizations better manage this unconscious human process. With Our Search for Belonging, he combines research, philosophy, and the insights of current and past leaders into a powerful analysis of the current political, sociological, and psychological forces that have contributed to the polarization that so many of us experience in this current national climate. With stories and evidence-based examples, Howard helps us better understand the powerful role of the human drive for that sense of belonging . . . that deep connection that is essential to human survival. He shines a light on ways that belonging has contributed to negative, even violent, movements in our history, but more importantly, he helps us appreciate the deep wholeness we experience when we truly connect, engage deeply with individuals, within our family, workplace, or country. With specific, 'pathways to belonging,' he charts a way forward for individuals, leaders of organizations of all types, and hopefully, those elected to represent our interests."
—Benjamin D. Reese, Jr., PsyD, Vice President and Chief Diversity Officer, Duke University/Duke University Health System
 
"In this groundbreaking book, Howard Ross uses his keen insight and decades-long experience in the field of diversity and inclusion to explore how the human tendency to belong and include also leads to tribalism and exclusion. Calling the latter 'bonding against,' Ross uses research in behavioral and cognitive science to show how these 'us versus them' tendencies spring from our evolutionary heritage; in the modern world, they gravely threaten our civic and faith communities, our workplaces, our information ecosystem, and our politics. Unlike many books that diagnose the problems without providing solutions, Ross spends two chapters on how we can bridge our divides by focusing on mutual understanding and coexistence, both as individuals and, perhaps even more importantly, within institutions. From my perspective both as a scholar and consultant on emotional and social intelligence and effective decision-making, this book is a must for leaders who want to ensure that the institutions they lead avoid the disastrous consequences of bonding against." 
—Dr. Gleb Tsipursky, author of The Truth-Seeker's Handbook; President, Intentional Insights; cofounder of the Pro-Truth Pledge; Assistant Professor, The Ohio State University; and speaker
 
"Once again, Howard Ross has clearly illuminated the details of an incredibly important conversation. This book is a creative and compelling explanation of why and how we connect, and don't connect, as people; great depth will be added to the institutional and professional legacies of those able to effectively develop pathways to belonging in the places where we engage every day. Howard offers the keys to maximizing collaboration, innovation, productivity, and effectiveness in an increasingly complex world."
—Chevy Cleaves, inaugural Chief Diversity Officer, US Air Force
 
"This is what the world needs now. Howard Ross articulates what many in the medley of humanity are feeling but struggle to process coherently—or, most importantly, act upon. I hope that the sound research and suggested action plans found in this book will inspire millions of butterfly wing flaps that generate a gentle wind bringing higher levels of harmony for generations to come."
—Dennis W. Quaintance, cofounder and CEO, Quaintance-Weaver Restaurants and Hotels
 
"Our contemporary conversations about discrimination often focus on individual bias but fail to show how those biases relate to our need for belonging. Howard Ross's accessible book makes this important connection. He examines current events, social science, and neuropsychology to explain this irony—how our 21st-century quest for community separates us from each other. But this isn't a dry academic survey. Ross offers insight gained from his rich experience, candor, awareness, and most importantly, realistic solutions for ourselves and our workplaces to address this paradox. This book should be read by organization leaders, professionals concerned about human relations, and anyone interested in building community consciously and carefully."
—Atiba R. Ellis, Professor of Law, West Virginia University 
 
"Deep knowledge of the science behind unconscious bias and a rich tableau of experience working with the world's leading organizations leads to remarkable practical insight! That is the essence of this much-needed and timely new book by Howard Ross. A must-read for all of us as individuals who increasingly need to decode the complex implications and unintended consequences of our obsession with social media connectivity and for leaders and businesses seeking to build inclusive flourishing cultures that bind rather than divide us." 
—Shubhro Sen, PhD, Director, School of Management and Entrepreneurship, Shiv Nadar University, and cofounder of Conscious Capitalism Institute
 
"The economic and political middle have been carved out of the United States. Now the cultural middle (the values and norms that hold us together as a society) is threatened. Howard Ross offers a compelling observation of how we associate with those most like us and how it's created a dangerous polarization. More importantly, he offers a different path forward."
—Brian A. Gallagher, President and CEO, United Way Worldwide
Berrett-Koehler Publishers, 9781523095032, 272pp.
Publication Date: May 8, 2018
About the Author
Howard J. Ross is a lifelong social justice advocate and the founding partner of Cook Ross, Inc. He has consulted on the areas of corporate culture change, leadership development, and diversity and inclusion. His work has been published by the Harvard Business Review, the Washington Post, the New York Times, and Forbes, and he has worked with Fortune 500 companies across a variety of industries. Cook Ross programs have been taught at Harvard University Medical School, Johns Hopkins University, Duke University, and over twenty other colleges and universities. Ross is also the bestselling author of ReInventing Diversity and Everyday Bias.
JonRobert Tartaglione is a behavioral scientist and the CEO of Influence 51, a consulting firm that teaches its clients about the neuropsychology of influence.
or
Not Currently Available for Direct Purchase