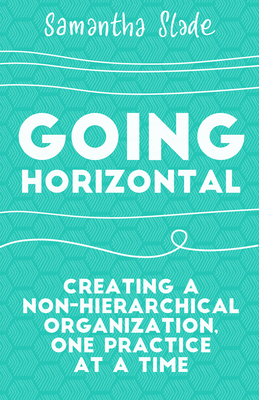 Going Horizontal
Creating a Non-Hierarchical Organization, One Practice at a Time
Paperback

* Individual store prices may vary.
Other Editions of This Title:
Digital Audiobook (11/26/2018)
MP3 CD (11/27/2018)
Compact Disc (11/27/2018)
Description
Hierarchy in organizations is obsolete. There is a better way: one that increases the engagement of employees and managers alike, reduces micromanaging and other limiting approaches, and promotes organizational and individual success.

In this book, self-management expert Samantha Slade presents seven concrete practices to help your organization flatten its existing hierarchy and develop a horizontal organization. The result will be enhanced creativity, greater growth, and a increased employee retention and productivity--and a better bottom line.

These days, more than ever, successful organizations must respond quickly and nimbly to change--they need every employee's best thinking. A horizontal organization creates an environment of true collaboration, respect, and openness. It allows everyone more freedom to express unconventional ideas or to work through issues that are getting in the way of organizational goals. And it's a more human way to organize--after all, we function perfectly well in our day-to day lives without someone telling us what to do.

But when an organization decides to go horizontal, it can be overwhelming for both managers and employees. Slade offers a practical, proven, incremental method to help organizations of all kinds and sizes ease in to a non-hierarchical model. She includes techniques for using your organization's purpose to stay focused and aligned, developing shared decision-making, creating a mutual feedback culture, nurturing autonomy, holding co-managed meetings, and maintaining an environment of collective learning.

Going Horizontal will help organizations become more adaptive, collaborative and innovative, which is vital in today's highly competitive and constantly-evolving world.
Praise For Going Horizontal: Creating a Non-Hierarchical Organization, One Practice at a Time…
"Individual practices can shift entire systems. In Going Horizontal, Samantha Slade provides all leaders with individualized access points to leverage their unique experience to shift not only their organization but the entire leadership paradigm."
—Susan Basterfield, thought leader on the future of work, author, and member of Enspiral
 
"Samantha Slade brings the keen eye of an anthropologist to the study of organizations and succeeds admirably in highlighting truths about our collective humanity and how to do things better. Welcome to the self-managed workplace of the future."
—Doug Kirkpatrick, US Partner, NuFocus Strategic Group, and author of Beyond Empowerment
 
"Samantha Slade offers a much-needed alternative to our current systems of organizing. Her book is as refreshing as it is personal and will be indispensable for those looking to bring more humanity into their organizations."
—Joel Bothello, Assistant Professor, Department of Management, John Molson School of Business, Concordia University
 
"Thank you Samantha Slade, for not only showing us why rigid hierarchies are no longer fit for humanity's evolutionary purpose, but also, how to create ecosystemic, horizontal organizations instead. For those who feel trapped inside organizations that treat people like morons or machine parts, help is at hand."
—Stephen Huddart, President & CEO McConnell Foundation, Canada
 
"Going well beyond horizontal theory and concepts, this work is social practice in action; a wonderful companion for anyone who senses that reconnecting with our true human nature in our work is the only way forward."
—Mary O'Keeffe, Director, Loomio (New Zealand)
 
"Samantha Slade offers a much-needed alternative to our current systems of organizing. Her book is as refreshing as it is personal and will be indispensable for those looking to bring more humanity into their organizations."
—Joel Bothello, Assistant Professor, Department of Management, John Molson School of Business, Concordia University (Canada)
 
"This book is for anyone who's ever wondered what the future of truly fulfilling work could look like."
—Melissa Aronczyk, Associate Professor of Journalism and Media Studies, Rutgers University (USA)
 
"Samantha Slade—and this book—is what the world of work needs more of. Sparky thinking, applied methodologies, and humanist principles." 
—Perry Timms, HR Most Influential Thinker 2017; founder PTHR; and author of Transformational HR (UK)
 
"Samantha is on the leading edge of self-management for organizations. She is breaking ground to discover and share the new ways we can work together that we are all starving for." 
—Amanda Hachey, Director, NouLAB (Canada)
 
"In the transformation of our society to become more human, Samantha is a reference."
—Étienne Collignon, President, TeamFactory, and learning systems teacher (France)

"If there's anyone who knows how to structure workplaces in new, more effective, more energizing ways, it's Samantha Slade. Her book, Going Horizontal, is a masterwork in how to turn a sluggish hierarchical organization into one that's egalitarian and alive."
—Mark Levy, founder of Levy Innovation LLC and author of Accidental Genius (USA)
 
"Samantha Slade has, with her own life, taken a bold journey into the landscape of how we can evolve our organizations, lead together and focus on the purposes we choose to serve. I invite you to listen to her, understand her message, be inspired and enjoy your own practice for a more humane and kinder world."
—Toke Paludan Moeller, Sustainable entrepreneurship pioneer, CEO Interchange, Art of Hosting steward  (Denmark)
 
"Samantha outlines in clear, concrete, and highly accessible language tested practices, ranging from the personal to the systemic, that support participatory ways of working to flatten and democratize organizations. I can easily envision this book quickly becoming a standard reference for those involved in organizational development and change design at every level."
—Rosemary C. Reilly, Graduate Program Director, MA in Human Systems Intervention, and Associate Professor, Concordia University (Canada)
 
"A brilliant distillation of lived experience, field research, and more academic research—transformed into simple practices to live by. It turns all the philosophical discussions about collaboration and self-organization into incredibly practical and doable practices."
—Caroline Rennie, cofounder of Gen-H (Switzerland)
 
"This is a brilliant field guide from a practitioner and organization designer who has dared to explore, experiment with, and engage with the new ways of working and being. This book must be in the list of essential reading for the #futureofwork."
—Sahana Chattopadhyay, Asia-Pacific thought leader on the future of work (India)
 
"Going Horizontal is a gift to anyone eager to see beyond the trappings of traditional hierarchy and explore new ways of working and being."
—Brent Lowe, Coach for founder CEOs, and author (Canada)

"Samantha Slade shares her knowledge and experience with accuracy, wisdom, and amazing gentleness. This book and the proposed practices are a truly precious help and compass toward more horizontality in my organization."
—Damien Versele, CEO, De Sleutel (Belgium)
 
"Sam Slade's Going Horizontal finally brings the notion of cocreation out of the theoretical realm and makes it practical and achievable."
—Roxane Maranger, Professor of Biology, University of Montréal, and President-Elect, Association for the Sciences of Limnology and Oceanography (Canada)
 
"Going Horizontal is a key piece in the field of organizational consciousness and working transformatively in the 21st century.
—Melinda Várfi, Cofounder of Organik (Hungary) and Resonanz (Austria)
 
"Going Horizontal speaks to the three innate and universal psychological needs for humans to function optimally: self-direction, competence, and relatedness. If you want to increase the probability of having a workplace where fun, purpose, and meaning create a greater good, read this book."
—Jacques Forest, organizational psychologist; Professor, School of Management, Université du Québec à Montréal (Canada)
 
"The time has come for every enterprise to reimagine and redesign how it works, and Going Horizontal will be a key resource."
—MJ Kaplan, Partner, The Ready, and Board Member, Loomio (USA)
 
"I especially appreciate the 'how to' approach as this is where you will struggle most when implanting changes that are based on sharing and participation."
—Bernd Reichert, Executive Director, Executive Agency for Small and Medium-Sized Enterprises (Belgium)
 
"Samantha Slade's mastery of group dynamics is inspiring and is at the level of artistry. What a pleasure to have benefited from her teachings." 
—Anne Charpentier, Director, Montreal Insectarium, Space for Life (Canada)
 
"Samantha embodies a new way of seeing work and living it, and that is how she has helped transform our organization, step by step."
—Huguette Robert, Director, and Steeven Pedneault, Social Designer, Présâges (Canada)
 
"More than ever, the public sector needs talent like Samantha to learn a basic human skill for our democracy: cooperation for social innovation."
—Cécile Joly, Public Innovation and Learning Lab, Public Administration (France)
 
"Read this book to learn how to see the world in a new perspective and develop a new set of muscles for building the commons!"
—David Bollier, author of Think like a Commoner (USA)
 
"Discover how to step into a more mature and responsible management paradigm where human beings can get up to a different level of mastery and purpose alignment. This book has challenged my own beliefs and ideas about my responsibility to be the change."
—Ana Manzanedo, Governance Connector, Ouishare (Spain)
 
"Samantha embodies the principles she upholds: a profound respect of the contribution of each individual and mastery of the science of efficient collaborative processes."
—Manon Poirier, Executive Director, Quebec Chartered Professionals in Human Resources (Canada)
 
"Samantha Slade deeply understands the power and vitality of nonhierarchical cultures. I highly recommend Going Horizontal as a tool when developing your horizontal culture."
—Sarah Houseman, Governance Researcher, La Trobe University (Australia)
 
"With Samantha Slade's book, we now have an insightful resource to help people understand how to operate effectively in this new paradigm. This is the ultimate companion for going horizontal."
—Edwin Jansen, Head of Marketing, Fitzii (Canada)
 
"This book is a must-read, discussing seven domains that are critical in a horizontal context."
—Ivo Bols, CEO, Irisoft Solutions (Belgium)
 
"Samantha's creativity and way of being enliven the collective intelligence methods that she embodies."
—Denis Cristol, National Center of Territorial Public Sector (France)
 
"Samantha succeeds in opening up collaboration perspectives that are little known. She reminds us that we are never too small to act."  
—Renée Ouimet, Director, Quebec Mental Health Movement (Canada)
Berrett-Koehler Publishers, 9781523095261, 256pp.
Publication Date: November 27, 2018
About the Author
Samantha Slade is the cofounder of Percolab--an international consultancy--and Ecolab, a co-working coop in Montreal. Both organizations are experimental fields for new operational ways, from collaborative general assemblies to self-managing compensation models. Slade has been exploring new collaborative models for twenty-five years, and has worked with departments within the European Union as well as with business teams, city employees, and citizens to develop new ways to work and learn.
or
Not Currently Available for Direct Purchase