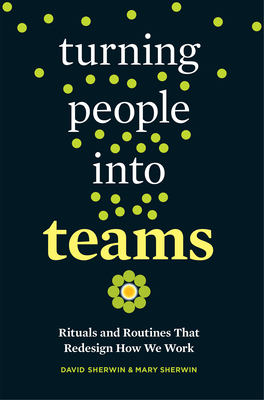 Turning People into Teams (Paperback)
Rituals and Routines That Redesign How We Work
Berrett-Koehler Publishers, 9781523095742, 192pp.
Publication Date: October 9, 2018
Other Editions of This Title:
Compact Disc (10/23/2018)
MP3 CD (10/23/2018)
* Individual store prices may vary.
Description
"Project and team leaders, do yourself a favor and make this book required reading by each member of your team!" --HR Professionals Magazine

Collaborative strategies work when they're designed by teams--where each person is heard, valued, and held accountable. This book is a practical guide for project team leaders and individual contributors who want their teams to play by a better set of rules.

Today's teams want more alignment among their members, better decision-making processes, and a greater sense of ownership over their work. This can be easy, even fun, if you have the right rituals.

Rituals are group activities during which people go through a series of behaviors in a specific order. They give teams the ability to create a collective point of view and reshape the processes that affect their day-to-day work. In Turning People into Teams, you'll find dozens of practical rituals for finding a common purpose at the beginning of a project, getting unstuck when you hit bottlenecks or brick walls, and wrapping things up at the end and moving on to new teams.

Customizable for any industry, work situation, or organizational philosophy, these rituals have been used internationally by many for-profit and not-for-profit organizations. By implementing just a few of these rituals, a team can capture the strengths of each individual for incredible results, making choices together that matter.
About the Author
David and Mary Sherwin are cofounders of Ask the Sherwins, LLC, a consulting and training firm that helps organizations around the world develop the capabilities they need for stronger teamwork. They have coached product and service design teams and developed innovation training for organizations such as Philips Oral Healthcare, Google UX Community and Culture, and Eventbrite. The Sherwins have collaborated on three books, including the bestseller Creative Workshop.
Praise For Turning People into Teams: Rituals and Routines That Redesign How We Work…
"Turning People into Teams is a treasure trove of exercises to help your team work better together and accomplish more, no matter what discipline you work in. I look forward to sharing this book with leaders in design, product, and engineering."
—Katie Dill, Vice President of Design, Lyft

"From strengthening relationships when forming new teams to project delivery and evaluation, the rituals and routines in Turning People into Teams will level up your project management process and guide you to the best possible outcomes."
—Leslie Lindo, Director of Community Engagement, Business Alliance for Local Living Economies

"I love the Sherwins' articulation of how rituals can be used for real strategic advantage. What I love even more is that using rituals can be one of the most inexpensive, rapid ways to drive meaningful change in your organization."
—Linda Quarles, Director, Strategy + Organizational Design, frog

"Bringing together people with different perspectives and areas of expertise is always a challenge. In Turning People into Teams, the Sherwins equip teams with the context and exercises needed to help them understand each other, break down barriers, and align on long-term goals. Using these exercises with my company's cross-disciplinary teams of designers, engineers, product managers, and data scientists has already led to several breakthroughs in how we identify goals, share feedback, and work together."
—Patrick Weiss, Director of Product Design, Omada Health 

"In Turning People into Teams, the Sherwins share practical rituals, routines, and activities that help teams understand what it means to exhibit ownership, values, and integrity as individual contributors to a collective effort. Curating best practices from corporations, nonprofits, and academia, this book has insights into building effective teams and transforming how they work." 
—Ratna Desai, Director of Product Design, Netflix

 "When working on teams, you might not always get to choose whom you work with—but you should definitely choose to read this book. Turning People into Teams enlightens the reader with an inspiring, common-sense approach on how to turn a group of individuals into a team that functions on multiple levels. The Sherwins practice what they preach, and this book gets rid of the fluff and provides a practical mindset and corresponding tools to evaluate your team's rituals, behaviors, and values. They prove that it's possible for almost anyone to learn the etiquette of collaboration."
—Alie Rose and Simona Maschi, cofounders of the Copenhagen Institute of Interaction Design

 "In a world with so much written about team processes for greater development speed and effectiveness, Turning People into Teams provides immediately usable tools for any kind of team to work better together. For anyone leading a multidisciplinary team, this book provides simple frameworks for getting at the hard challenges of team dynamics and a common format for engaging your team that can be experimented with and freely adapted to work within any context. 

Many changemakers and writers focus on the initial stages of ensuring a team is aligned to a shared goal. While this is critical, in my work helping organizations transform to be more innovative, I find the true test of change to be how it plays out over time. The Sherwins provide not only effective methods for framing the problem to be solved but also tools for completing a team's efforts and learning from what has been done. Written in a tone that invites readers to craft their own solutions, this book offers a way of approaching teamwork that you and your team can own and adapt to your needs."
—Turi McKinley, Executive Director, Org Activation, frog