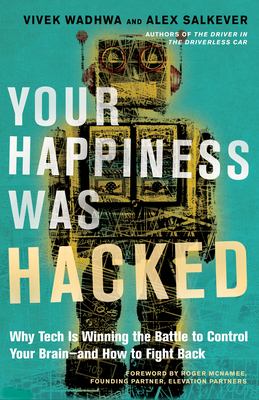 Your Happiness Was Hacked (Hardcover)
Why Tech Is Winning the Battle to Control Your Brain--And How to Fight Back
Berrett-Koehler Publishers, 9781523095841, 192pp.
Publication Date: June 26, 2018
* Individual store prices may vary.
Description
Technology promises to help us achieve our dreams, connect us to everyone, and free up time--so why are we more miserable then ever? Wadhwa and Salkever show that our unhappiness can be traced to a concerted effort by tech companies to mold our thoughts and behavior to accomplish their goals. For all its considerable benefits, many argue that technology has been instrumental in eroding security, privacy, and community. But Vivek Wadhwa and Alex Salkever argue that the truth is far more insidious: technology is actively robbing us of our happiness by making us so reliant on it that it becomes an addiction. Tech companies have all the weapons--sophisticated tracking bots, GPS coordinates, and algorithms that determine the optimal ways to distract us to their products and apps--even secret coding that defeats government monitoring and supervision--but Vivek and Salkever now provide us with insights and techniques to fight back. They focus on four key areas: Love, Work, Self, and Society. In each case, they document how the promise of technology has mutated into addiction and despair, and they lay out strategies to take back control by understanding the addictive mechanisms at the root of technology overload.
About the Author
Vivek Wadhwa is a distinguished fellow at Harvard Law School, Labor and Worklife Program and a distinguished fellow and professor at Carnegie Mellon University's College of Engineering and a Director of Research at Duke University's Pratt School of Engineering. He is a globally syndicated columnist for the Washington Post and the author of two other books, including The Immigrant Exodus, which was named by the Economist as a 2012 Book of the Year. Alex Salkever is an author, futurist and technology leader. He co-authored with Vivek Wadhwa "The Driver in the Driverless Car" and "The Immigrant Exodus." He is a columnist for Fortune and previously served as a Vice President at Mozilla as the Technology Editor of BusinessWeek.com and as a Guest Researcher at the Duke University Pratt School of Engineering.