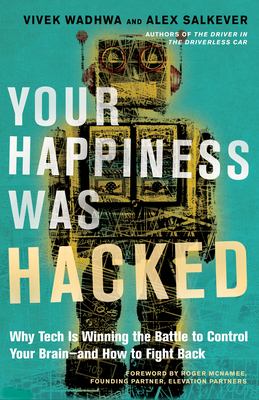 Your Happiness Was Hacked
Why Tech Is Winning the Battle to Control Your Brain--and How to Fight Back
Hardcover

* Individual store prices may vary.
Other Editions of This Title:
Digital Audiobook (6/25/2018)
MP3 CD (7/10/2018)
Compact Disc (7/10/2018)
Description
"Technology is a great servant but a terrible master. This is the most important book ever written about one of the most significant aspects of our lives--the consequences of our addiction to online technology and how we can liberate ourselves and our children from it."
--Dean Ornish, M.D. Founder & President, Preventive Medicine Research Institute, Clinical Professor of Medicine, UCSF, Author, The Spectrum

Technology: your master, or your friend? Do you feel ruled by your smartphone and enslaved by your e-mail or social-network activities? Digital technology is making us miserable, say bestselling authors and former tech executives Vivek Wadhwa and Alex Salkever. We've become a tribe of tech addicts--and it's not entirely our fault.

Taking advantage of vulnerabilities in human brain function, tech companies entice us to overdose on technology interaction. This damages our lives, work, families, and friendships. Swipe-driven dating apps train us to evaluate people like products, diminishing our relationships. At work, we e-mail on average 77 times a day, ruining our concentration. At home, light from our screens is contributing to epidemic sleep deprivation.

But we can reclaim our lives without dismissing technology. The authors explain how to avoid getting hooked on tech and how to define and control the roles that tech is playing and could play in our lives. And they provide a guide to technological and personal tools for regaining control. This readable book turns personal observation into a handy action guide to adapting to our new reality of omnipresent technology.
Praise For Your Happiness Was Hacked: Why Tech Is Winning the Battle to Control Your Brain--and How to Fight Back…
"…an incisive, timely book that uncovers the dark side of technology and suggests how to use it mindfully." 
—Foreword Review

"Wadhwa and Salkever have written a great book to help us understand our addiction to technology and suggest what we can do about it. They offer a menu of concrete steps we can take in our personal lives to use technology to our advantage without being controlled by it." 
—Andres Oppenheimer, columnist for the Miami Herald, joint winner of the 1987 Pulitzer Prize, and author of Innovate or Die!

"This book hooks its readers even more than the addictive technologies it expertly critiques. Wadhwa and Salkever are not neo-Luddites hostile to technology but rather grand masters of its promise and problems. Chock-full of suggestions for how corporate titans, public officials, and the general public can regain control over their lives, this timely book is no simplistic finger-pointing scolding or dystopian rant but offers a road map to sensible constructive solutions."
—Jeffrey A. Sonnenfeld, Senior Associate Dean for Leadership Studies and Lester Crown Professor in the Practice of Management, Yale School of Management

"This book is a fascinating evidence-based read that highlights the negative effects of modern digital technology on our work and lives and suggests changes in the technology-human interface to improve our well-being. Every chapter has an example or scientific fact that will resonate with you as it did with me and ends with a path for controlling the technology rather than having technology control us. A must-read!"
—Richard Freeman, Ascherman Professor of Economics, Harvard University, and Director, Science and Engineering and Workforce Project, National Bureau of Economic Research

"I love the convenience and feel empowered by the freedom tech provides. I cherish the proximity it brings to my family and friends. However, at times I find myself addicted to tech. Vivek Wadhwa and Alex Salkever provide valuable insights and recommendations on how to achieve the delicate balance that will lead to a happier and more fulfilling life."
—Sophie V. Vandebroek, Chief Operating Officer, IBM Research

"This book should be called How to Survive the Future. Wadhwa and Salkever provide practical, actionable thoughts that can help you survive—and thrive—tomorrow and beyond."
—Sree Sreenivasan, former Chief Digital Officer, New York City, The Metropolitan Museum of Art, and Columbia University
Berrett-Koehler Publishers, 9781523095841, 256pp.
Publication Date: June 26, 2018
About the Author
Vivek Wadhwa is an entrepreneur, a technologist, and a professor at Carnegie Mellon University's College of Engineering. A globally syndicated columnist for the Washington Post, he coauthored with Alex Salkever The Immigrant Exodus (an Economist 2012 Book of the Year) and The Driver in the Driverless Car (long-listed for the Financial Times and McKinsey 2017 Business Book of the Year).

Alex Salkever is an author, futurist and technology leader. He co-authored with Vivek Wadhwa "The Driver in the Driverless Car" and "The Immigrant Exodus". He is a columnist for Fortune and previously served as a Vice President at Mozilla as the Technology Editor of BusinessWeek.com and as a Guest Researcher at the Duke University Pratt School of Engineering.
or
Not Currently Available for Direct Purchase