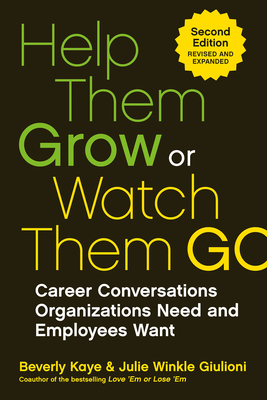 Help Them Grow or Watch Them Go (Paperback)
Career Conversations Organizations Need and Employees Want
Berrett-Koehler Publishers, 9781523097500, 160pp.
Publication Date: January 15, 2019
Other Editions of This Title:
Cards (1/15/2019)
* Individual store prices may vary.
Description
The new edition of the bestselling employee development classic includes advice on engagement and retention in today's more flexible employment environment and a new chapter on creating a career development culture in your organization.

Study after study confirms that career development is the single most powerful tool managers have for driving retention, engagement, productivity, and results. But most managers feel they just don't have time for it. This book offers a better way: frequent, short conversations with employees about themselves, their goals, and the business that can be integrated seamlessly into the normal course of business.

Beverly Kaye and Julie Winkle Giulioni identify three broad types of conversations that will increase employees' awareness of their strengths, weaknesses, and interests; point out where their organization and their industry are headed; and help them pull all of that together to create forward momentum. And the new chapter includes an assessment so you can measure how well your current culture supports development--and how to improve it.
About the Author
Beverly Kaye is the founder of Career Systems International. She was recently honored with the Lifetime Achievement Award from the Association for Talent Development for her groundbreaking and continual contributions to workplace learning. She is the coauthor of several books, including five editions of Love 'Em or Lose 'Em.

Julie Winkle Giulioni works with organizations worldwide to improve performance through leadership and learning. Named one of Inc. magazine's top 100 leadership speakers, she consults, teaches, speaks, and writes about career development and a variety of workplace topics.
Praise For Help Them Grow or Watch Them Go: Career Conversations Organizations Need and Employees Want…
"Filled with great examples, questions, and real-world approaches that fit into the workflow, this book brings a much-needed simplicity and personal touch back to career development."
—David Rodriguez, Executive Vice President and Chief Human Resources Officer, Marriott International
 
"Employees crave authentic conversations about their careers. Too frequently, managers shy away or simply don't make the time. Bev and Julie remind us that it can be as simple as asking good questions—and they show us how with tips, examples, and suggestions that build confidence and competence."
—Louise Keefe, Global Senior Leader, Organization Effectiveness, Eaton
 
"Every manager will find this short book to be long on practical ways to make career development happen."
—Jack Zenger, CEO, Zenger Folkman, and coauthor of the bestselling The Extraordinary Leader and The Extraordinary Coach
 
"This book is an essential manual for managers and mentors who want to achieve success. Career planning does not have to be complicated or intimidating. The authors break it down into remarkably simple conversation topics with open-ended questions. The examples that have been threaded throughout are spot on and valuable. This will be an often-used and dog-eared resource on every desk!"
—Bill Meeker, Chief Energy and Human Resources Officer, Diversey
 
"At United Health Group, our company growth depends on the growth of our employees. When employees feel they can meet their career goals, that fuels engagement—one of the key drivers of our success. Bev and Julie hit the bull's-eye by providing a compelling book that speaks to the everyday life of a manager. What a wonderful resource!"
—Wendy Bloom, Senior Director, Talent Strategy, United Healthcare
 
"Beverly and Julie have a remarkable gift of turning an important and complex topic into useful and simple ideas and practices. Their work will help leaders wisely invest in their employees and employees take responsibility for their personal development."
—Dave Ulrich, Professor of Business Administration, Ross School of Business, University of Michigan
 
"Deceptively simple. Absolutely relevant. Bev and Julie demystify career development and give managers the key to unlocking the potential around them."
—Heidi Brandow, Director, Global Learning and Development, Tesla, Inc.
 
"Life and business are all about where you pay attention. Pay attention to the growth of your people . . . and they will grow your business. The authors do a great job in spelling out the how-tos!"
—Chip Conley, author of Wisdom@Work and Strategic Advisor for Hospitality and Leadership, Airbnb
 
"Developing talent is essential for business success. This book provides a practical and easy-to-implement approach that can have a big impact on an organization."
—Tamar Elkeles, Chief Talent Executive, Atlantic Bridge Capital LLP
 
"This edition takes us into the realities of today's business landscape and shows that if we want to grow our business, we have to grow our people. It walks the reader through career conversations in a way that isn't overwhelming and rather focuses on leaders being genuine and having meaningful conversations."
—Robin Cerrati, Vice President, Human Resources, Compass Group
 
"Should be the career conversation bible for busy leaders!"
—Marshall Goldsmith, author of the New York Times bestseller Triggers and coauthor of How Women Rise
 
"Organizations in Asia need to take career development initiatives seriously, and managers need to be supported with simple skills and tools to build trust and overcome cultural barriers. This book offers an approach to career development that works cross-culturally and enables companies in Asia to deal more effectively with this talent management challenge."
—Tan Siew Inn, Founding Partner, The Flame Centre, Singapore, and author of Wholeness in a Disruptive World
 
"Help Them Grow or Watch Them Go is an important contribution to leading organizations where people and talent growth matters to success."
—Kevin Wilde, Executive Leadership Fellow, Carlson School of Management
 
"In all my years coaching executives on career development, this is the best and most comprehensive resource available. It takes the complex issue of career development and simplifies it with real, action-oriented tips, tools, and insights. It's relevant for new supervisors, senior executives, and HR professionals at any level in any industry."
—Sharon Silverman, Senior Vice President, Talent Acquisition, Gingerfinds
 
"At last, a hands-on book that's smart, practical, and honest. Everyone knows that people make all the difference; this book will teach you how to make a difference with your people."
—Alan Webber, cofounder of Fast Company, author of Rules of Thumb, and Mayor of Santa Fe, New Mexico
 
"Improving the skills of our workforce is one of the country's most important economic challenges. It has to start with employers, and Help Them Grow tells you how to do it painlessly."
—Peter Cappelli, Director, Center for Human Resources, The Wharton School, and Professor of Management, University of Pennsylvania
 
"Great read for those who want to help individuals develop. It is full of useful materials that are easy to access. Ideal for a manager who wants to learn about coaching others."
—Edward E. Lawler III, Distinguished Professor of Business, Marshall School of Business, University of Southern California, and coauthor of Management Reset
 
"Improving retention and building engagement are the driving factors for the talent development strategy of the Hearst Capital Management group. We're implementing Help Them Grow concepts because they provide managers and employees with an easy-to-follow yet impactful framework for career conversations. Through career conversations, we're increasing engagement and, more importantly, supporting our employees' careers."
—Heather Ragone, Senior Director, Talent Development, Hearst
 
"Ingersoll Rand's focus on development is improving year over year. Our leaders don't just coach for performance, they coach for development. How does best-in-class engagement and employee retention sound to you? Does an organization filled with career coaches sound interesting? Read this book!"
—Craig Mundy, Vice President, Human Resources, Strategic Business Units, Ingersoll Rand
 
"Help Them Grow provides a practical road map for managers who know that they want to help their teams but may not know the clear, specific steps they can take. Managers, employees, and the organizations they serve will benefit from the wisdom in this book."
— Rebecca L. Ray, Ph.D., Executive Vice President, Human Capital, The Conference Board
 
"I loved this book. Draw from the abundant list of simple yet powerful questions and become the best talent manager in your organization." 
—Tina Sung, Vice President, Government Transformation and Agency Partnerships, Partnership for Public Service
 
"A great guidebook for those whose job it is to help other people grow, with all the right questions we need to be asking!"
—Frances Hesselbein, President and CEO, The Frances Hesselbein Leadership Institute