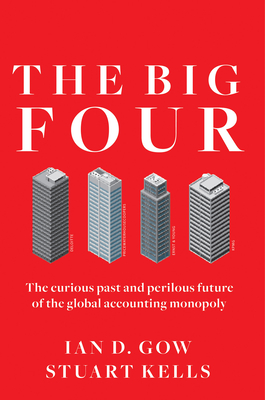 The Big Four (Hardcover)
The Curious Past and Perilous Future of the Global Accounting Monopoly
Berrett-Koehler Publishers, 9781523098019, 256pp.
Publication Date: August 28, 2018
Other Editions of This Title:
MP3 CD (9/10/2018)
Compact Disc (9/10/2018)
* Individual store prices may vary.
Description
"Messrs. Gow and Kells have made an invaluable contribution, writing in an amused tone that nevertheless acknowledges the firms' immense power and the seriousness of their neglect of traditional responsibilities. 'The Big Four' will appeal to all those interested in the future of the profession--and of capitalism itself."--Jane Gleeson-White, Wall Street Journal

With staffs that are collectively larger than the Russian army and combined revenues of over $130 billion a year, the Big Four accounting firms--Deloitte, PricewaterhouseCoopers, Ernst & Young, and KPMG--are a keystone of global commerce. But leading scholar Ian Gow and award-winning author Stuart Kells warn that a house of cards may be about to fall.

Stretching back to the Medicis in Renaissance Florence, this book is a fascinating story of wealth, power, and luck. The founders of the Big Four lived surprisingly colorful lives. Samuel Price, for example, married his own niece. Between the world wars, Nicholas Waterhouse collected postage stamps while also hosting decadent parties in his fashionable London home.

All four firms have endured major calamities in recent decades. There have been hundreds of court cases and legal prosecutions for failed audits, tax scandals, and breaches of independence. The firms have come so close to "extinction level events" that regulators have required them to prepare "living wills." And today, the Big Four face an uncertain future--thanks to their push into China, their vulnerability to digital disruption and competition, and the hazards of providing traditional services in a new era of transparency.

This account of the past, present, and likely future of the Big Four is essential reading for anyone perplexed or fascinated by professional services, working or considering working in the industry, or simply curious about the fate of the global economy.
About the Author
Ian D. Gow is director of the Melbourne Centre for Corporate Governance and Regulation at the University of Melbourne. He has served on the faculties of Harvard Business School and the Kellogg School of Management at Northwestern University. He has also held positions at Morgan Stanley, General Motors, Stern Stewart & Co., and Andersen Consulting.

Stuart Kells was formerly assistant auditor-general of the state of Victoria and a director at KPMG. He also worked at Deloitte, at S. G. Warburg, and, after the 2008 financial crisis, with one of the receivers of Lehman Brothers. His history of Penguin Books, Penguin and the Lane Brothers, won the Ashurst Business Literature Prize.
Praise For The Big Four: The Curious Past and Perilous Future of the Global Accounting Monopoly…
"While there is still a larger, more detailed history of these firms to be written, Messrs. Gow and Kells have made an invaluable contribution, writing in an amused tone that nevertheless acknowledges the firms' immense power and the seriousness of their neglect of traditional responsibilities. 'The Big Four' will appeal to all those interested in the future of the profession—and of capitalism itself." – The Wall Street Journal

"Who would have ever thought that one would find a deep understanding of the issues facing today's Big Four in the rise and fall of the Medici bank? Gow and Kells provide a riveting analysis of the historical antecedents to today's Big Four structures and strategies and leave us totally unsettled in considering the industry's future. A unique approach of historical comparisons results in a must-read volume of an essential industry that is poorly understood. I could not put it down."
—Leonard A. Schlesinger, Baker Foundation Professor, Harvard Business School, and President Emeritus, Babson College
 
"The Big Four offers a provocative lens to consider the evolution and role of the largest global accounting firms. This book can catalyze a needed discussion about what the accounting profession should deliver, what it appears to currently deliver, and how it should innovate moving forward."
—Alan D. Jagolinzer, Professor of Financial Accounting and Director, Centre for Financial Reporting & Accountability, Judge Business School, University of Cambridge
 
"Major international accounting firms play a fundamental role in the governance of the world's largest public companies. The quality of financial statements is crucial for evaluating executives and valuing firms. The Big Four delves into the origin of these firms and the role they play in businesses around the globe. As for many organizations, the future for accounting firms is uncertain. How will this profession adapt to its new environment? The Big Four tells the reader what to expect. This is a must-read for executives and directors alike."
—David Larcker, James Irvin Miller Professor of Accounting, Stanford Graduate School of Business; Professor of Law (by courtesy), Stanford Law School; and Senior Faculty, Rock Center for Corporate Governance, Stanford University
 
"A fascinating book . . . I highly recommend it."
—Ticky Fullerton, Sky News Business
 
"Great fun. I enjoyed it."
—Phillip Adams, Late Night Live, Australian Broadcasting Corporation