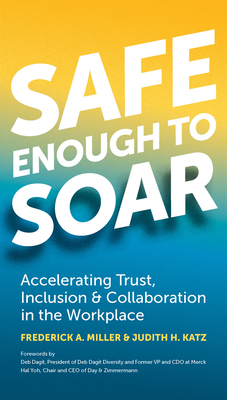 Safe Enough to Soar (Paperback)
Accelerating Trust, Inclusion & Collaboration in the Workplace
Berrett-Koehler Publishers, 9781523098057, 128pp.
Publication Date: November 6, 2018
Other Editions of This Title:
MP3 CD (11/6/2018)
Compact Disc (11/6/2018)
* Individual store prices may vary.
Description
Some organizations pay a great deal of attention to ensuring the physical safety of their team members, but do the team members feel safe enough to speak up and raise tough concerns or share bold and still-in-formation ideas? In this book, bestselling authors and inclusion experts Frederick A. Miller and Judith H. Katz introduce the concept of "interaction safety" and demonstrate how it can help create a work environment of trust, inclusion, and collaboration.

Interaction safety encourages reasonable risk-taking and inspires every individual to be brave enough to reach for higher goals and more ambitious possibilities. When interaction safety exists, people know they will not be penalized, ostracized, demoted, made small, discounted, or shunned because of their thoughts, contributions, and conversations. Individuals feel encouraged and empowered and can achieve more together than they would alone.

Miller and Katz provide a four-level model for assessing and increasing the interaction safety in organizations, illustrated by short scenarios taken from real-life situations. They offer concrete actions team members, leaders, and organizations can take to build and maintain a productive, collaborative, and innovative environment in which people do their best work individually and collectively.

When interaction safety is a way of life, the energy people used to spend walking on eggshells, trying to get their ideas heard, navigating minefields, or avoiding those they distrust can instead be put toward doing their best work and winning bigger for the organization. With a culture of openness and true collaboration, both the organization and individuals can soar!
About the Author
Frederick A. Miller, CEO, and Judith H. Katz, executive vice president, of the Kaleel Jamison Consulting Group, Inc., are the coauthors of The Inclusion Breakthrough, Be BIG, and Opening Doors to Teamwork and Collaboration. They have each been honored with several of their field's most distinguished awards. They have both received the Lifetime Achievement Award presented by the Organization Development Network (ODN), and Miller has also received the Winds of Change Award from the Forum on Workplace Inclusion. Katz has also received ODN's Outstanding Achievement in Global Work Award and Communicating OD Knowledge Award, as well as the Cultural Competency Award from Diversity Training University International. Miller has served on Ben & Jerry's and Day & Zimmermann's corporate boards. Katz is currently a member of the Fielding Graduate University board of trustees.
Praise For Safe Enough to Soar: Accelerating Trust, Inclusion & Collaboration in the Workplace…
"A workplace where people feel safe and valued—where they trust, care about, and listen to each other—isn't out of reach for any organization. Read Safe Enough to Soar and learn how to create a culture of support and respect that will inspire your people to perform at their highest level. I guarantee your company's bottom line will follow suit."
—Ken Blanchard, coauthor of The New One Minute Manager and Servant Leadership in Action
 
"There is nothing more central to a high performing organization than trust in the workplace. Fred and Judith have given us a fantastic hands-on practical process to move any organization, no matter where it sits, toward that goal. Bravo!"
—Jerry Greenfield, cofounder, Ben & Jerry's Ice Cream
 
"Not only is Safe Enough to Soar a practical road map that can enable any size organization to go from good to great; it is a blueprint to inspire any individual in your organization to sprout creative and collaborative wings and soar!"
—Denise Cerreta, founder, One World Everybody Eats, and 2017 James Beard Humanitarian of the Year
 
"Through real-life examples grounded in complex concepts, this book walks us through a path to be intentional about every interaction, resulting in teams engaging fully and working together for business breakthroughs. It puts in perspective how our efforts to be truly inclusive can enrich our relationships, interactions, and experiences, both personally and professionally."
—Rohini Anand, Global Chief Diversity Officer and Senior Vice President,
Corporate Responsibility, Sodexo
 
"Trust. Inclusion. Collaboration. Beyond buzzwords, Fred and Judith outline a process by which organizations can tap into employees' best efforts and thinking. Safe Enough to Soar is an invitation for everyone to create environments at work that foster real engagement and contribution."
—Tony Bingham, President and CEO, Association for Talent Development
 
"The true competitive advantage in today's gig economy and race to incorporate artificial intelligence into corporate business systems is to unleash the full potential of all human assets. Safe Enough to Soar unlocks the key to ineffective team interactions and presents a compelling concept of interaction safety that is the accelerant to effective change management and continuous improvement."
—Marty Belle, Vice President, Global Talent Acquisition and Inclusion & Diversity, W. W. Grainger, Inc.
 
"Written with clarity and generosity of spirit, this book is urgently needed to help leaders drive organizational success."
—Katrina S. Rogers, PhD, President, Fielding Graduate University
 
"Accept the invitation of Fred and Judith to be safe enough to soar and learn about the journey to create safe interactions and trust in life and your organization. Their latest work reveals how to transform fear to safety and leverage conflict and disagreement into trust, opportunity, and improved organizational performance. This is a must-read for those seeking to tap the talent, knowledge, and commitment of the people in their organizations."
—James N. Baldwin, JD, EdD, President, Excelsior College
 
"Through Safe Enough to Soar, we are now provided with direction and the context within which to apply the 4 Keys. The book offers a clear pathway through four levels of interaction safety, helping me visualize a route leading to interaction safety as a way of life."
—Andrew Van Breugel, General Manager and Operations Director, Salisbury Operations, Australia, Mayne Pharma International Pty. Ltd.
 
"What a timely time . . . to prod and push us, aspirationally and pragmatically, to consider and to embrace a new level of connecting with each other to benefit individuals and organizations! Your competence and dedication across decades to create safe and powerful interactions for all is much appreciated."
—Joseph C. High, former Senior Vice President and Chief People Officer, W. W. Grainger, Inc.
 
"In today's challenging and ever-changing work environments, interaction safety is crucial for individuals and organizations to reach their full potential and soar. Fred and Judith provide a visionary and practical guide for how to achieve it as a way of life."
—Mary-Frances Winters, founder and CEO, The Winters Group, Inc.
 
"Interaction safety levels bring to life the courageous journey people are on in society today. As businesses move to Level Four, skyrocketing employee engagement will drive out organizational waste, and businesses will see tremendous growth."
—Kathy Clements, former Vice President, Lean Six Sigma, Ecolab
 
"Safe Enough to Soar seamlessly weaves together complex concepts of systems thinking, the business case for culture change, and neuroscience in a simple and engaging yet highly effective format."
—Deborah Dagit, President, Deb Dagit Diversity, and former Vice President and Chief Diversity Officer, Merck
 
"Judith and Fred provide what participants, students, and my executive clients all ask for: How do I create enough safety in my workplace to fully engage people and put the tough issues out openly on the table?"
—Robert J. Marshak, PhD, author of Covert Processes at Work
 
"Typically in government, the workforce is the constant and leadership is viewed by the workforce as temporary. The mentality of 'I'll still be here after they are gone' is difficult to break through. Political influence is strong and allies are hard to find. Fred and Judith's ability to identify the current state and simply lay out a plan for change provides leadership with a road map to promote cultural change in an environment that is somewhat intolerant of it. Their insight and knowledge gained from a multitude of organizations and experiences provide workplace scenarios applicable to every environment."
—Monica Kurzejeski, Deputy Mayor, City of Troy, New York
 
"As a woman business founder and owner, I know firsthand what it means to be able to speak out and speak up. As a business leader, I recognize that creating an environment that supports all individuals to be their best self, contribute fully, and learn openly from others is a model not only for our companies but for our society as well."
—Lynne Katzmann, founder and CEO, Juniper Communities
 
"An important new book about an important new understanding of safety in the workplace. Safe Enough to Soar is an easy read that calls out a complex organizational challenge. The author's definition of interaction safety is clear, and the four levels of safety they describe are accessible and understandable. The key to this book is the value it provides to organizations of all types by challenging us all to do better by ourselves, our colleagues, and our workplaces."
—Steve Humerickhouse, Executive Director, The Forum on Workplace Inclusion
 
"Miller and Katz have elevated safety as a key condition in creating inclusive cultures in their model of interaction safety. Safety is often in the eyes of the beholder. The four levels of safety described are critical for people to explore, examine, and enact to assess not only how safe they feel but also how they contribute to creating a culture of safety for others. Miller and Katz offer concrete examples to make cultures that are more than safe enough to soar!"
—Ilene Wasserman, PhD, President, ICW Consulting Group
 
"When we rolled out the 4 Keys to collaboration (from the same authors), we spent a surprising amount of time on the themes that are captured and addressed in this book. I can therefore recommend it for stand-alone initiatives aimed at helping employees speak up, speak out, and be heard, as well as for use before, during, or after deployment of the 4 Keys."
—Mike Ali, PhD, former CIO, W. W. Grainger, Inc.
 
"How do we create a great work environment where people feel safe to be fully involved and able to do their best work? Fred and Judith offer a highly engaging, thoughtful, and much-needed way to establish interaction safety so people can offer both their best and still-forming ideas."
—John Vogelsang, PhD, Editor-in-Chief, OD Practitioner, Organization Development Network, and Director, Michael Harrington Center, Queens College, City University of New York
 
"Just finished reading the book and wanted to let you know how moved I am by the message and your crystal-clear view of what inclusion can look like when intentionally practiced and authentically experienced."
—Plácida V. Gallegos, PhD, President, Solfire Consulting LLC
 
"For leaders, this book provides a much-needed, practical road map for creating a work environment where everyone feels safe to speak up and challenge the status quo. The four levels of interaction safety, enhanced with checklists and relevant examples, demystify the steps toward realizing a culture of candidness, trust, and inclusion."
—Monica E. Biggs, EdD, independent OD consultant
 
"If you want to create a work environment that brings out the best in people and fosters collaboration and respect, Safe Enough to Soar is the place to start. The concept of interaction safety is a powerful tool to diagnose and remedy the negative interpersonal dynamics that typically stifle workplaces. Great ideas come out of creative conflict; this book is an illuminating and practical guide to transforming your workplace into an environment where that creativity can be realized."
—Christopher Ames, PhD, President, The Sage Colleges
 
"This book will be an essential part of the toolkit for everyone who wants to learn how to make inclusion part of our everyday reality. When all those in organizations take the message of this book to heart and integrate its lessons into their behavior, relationships, and work, we will have gone a long way to achieving the benefits of inclusion."
—Bernardo M. Ferdman, PhD, Distinguished Professor Emeritus, California School of Professional Psychology; Principal, Ferdman Consulting; and editor of Diversity at Work
 
"Powerful concepts and building blocks for enhancing engagement and a sense of belonging."
—Effenus Henderson, Codirector, Institute for Sustainable Diversity and Inclusion
 
"The journey from Level One to Level Four, is directly linked to creating a distinct competitive advantage via the collective insight of a motivated and fully engaged workforce, . . . which allows individuals to bring all their ideas and concerns, without fear of criticism or critique, unleashing the power of the whole organization."
—Victor Lusvardi, Market Development Director, The Chemours Company
 
"Many have decried the tendency for organizations to encourage difficult conversations or robust dialogue without due regard for the lack of interaction safety in those conversations. I have not come across many books that address this topic with such clarity like Fred and Judith have done. I am particularly drawn to their definition that interaction safety includes not only the feelings of safety to share best ideas but their still-in-formation ideas. It is only when we feel free to speak that we can share ideas that are still in formation—where we do not feel judged and have accepted that everyone can be wrong at times. Interaction safety leads to rich dialogue and creative solutions to problems. Excellent addition to the work of creating inclusive workplaces. Well done!"
—Nene Molefi, author and CEO, Mandate Molefi
 
"Once again, Fred and Judith bring to light a relevant observation on what people in organizations do that prevents us from becoming our best."
—Randy Wilson, Director, Organizational Development, Pier 1 Imports
 
"Taking the time to create interactive safety reaps numerous benefits for organizations and allows energies once dedicated to protective measures to be translated to generative and productive outcomes. The four levels of interaction safety are described through a developmental continuum, illustrated through real-life scenarios that readers will find familiar regardless of the professional sector in which one is employed. The definition provided of interaction safety helps the reader understand the behaviors and mindsets necessary for creating a work environment where differences are respected and leveraged and where reasonable risk taking is rewarded."
—Mark A. Puente, Director of Diversity and Leadership Programs, Association of Research Libraries
 
"Your observation that a lack of personal interaction safety will lead to self-editing of the very communications that could improve an organization's performance is, at once, simple and elegant."
—Francis Murdock Pitts, FAIA, FACHA, OAA, Principal, architecture+
 
"This book takes readers along a journey from a work environment characterized by judgment, blame, and bullying to one of collaboration, learning, engagement, and contribution."
—Charles Pfeffer, CEO Coach and President, Contextus LLC
 
"To fully leverage diversity we must foster an environment where people feel safe to show up authentically and give 100% of themselves. Safe Enough to Soar, skillfully outlined four levels of Interaction Safety and provides a pragmatic process that will help move from D&I strategy to activation."
—Lily C. Prost, Executive Vice President and Chief Human Resources Officer, J. M. Huber Corporation
 
"What sets Judith and Fred apart as authors is their ability to engage their readers as allies and empower them to make a difference in their organizations."
—Khamel Abdulai, Director of Training, Excelsior College
 
"Safe Enough to Soar is a wonderful extension to Fred and Judith's amazing body of work teaching us how to create inclusive environments where people can bring their full selves to their work each day."
—Rob Guenard, PhD, Senior Director, Biogen
 
"By creating clear guidelines and pathways for creating safe environments, Fred and Judith have given us a road map for enhancing trust in our relationships and in our organizations and a guidebook for engagement and fulfillment in our daily lives!"
—Howard J. Ross, author of Our Search for Belonging
 
"For the many individuals who do not feel safe at work—whether they are on the front line or in a leadership role—this book presents a way to name the behaviors and simple methods to work in their organization while maximizing their personal sense of self and interaction safety."
—Leigh Wilkinson, Program Manager, Project Management Office, State of Maine
 
"Working in a foreign country, I was very skeptical as to how the principles of Safe Enough to Soar would actually work. As I began to implement the seven steps to creating interaction safety, I was amazed at how quickly my team adopted the practices, and they have become the norm. I can see not only how our meetings have changed but how much faster solutions are agreed upon, pushing the organization to a higher level. I can say, firsthand, this book transcends geographic and cultural boundaries."
—Cindy Szadokierski, Vice President, Airport Operations, IndiGo