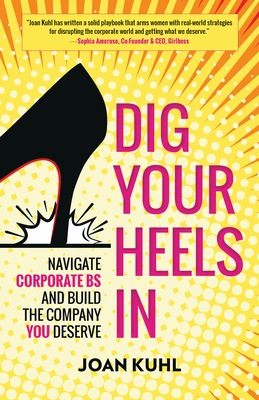 Dig Your Heels In (Paperback)
Navigate Corporate BS and Build the Company You Deserve
Berrett-Koehler Publishers, 9781523098354, 240pp.
Publication Date: April 16, 2019
Other Editions of This Title:
Paperback, Large Print (4/26/2019)
MP3 CD (4/2/2019)
Compact Disc (4/2/2019)
* Individual store prices may vary.
Description
What if you could transform your company from the inside out? Biased, male-dominated corporate cultures have forced far too many women out of the companies they've aspired to work for. Dig Your Heels In is a first of its kind playbook that empowers women to disrupt the corporate achievement game and be catalysts for positive change.

Joan Kuhl helps women create a clear vision of what their career path deserves to be and make a convincing business case for equality to their managers and senior leadership. You'll learn strategies for overcoming sexist cultural attitudes about gender and leadership, as well as for dealing with self-limiting behaviors like Imposter's Syndrome (the feeling that you're never good enough despite a track record of success) and the Myth of Meritocracy (the idea that just doing good work is the only way to advance). Because relationships are absolutely crucial, Kuhl describes how to build support networks before you even need them and explains how to get actionable feedback that will help you get to the next level--the kind women rarely are afforded.

Case studies, practical exercises, and inspiring stories from Kuhl's work with clients at companies such as Eli Lilly and Company, Goldman Sachs, U.S. Soccer, BlackRock, South Carolina Asphalt Pavement Association and top business schools make this a truly comprehensive guide. It's an indispensable resource for women seeking to build the confidence and conviction to secure the seat at the table they've earned and create a welcoming workplace for everyone.
About the Author
Joan Kuhl is the founder and president of Why Millennials Matter and The Kuhl Company. As a champion for girls and women in leadership, she serves on the Girls Inc. of NYC board and is a #SheBelieves Champion for U.S. Soccer. Her work has been featured in Harvard Business Review, the Wall Street Journal, Forbes, the New York Times, and more. Kuhl is a contributing writer for Women@Forbes. She was a board member of the Frances Hesselbein Leadership Institute in honor of its namesake, who was the former CEO of the Girl Scouts of the USA and recipient of the Presidential Medal of Freedom.
Praise For Dig Your Heels In: Navigate Corporate BS and Build the Company You Deserve…
"Joan Kuhl has proven to be an unabashed champion for girls' leadership and advancing women in the workplace. Dig Your Heels In is a solid playbook that arms women with real-world strategies for disrupting the corporate world and getting what we deserve."
—Sophia Amoruso, cofounder and CEO, Girlboss

"An incredibly important book that will change the way we lead, grow and transform our organizations—and ourselves. Dig Your Heels In distills the essence of what it takes to become a significant change agent, guiding us to challenge the status quo and moving us from where we are to where we are called to be."
—Frances Hesselbein, Chairman, Frances Hesselbein Leadership Forum; Presidential Medal of Freedom recipient; and former CEO, Girl Scouts of the USA

"Need a dose of inspiration and career strategy before your next mansplaining? Here it is! As much as Lean In charted the course, Dig Your Heels In is about staying the course. A very special message to millennial women that will take them through, not just to, the glass ceiling. The stories in this book are as inspiring as they are instructive.
            Joan Kuhl was among the first thought leaders to focus intently on young leaders and by doing so has inspired me to a lifetime of developing millennials before they assume top leader roles. A profoundly talented writer and speaker, Joan is a standard bearer for women in business. Dig Your Heels In is not just about standing firm; it's about moving ahead."
—Tom Kolditz, PhD, retired Brigadier General and Executive Director, The Doerr Institute for New Leaders, Rice University

"Our girls need advocates like Joan Kuhl to help them grow up to be strong, respected, and valued leaders. Dig Your Heels In emphasizes the bold moves that individuals can take to ensure women of all ages, levels, and backgrounds have the time, space, and support to be our authentic selves in a world of social pressures and gender stereotypes."
—Kate T. Parker, photographer and author of Strong Is the New Pretty
 
"Women face specific challenges to rise in their careers and oftentimes shrink themselves at the prospect of engaging others around their ambitions. Dig Your Heels In gives women permission and courage to go after what they need and deserve while also strengthening their peer network to empower women around them."
—Sally Helgesen, coauthor of How Women Rise
 
"Women deserve to know the real deal so they can power through the obstacles that they will encounter in pursuit of the happy, fulfilling, and successful careers they deserve. Dig Your Heels In is a movement based on having the courage to advocate for ourselves and play the long game for our peers and the women to follow."
—Annie McKee, author of How to be Happy at Work and Senior Fellow, University of Pennsylvania
 
"Dig Your Heels In delivers relevant and actionable strategies to empower women to lead within their organizations."
—Anne Ackerley, Head of BlackRock's U.S. and Canada Defined Contribution Group and Co-Founder of BlackRock's Women's Initiative Network
 
"Practical solutions, relevant stories, and even scripts for difficult situations make Dig Your Heels In a must-read for any woman who wants to advance her career and change her organization for the better."
—Laura Vanderkam, author of I Know How She Does It
 
"The trust and influence that Joan Kuhl has earned through her research-based consulting projects and passion for transforming culture are infectious. We have worked together for the past several years on efforts to engage early career professionals and advance women in sports, so I'm thrilled that her advice and strategies are accessible through her new book, Dig Your Heels In, to more leaders in human resources and talent management."
—Holly Lindvall, Senior Vice President, People and Culture, New York Mets
 
"For over a decade, I have witnessed Joan Kuhl's impact on global organizations and diverse leaders led by her passion for early career development and advancement of women in the workplace. Dig Your Heels In pulls together Joan's expertise with inspiring stories of trailblazers who provide a realistic pathway for achieving success at work and in life."
—Marshall Goldsmith, #1 New York Times bestselling author of Triggers, Mojo, and What Got You Here Won't Get You There and #1 Executive Coach and the only two-time #1 Leadership Thinker in the World, Thinkers50