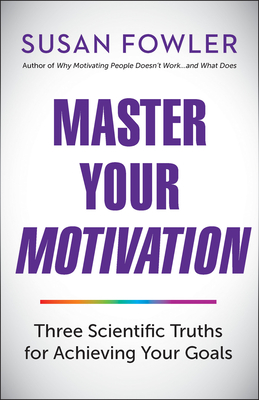 Master Your Motivation (Paperback)
Three Scientific Truths for Achieving Your Goals
Berrett-Koehler Publishers, 9781523098620, 192pp.
Publication Date: June 4, 2019
Other Editions of This Title:
Compact Disc (6/4/2019)
MP3 CD (6/4/2019)
* Individual store prices may vary.
Description
If you want to accomplish what's important to you, discipline and willpower won't get you where you need to go. In this iconoclastic new book, Susan Fowler reveals compelling insights and actions to help you master and maintain your motivation.

Motivation is at the heart of everything you do and everything you want to do but don't. Unfortunately, the ways we typically motivate ourselves don't work. Relying on sheer determination eventually becomes exhausting--it's not sustainable. And even setting goals can backfire--if you're not setting them for the right reasons.

Susan Fowler says motivation is energy, and what matters is the quality, not the quantity. Traditional "motivators" such as fear, guilt, or the promise of a reward provide low-quality, short-term energy. Drawing on the latest empirical research, she proves that high-quality, optimal motivation is a skill that you can learn and apply.

Science tells us that satisfying three basic needs--for choice, connection, and competence--is essential to optimal motivation. You need to feel like you've picked your path, not that you're being driven down it. Your goal should be linked to people or a purpose meaningful to you. And you want to continually learn and grow.

Through practical exercises and eye-opening stories, Fowler shows you how to identify and shift the quality of your motivation. The skill to master your motivation is important--it may be your greatest opportunity to evolve, grow in wisdom, and be the light the world so desperately needs.
About the Author
Susan Fowler has thirty-five years' experience as a consultant, coach, and global leader in the field of personal empowerment. She is the creator and lead developer of the Ken Blanchard Companies' Optimal Motivation product line and author of Why Motivating People Doesn't Work . . . and What Does, as well as the coauthor of six books (three with Ken Blanchard). She is also a professor in the Master of Science in Executive Leadership program at the University of San Diego.
Praise For Master Your Motivation: Three Scientific Truths for Achieving Your Goals…
"Truly great performers in every field have mastered their motivation. Now we finally understand the magic—and the science—behind how they've done it. More importantly, Master Your Motivation is the first book to teach a revolutionary idea: motivation is a skill you can use to achieve your goals—and sustain high performance." 
—John Calipari, Hall of Fame basketball coach, University of Kentucky
 
"I have no doubt that the powerful ideas in Master Your Motivation will change your perspective about motivation. But what I love about this book is how Susan's storytelling brings the skill of motivation to life with relevant examples you can begin using today." 
—Tracie Lorber, Director of People and Culture, Peet's Coffee
 
"Master Your Motivation teaches you how creating choice, connection, and competence leads to the optimal motivation you need not only to be more productive but also to lead a happier and more peaceful life." 
—Brian Tracy, bestselling author of Eat That Frog!
 
"Master Your Motivation teaches each of us that when it comes to motivation, the quality of our motivation matters—and that through the skill of motivation, we can shift our motivation anytime we choose! Our tribe flourishes when every member of the tribe thrives through optimal motivation."
—Garry Ridge, President and CEO, WD-40 Company, and coauthor of Helping People Win at Work
 
"I've performed at the Oscars several times and toured the world with artists such as Justin Timberlake. But Master Your Motivation emphasizes that even as a professional dancer, the real reason I practice every day isn't for those big moments alone. I was energized by remembering to reflect on my life credo: why walk, when you can dance? Now I can apply that important insight to everything I do!"
—Ava Bernstine, professional dancer and choreographer
 
"In Susan's last book, Why Motivating People Doesn't Work . . . and What Does, I keyed in on debunking the myth 'It's not personal; it's just business.' As a business owner, 'If it's business, it's personal' because my work and personal life are both guided by the same values. Now, Master your Motivation gives me the practical skills and tools to guide everything I do. Continuously evolving through mindfulness is keeping my passion alive!"
—Lynn Hutton, business owner and CFO, InnovaSystems International, LLC
 
"Master Your Motivation is a wake-up call about the nature of motivation. The techniques Susan offers in this groundbreaking book work—I have personally seen people's motivation transformed, allowing them to be more productive and personally fulfilled in their endeavors. She blazes a trail that leads to a new understanding of motivation that everyone can follow, myself included."
—Tom Hood, Deputy Director, Field Sales Leadership Development, Bayer
 
"I loved Susan's last book, Why Motivating People Doesn't Work . . . and What Does. Our leaders use it to guide their one-to-one goal sessions—which improved our employee work passion scores dramatically. Master Your Motivation brings Susan's groundbreaking model to everyone, along with the skills and tools to apply to both personal and professional goals on a regular basis."
—Chris Wollerman, CEO, Inspire Software
 
"Master Your Motivation teaches all of us, no matter our role, that we can apply the skill of motivation to thrive. But what resonates most for me is the science behind why a strong sense of personal purpose and an investment in deeper relationships are such powerful tools for achieving our goals."
—Cheryl Bachelder, former CEO, Popeyes Louisiana Kitchen, Inc., and author of Dare to Serve