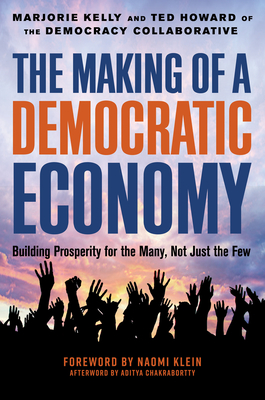 The Making of a Democratic Economy
How to Build Prosperity for the Many, Not the Few
Hardcover

* Individual store prices may vary.
Other Editions of This Title:
Digital Audiobook (7/22/2019)
MP3 CD (9/24/2019)
Compact Disc (9/24/2019)
Description
Our economy is designed by the 1 percent, for the 1 percent. This book offers a compelling vision of an equitable, ecologically sustainable alternative that meets the essential needs of all people.

We live in a world where twenty-six billionaires own as much wealth as half the planet's population. The extractive economy we live with now enables the financial elite to squeeze out maximum gain for themselves, heedless of damage to people or planet. But Marjorie Kelly and Ted Howard show that there is a new economy emerging focused on helping everyone thrive while respecting planetary boundaries.

At a time when competing political visions are at stake the world over, this book urges a move beyond tinkering at the margins to address the systemic crisis of our economy. Kelly and Howard outline seven principles of what they call a Democratic Economy: community, inclusion, place (keeping wealth local), good work (putting labor before capital), democratized ownership, ethical finance, and sustainability. Each principle is paired with a place putting it into practice: Pine Ridge, Preston, Portland, Cleveland, and more.

This book tells stories not just of activists and grassroots leaders but of the unexpected accomplices of the Democratic Economy. Seeds of a future beyond corporate capitalism and state socialism are being planted in hospital procurement departments, pension fund offices, and even company boardrooms.

The road to a system grounded in community, democracy, and justice remains uncertain. Kelly and Howard help us understand we make this road as we walk it by taking a first step together beyond isolation and despair.
Praise For The Making of a Democratic Economy: How to Build Prosperity for the Many, Not the Few…
"Marjorie Kelly inspired the B Corp movement with The Divine Right of Capital; now she and Ted Howard have pointed the way toward what's next. The Making of a Democratic Economy is a must-read. I am blown away by this book."
—Jay Coen Gilbert, cofounder of B Lab, the nonprofit behind the B Corporation movement
 
"It's not enough to imagine another world is possible, we need to feel and taste it. Kelly and Howard give us the concrete stories we need to truly believe in this new world."
—Naomi Klein, author of No Is Not Enough, This Changes Everything, and No Logo  
 
"This book is a timely and important reminder of the urgent need to democratize our economy. The experiments it discusses provide inspiration and food for thought for activists and policymakers alike."
—John McDonnell, MP, UK Shadow Chancellor, Labour Party
 
"An insightful, moving, energizing book, just what America needs now more than ever. Kelly and Howard enable us to see that indeed there is life—good life—beyond our brutal form of capitalism, and it is already emerging. Bravo!"
—Frances Moore Lappé, author Diet for a Small Planet and coauthor of Daring Democracy
 
"In the face of our climate crisis, dangerous levels of social inequity, and the loss of unimaginable biodiversity comes The Making of a Democratic Economy, a critically important book of hope, possibility, and solutions. Thorough, thoughtful, and full of essential insights, this timely guide is a must-read for all concerned about a better future."
—Jeffrey Hollender, cofounder of Seventh Generation and Board Chair, American Sustainable Business Council
 
"Kelly and Howard offer the insight that our democratic principles and our economic vitality don't need to be in constant contradiction. For the future health of our planet and its citizens, we need to democratize our market-driven economy by creating ownership structures that, by their very nature, lead to more sustainable, generative outcomes. This powerful book shines a light on the practical paths so many are searching for today."
—Dan Wolf, CEO, Cape Air, and former Massachusetts State Senator
 
"We call The Laura Flanders Show the place where 'the people who say it can't be done take a backseat to the people who are doing it.' Howard and Kelly bring us dispatches from places like that all across the United States, where people are democratizing the economy and shifting power. This important survey, from two who have been instrumental to much of this work, paints a picture not simply of a mosaic of experiments but of a newly emerging system that lies within our reach. Can we change our culture to cherish people over capital? It won't be easy, but it can be done. We need deep long-term thinking and immediate action steps. Lucky for us, this deeply considered book offers both."
—Laura Flanders, Host and Executive Producer, The Laura Flanders Show
 
"Marjorie Kelly and Ted Howard remind us that it's not enough to fight against an unjust and unsustainable system—we also have to have a vision for the system we want instead and a plan for building it. The stories they tell in The Making of a Democratic Economy lift up the hard and vital work of the people creating the institutions of the next economy."
—Kat Taylor, cofounder and CEO, Beneficial State Bank
 
"As champions of worker and community ownership, Kelly and Howard remind us that economic democracy is essential to political democracy and a viable human future."
—David Korten, author of When Corporations Rule the World and Change the Story, Change the Future

  "This book offers a practical path of radical hope for system change. Models like those here are being copied across the world. Scores of the ideas here make clear sense, like having the Federal Reserve bail out the planet the same way it bailed out the big banks. If you're looking for a mix of mind-expanding vision with ideas and models that are working and ready to be tried in your town, this book is for you."
—Kevin Jones, cofounder of Social Capital Markets and The Transform Series 
 
"This is an important book. It builds on growing recognition that systemic transformation is needed, providing a road map to understanding that democracy is at the core of building flourishing economies needed for a flourishing future. We all need to deeply learn from the many examples and lessons of this book and work together to create whole systems change. The Making of a Democratic Economy provides an invaluable guide to how that can happen."
—Sandra Waddock, Galligan Chair of Strategy, Boston College
 
"Marjorie Kelly—a huge influence for me as an impact investor and activist—has given us another gem, on the critical need for democracy not just in our political system but in our economy."
—Morgan Simon, Founding Partner, Candide Group, and author of Real Impact
 
"The call for an economy that works for all is heard in Washington and even on Wall Street—but how will the change take place? Marjorie and Ted offer a map. They share stories of a different kind of enterprise—one that puts the human interest at the heart of success. These community-based enterprises are not only hopeful but replicable—they illuminate the design for an economy that honors our democratic ideals."
—Judith Samuelson, Executive Director, Business and Society Program, The Aspen Institute
 
"Marjorie Kelly and Ted Howard have given us the road map toward economic democracy. But they don't just show the interstates and the major landmarks—they show the byways and small towns where real change comes from. In this moment when greater and greater numbers of people are realizing that the rules of capitalism must be rewritten, the stories in these pages, and the strategies that Kelly and Howard share, will guide our way forward." 
—Lenore Palladino, Assistant Professor of Economics and Public Policy, University of Massachusetts Amherst; former Vice President for Policy & Campaigns, Demos; and former Campaign Director, MoveOn.org
Berrett-Koehler Publishers, 9781523099924, 192pp.
Publication Date: July 23, 2019
About the Author
Marjorie Kelly is the executive vice president and senior fellow at the Democracy Collaborative. She is the author of The Divine Right of Capital and Owning Our Future.

Ted Howard is the cofounder and the president of the Democracy Collaborative. The Collaborative works to carry out a vision of a new economic system where shared ownership and control creates more equitable and inclusive outcomes, fosters ecological sustainability, and promotes flourishing democratic and community life.
or
Not Currently Available for Direct Purchase