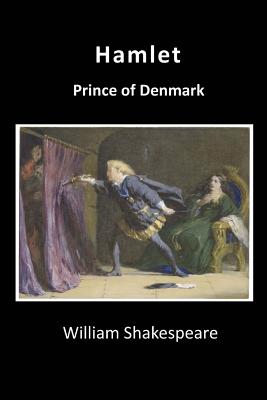 Hamlet (Paperback)
Prince of Denmark
Createspace Independent Publishing Platform, 9781523352807, 214pp.
Publication Date: January 11, 2016
Other Editions of This Title:
Paperback (9/21/2009)
Paperback (1/24/2019)
Paperback (11/14/2017)
Paperback (8/24/2017)
Paperback (5/31/2013)
Paperback (10/5/2008)
Paperback, German (6/3/2015)
Paperback (4/10/2009)
Paperback (12/3/2012)
Paperback (12/3/2012)
Paperback (8/9/2018)
Paperback (2/4/2009)
Paperback, German (3/26/2015)
Paperback (4/6/2010)
Paperback (9/20/2009)
Paperback (11/3/2018)
Paperback, Spanish (12/1/1999)
Hardcover (10/15/2008)
Hardcover (8/22/2015)
* Individual store prices may vary.
Description
Hamlet
Prince of Denmark
by
William Shakespeare
The protagonist of Hamlet is Prince Hamlet of Denmark, son of the recently deceased King Hamlet, and nephew of King Claudius, his father's brother and successor. Claudius hastily married King Hamlet's widow, Gertrude, Hamlet's mother, and took the throne for himself. Denmark has a long-standing feud with neighboring Norway, which culminated when King Hamlet slew King Fortinbras of Norway in a battle years ago. Although Denmark defeated Norway, and the Norwegian throne fell to King Fortinbras's infirm brother, Denmark fears that an invasion led by the dead Norwegian king's son, Prince Fortinbras, is imminent.
The play opens on a cold night on the ramparts of Elsinore, the Danish royal castle. The sentries Bernardo and Marcellus and Hamlet's friend Horatio encounter a ghost that looks like the late King Hamlet. They vow to tell Prince Hamlet what they have witnessed.
As the Court gathers the next day, while King Claudius and Queen Gertrude discuss affairs of state with their elderly adviser Polonius, Hamlet looks on glumly. After the Court exits, Hamlet despairs of his father's death and his mother's hasty remarriage. Learning of the Ghost from Horatio, Hamlet resolves to see it himself.
As Polonius's son Laertes prepares to depart for a visit to France, Polonius gives him contradictory advice that culminates in the ironic maxim "to thine own self be true." Polonius's daughter, Ophelia, admits her interest in Hamlet, but both Polonius and Laertes warn her against seeking the prince's attention. That night on the rampart, the Ghost appears to Hamlet, telling the prince that he was murdered by Claudius and demanding that Hamlet avenge him. Hamlet agrees and the Ghost vanishes. The prince confides to Horatio and the sentries that from now on he plans to "put on an antic disposition" and forces them to swear to keep his plans for revenge secret. Privately, however, he remains uncertain of the Ghost's reliability.