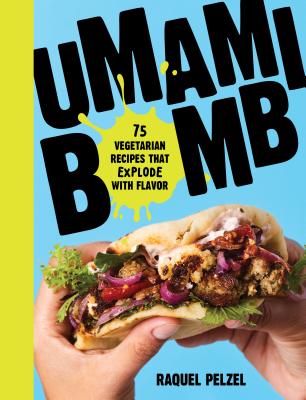 Umami Bomb (Hardcover)
75 Vegetarian Recipes That Explode with Flavor
Workman Publishing Company, 9781523500369, 256pp.
Publication Date: September 3, 2019
* Individual store prices may vary.
Description
One of Food52's Best Cookbooks of Fall 2019
One of Epicurious' 12 Best Gift Ideas for the Vegetarian in Your Life

"Umami Bomb is your go-to guide for infusing every meal with deliciousness....Thanks to Raquel's clever ideas and the abundant flavor in her smart, streamlined recipes, this book is set to become a kitchen classic." —Lindsay Maitland Hunt, author of Healthyish and Help Yourself
 
Ingeniously built around the use of eight umami-rich ingredients—aged cheese, tomatoes, mushrooms, soy sauce, miso, caramelized onions, smoke, and nutritional yeast—Umami Bomb's 75 recipes are bursting with the sublime, savory fifth taste—and they're vegetarian!
 
Turn mushrooms into "lardons" for a bold take on Southern black-eyed peas and greens. Caramelize onions to use in the best grilled cheese ever. Add a secret spoonful of soy sauce to the frosting of your next chocolate cake—the soy taste disappears but leaves behind an unexpected depth of flavor. Part of the brilliance of Umami Bomb is how the recipes layer these key ingredients to amplify their effect—like adding miso to an already cheesy cacio e pepe sauce for pasta so savory and delicious you'll do a double take.

Umami Bomb "addresses the "depth" issue for vegetarian cooks with a love letter to umami... [Pelzel's] insanely next-level grilled cheese recipe deploys two umami bombs — miso and caramelized onions — and, dare I say, is as satisfyingly decadent as a burger."  —Jenny Rosenstrach, A Cup of Jo
 
About the Author
Raquel Pelzel's work has been featured in Saveur, the Wall Street Journal, Every Day with Rachael Ray, Shape, and Epicurious, among many others. Formerly an editor at Cook's Illustrated and the senior food editor and test kitchen director for Tasting Table, Pelzel has written more than 20 cookbooks and has judged Food Network shows including Chopped Junior and Beat Bobby Flay. Pelzel lives in Brooklyn, New York, with her two sons.

 
Praise For Umami Bomb: 75 Vegetarian Recipes That Explode with Flavor…
"This satisfying and handy take on the fifth taste will please vegetarians and omnivores alike."
—Publishers Weekly

"Cookbook author Raquel Pelzel is "always interested in ways to make my vegetables taste extra, deeply, boldly, intensely, fantastically, rich-savory-comforting-eyes-roll-back-in-your-head awesome." Yes, please! Because Pelzel doesn't eat much meat (above all for environmental reasons), she explains, she went on a quest to identify as many plant-and dairy-based sources of umami as possible... and developed 75 unbelievably flavorful recipes to harness these."
—Food52, #1 Best Cookbook of Fall 2019

"I was delighted to discover Umami Bomb by Raquel Pelzel. Pelzel, a longtime food editor, addresses the "depth" issue for vegetarian cooks with a love letter to umami... Her insanely next-level grilled cheese recipe deploys two umami bombs — miso and caramelized onions — and, dare I say, is as satisfyingly decadent as a burger." 
—Jenny Rosenstrach, A Cup of Jo

"The food in this book is cheesy and smoky and earthy and packed with miso, mushrooms, and soy sauce—and (surprise!) it's all vegetarian."
 —Epicurious

"The 75 recipes that make up Umami Bomb prove that meatless meals can be as unforgettably flavorful as meat-filled ones."
 —PureWow

"A vegetarian cookbook with super satisfying recipes built around the most umami-rich ingredients—like mushrooms, miso, aged cheese, and caramelized onions." 
—Chowhound

"Vegetarians and carnivores alike will rejoice at the bold, inventive recipes in Umami Bomb."
—Shelf Awareness for Readers

"Umami Bomb is your go-to guide for infusing every meal with deliciousness. And while the recipes happen to be vegetarian (which is good for you, and the planet, too), the book isn't just about eating more vegetables and less meat. You'll learn to infuse everything from a decadent chocolate cake to a creamy risotto with umami's trademark can't-get-enough taste. Thanks to Raquel's clever ideas and the abundant flavor in her smart, streamlined recipes, this book is set to become a kitchen classic."
—Lindsay Maitland Hunt, author of Healthyish and Help Yourself