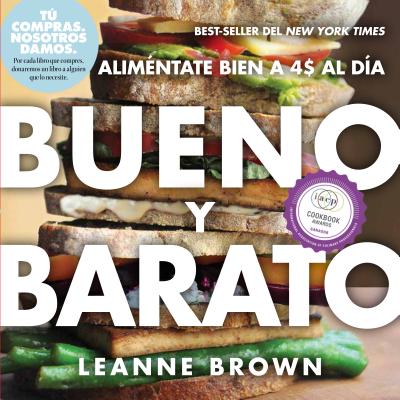 Bueno y Barato (Paperback)
Alimentate Bien a $4 Al Dia
Workman Publishing, 9781523501182, 208pp.
Publication Date: August 22, 2017
Description
Now in Spanish, the New York Times bestselling, IACP Award-winning cookbook that shows how to make tasty, easy, healthy food on the tightest of budgets.

Bueno y Barato begins with the truth that kitchen skill, not budget, is the key to great food. From Spicy Pulled Pork to Chorizo and White Bean Ragu, Peanut Chicken and Broccoli with Coconut Rice to Creamy Zucchini Fettucine, the 152 recipes maximize every ingredient while teaching smart cooking skills. Plus there are tips on shopping, stocking the pantry, kitchen equipment, and more.

In addition, for every copy of Bueno y Barato purchased, Workman Publishing donates a second copy to a person or family in need.

Ahora en espanol, el best-seller del New York Times y el IACP-galardonado libro de recetas que demuestra como se puede preparar comidas ricas, faciles y saludables para todos los que tengan un presupuesto ajustado.

Bueno y Barato empieza con el hecho de que la clave para la buena comida no es el presupuesto sino la destreza. Empezando por la Carne de Cerdo Deshebrada en Adobo hasta el Ragu de Frijoles Blancos y Chorizo, el Pollo en Salsa de Cacahuate con Brocoli y Arroz con Coco y el Cremoso Fettuccine con Calabacitas, las 152 recetas aprovechan al maximo cada ingrediente y ensenan metodos de cocina economicos. Ademas contiene consejos para ir de compras, mantener una despensa bien surtida y acerca del equipo de cocina.

Ademas, con cada ejemplar de Bueno y Barato que se compre, Workman Publishing le dara un ejemplar gratuito a una persona o familia necesitada.


About the Author
Leanne Brown vive en la Ciudad de Nueva York con su esposo, Dan Lazin. Se crio en Edmonton, Canada, donde todavia viven su estupenda familia y muchas de sus personas favoritas. Antes de mudarse a la Ciudad de Nueva York a ella le gustaba andar en bicicleta. Ahora a veces lo hace, pero en otras ocasiones toma el subway o camina. Le gusta correr en el parque hasta quedar bien cansada, comer articulos de reposteria en la calle y acostarse tarde. Le encanta lo justo, la ciencia ficcion y la fantasia, los alimentos sabrosos y reir. Le ha encantado cocinar y hornear desde que se dio cuenta de que son las cosas nuestras que mas se aproximan a la magia.
Advertisement