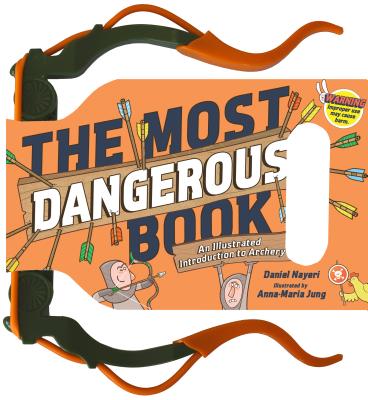 The Most Dangerous Book (Hardcover)
An Illustrated Introduction to Archery
Workman Publishing Company, 9781523501199, 88pp.
Publication Date: October 31, 2017
* Individual store prices may vary.
Description
It's the ultimate introduction to the world of archery, in a book that turns into an actual bow that shoots paper arrows.

All you have to do is unlock and open the upper and lower bow limbs, punch out and fold the arrows, and shoot!

But the book is also a rich and lively illustrated history of archery, covering the physics of a bow and arrow; the types of bows used since 4500 BC; arrows from around the world, like the deadly stone arrowheads used by Native Americans, or the Japanese whistling Kabura-ya that helped Samurai signal each other. Here are the great archery battles—Thermopylae in 480 BC, where the Spartan "300" faced a Persian who shot so many arrows they darkened the sky; or the Battle of Leipzig in 1813, the last battle to feature archers—horsemen from the Eurasian steppes—who helped the Russians defeat Napoleon.


 
About the Author
Daniel Nayeri is the author of several books for young readers, including Workman's How to Tell a Story and Straw House, Wood House, Brick House, Blow. He lives with his family in Jersey City, New Jersey.