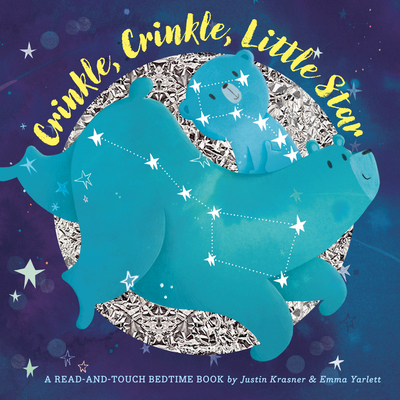 Crinkle, Crinkle, Little Star
Hardcover

* Individual store prices may vary.
Description
Take an interactive journey through the night sky in an innovative, tactile board book, a special book that engages three senses—seeing, touching, and hearing.

With its gorgeous, full-spread illustrations of constellations and beloved bedtime lullaby reimagined, Crinkle, Crinkle, Little Star is the perfect book to rock babies to sleep. Here's Taurus the bull, strong and fast. Cetus the whale, waving a mighty tail. Orion, with bow and arrow in hand. Babies can trace the imaginary lines that turn random stars into ancient constellations—and, in a special treat, create a crinkling sound by tracing the channel of shimmery material underneath the last illustration in the book.

That same mysterious, compelling crinkling sound persists when baby and parents hold the book and rub the crinkly material on the back cover.

 
Praise For Crinkle, Crinkle, Little Star…
"This book works like gangbusters as a bedtime story, lulling tired bodies with a familiar tune and deep, warm colors. An attractive and enchanting bedtime story. " –Kirkus Reviews

"Journey to the beautiful night sky via this durable board book that lets kids see, touch and hear their way through a tale of the constellations." –TimeOut New York Kids

"Shimmery crinkle paper invites babies to touch the stars in this tactile update of the bedtime classic." –Los Angeles Times

"Appropriate for the youngest readers, this crinkle-covered book teaches famous constellations with gentle rhymes. Perfect for bedtime." –San Francisco Chronicle Online

 
Workman Publishing Company, 9781523501205, 16pp.
Publication Date: October 31, 2017
About the Author
When Justin Krasner was little and couldn't sleep, his dad would take him out to look at the night sky. Now a writer and editor living in New York, you can still find him staring up at the stars.