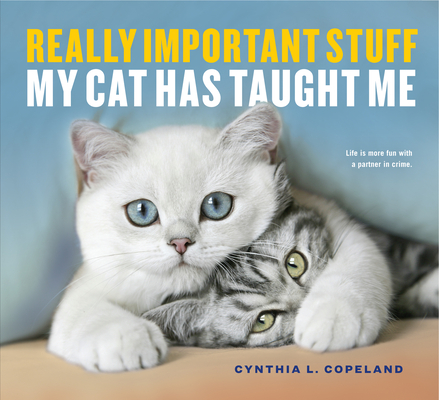 Really Important Stuff My Cat Has Taught Me (Paperback)
Workman Publishing Company, 9781523501489, 176pp.
Publication Date: October 3, 2017
Other Editions of This Title:
Paperback (9/23/2014)
Paperback (8/11/2015)
Paperback (1/15/2005)
* Individual store prices may vary.
Description
A book that will delight every cat lover, full of wise and unforgettable life lessons, each paired with the perfect photo.  

Cats are the ultimate savants, possessing intelligence, poise, and sass in equal measure. They know when to play it cool, and when to pounce; when to fly solo, and when to cuddle up. Entertaining, unpredictable, and just a bit wild, cats encourage us to explore, take chances, and live on the edge—just as if we too had nine lives.

Cynthia L. Copeland, author of the bestselling Really Important Stuff My Dog Has Taught Me and Really Important Stuff My Kids Have Taught Me, now turns her attention to our mysterious feline friends. Every page of this full-color gift book is a joyful reminder of what's important in life.

Like Confidence: "Insist on a seat at the table." Curiosity: "Have more questions than answers." Adventure: "Sometimes you have to leap before you look." Individuality: "You'll be remembered for what sets you apart." Kindness: "Recognize the power of your purr." And Solitude: "Find your own square of sunshine."

 
About the Author
Cynthia Copeland is the author of the instant bestseller Really Important Stuff My Dog Has Taught Me and more than 25 other books, including The Diaper Diaries. Her books have sold more than a million copies and have been featured on Good Morning America, selected for Oprah's "O List" in O Magazine, recommended by Ann Landers, and featured in Family Circle. Ms. Copeland lives in Keene, New Hampshire.