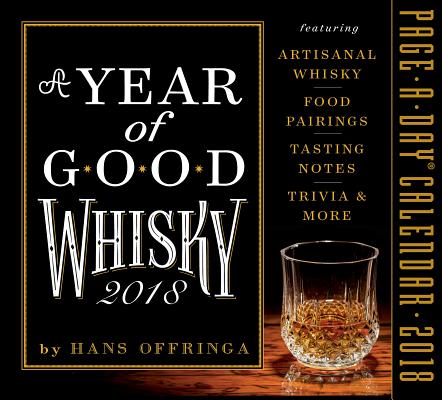 A Year of Good Whisky Page-A-Day Calendar 2018 (Calendar)
Workman Publishing Company, 9781523501588, 320pp.
Publication Date: August 17, 2017
* Individual store prices may vary.
Description
An enlightening exploration of whisky, bourbon, scotch, and their variations. Written by world-renowned whisky expert Hans Offringa, A Year of Good Whisky Page-A-Day Calendar features recommendations to impress friends with—like Glenmorangie with notes of crème brûlée and honeysuckle, or Ardbeg with aromas of dried fruit and smoke. Also there are fascinating facts about the process of aging, distillation, and history (did you know that during the United States' Prohibition from 1920 to 1933, whisky was still allowed for "medicinal purposes"?). Plus quotes, mouthwatering tasting notes, and more. It's the perfect gift for aficionados or anyone who likes to wind down with a dram of single malt at the end of the day.
About the Author
Hans Offringa is an author and an internationally renowned whisky expert. He holds many esteemed titles in the whisky world: Patron of the Whisky Festival Northern Netherlands, Honorary Scotsman, Honorary Member of the Caledonian Society of Charleston (SC), Keeper of the Quaich, and Kentucky Colonel. He is also the contributing editor for Europe for Whisky Magazine, and one of the lecturers at the International Whisky School in Groningen, Netherlands. Offringa and his wife, Becky Lovett Offringa, are known as the Whisky Couple, and have been judges at the Dutch Whisky Awards since its inception.
 
or
Not Currently Available for Direct Purchase