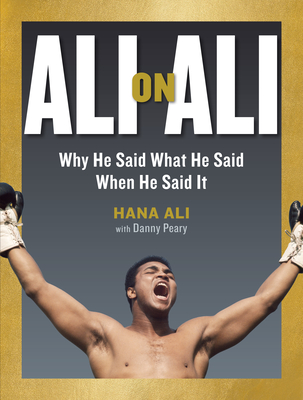 Ali on Ali
Why He Said What He Said When He Said It
Hardcover

* Individual store prices may vary.
Description
Muhammad Ali was a champion, a poet, a prophet. Sports Illustrated called him "the greatest athlete of the twentieth century." And yet he was even more than all of that, "a whole greater than the sum of its parts . . . bigger, brighter, more original and influential than just about anyone of his era" (Barack Obama). He got there with his fists, with his actions, and above all, with his words.
    Compiled and written by his daughter Hana Ali, with sportswriter Danny Peary, Ali on Ali brings together a remarkable mix of Ali's 70 most humorous, poignant, inspirational, political, and philosophical quotes, all with their origins. Here's Ali's enduring boast, "I am the greatest!"—and how it was inspired by professional wrestler Gorgeous George. The story behind one of the most memorably poetic lines of the century—"Float like a butterfly, sting like a bee." The heard-round-the-world defiance of "I ain't got no quarrel with them Viet Cong," and its moving context. And the stories behind quotes ranging from outrage—"We been in jail for 400 years," to inspiration—"I hated every minute of training, but I said 'Don't quit. Suffer now and live the rest of your life as a champion,'" to that infectious combination of humor and bravado—"If you even dream of beating me you better wake up and apologize."
    Included are powerful photographs throughout, from iconic fight scenes to never-before-seen Ali family snapshots; quotes about Ali, from Martin Luther King Jr. to Billy Crystal; a career timeline; and a personal introduction by Hana Ali.

 
Workman Publishing Company, 9781523503469, 160pp.
Publication Date: May 1, 2018
About the Author
Hana Ali is the daughter of Muhammad Ali and sister of boxer Laila Ali.  Hana has written More Than a Hero, published by Pocket Books, and coauthored with her father The Soul of a Butterfly, published by Simon and Schuster.  She is a freelance writer for CNN.com and has appeared on the Oprah Winfrey Show and in documentaries, including Muhammad Ali Through the Eyes of the World.
 

Danny Peary is an American film critic and sportswriter. His film writing has been published in Focus on Film, Newsday, Film and Filming, The Philadelphia Bulletin, Movieline, Cineaste, Video Times/Video Movies, The New York Daily News, The Boston Globe, Soho News, Timessquare.com, brinkzine.com, The Sag Harbor Express, and FilmInk. He also authored the highly influential three-volume Cult Movies series, Guide for the Film Fanatic, and Alternate Oscars. Additionally, he is the writer-researcher on the long-running national sports interview television program The Tim McCarver Show, and has written three books with McCarver. He collaborated with Ralph Kiner on his autobiography, Baseball Forever, and coauthored Roger Maris: Baseball's Reluctant Hero and Gil Hodges: The Brooklyn Bums, The Miracle Mets and the Extraordinary Life of a Baseball Legend. He has recently collaborated with Olympic gold medalist and cancer survivor Shannon Miller on her memoir, It's Not About Perfect.
or
Not Currently Available for Direct Purchase