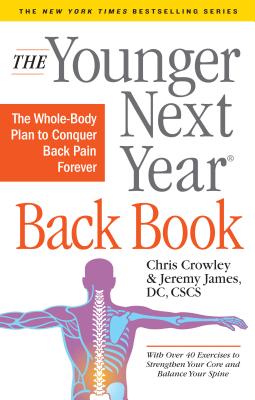 The Younger Next Year Back Book (Paperback)
The Whole-Body Plan to Conquer Back Pain Forever
Workman Publishing Company, 9781523504473, 256pp.
Publication Date: August 7, 2018
Other Editions of This Title:
Hardcover (8/7/2018)
* Individual store prices may vary.
Description
At some point in their lives, 80% of Americans will seek expert help for back pain. It's an epidemic, with a cost to society in medical expenses and lost productivity that is steeper than heart disease. But remember the 80% figure—that's the astonishing cure rate at Dr. Jeremy James's Aspen Club Back Institute. A Doctor of Chiropractic who took that path because of his own severe injury-induced back pain, he has developed a revolutionary behavioral/whole-body approach to help sufferers heal—and often eliminate—back pain forever.

Co-written with Chris Crowley, The Younger Next Year Back Book follows the alternating chapter format of the #1 New York Times bestselling Younger Next Year and other books in the series. And just as millions of readers positively changed their lives following Harry's Rules in Younger Next Year, the millions of back pain sufferers can find relief following Jeremy's rules, including Stop Doing Dumb Stuff, Be Still So You Can Heal, and Stand Tall for the Long Haul. He explains the workings of the spine and muscles, and then why back pain is almost never a disease, per se, but the result of behavior. He then shows how to change our behavior, find a neutral spine, and begin a regimen of simple exercises—with step-by-step two-color illustrations—to realign our core to virtually eliminate back pain forever. Chris Crowley, in his been-there-done-that-and-you-can-too-damnit! voice, provides all the motivation and patient perspective we need.
 
About the Author
Chris Crowley, a former litigator (Davis Polk & Wardwell), is the coauthor, with Henry S. Lodge, of the Younger Next Year books, and the coauthor, with Jen Sacheck, PhD, of Thinner This Year. Though in his eighties, he fully lives the life, skiing black diamonds and routinely doing thirty-mile bike rides. He and his wife live in Connecticut and New York City.
 
Jeremy James, DC, CSCS, is Director of the Aspen Club Back Institute. He became a Doctor of Chiropractic (instead of going into traditional medicine like almost everyone else in his family) because of his own struggles with sports-induced back pain as a young athlete, and developed his behavioral/whole body method while working with serious athletes for over a decade. He lives with his wife and son in Aspen, Colorado.
 
Praise For The Younger Next Year Back Book: The Whole-Body Plan to Conquer Back Pain Forever…
"In the latest installment of the Younger Next Year books, series coauthor Crowley and chiropractor James empower people with often-agonizing back pain. So instructive and descriptive are Crowley and James that everyone curious about the mechanics of the back and everyone with back pain will benefit from their easy-to-understand guide to preventing and treating that common ailment." —Booklist

"This is a great book for back pain sufferers and their caregivers alike. The guidance offered will allow the afflicted to get on a path to recovery and wellness—to get back to what they love to do."
—Todd J. Albert, MD, Surgeon in Chief and Medical Director, Hospital for Special Surgery