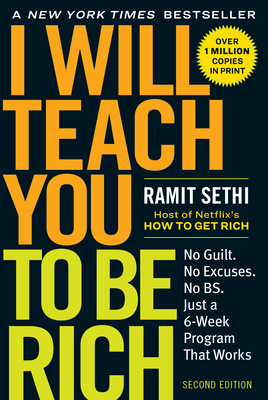 I Will Teach You to Be Rich, Second Edition (Paperback)
No Guilt. No Excuses. No BS. Just a 6-Week Program That Works
Workman Publishing Company, 9781523505746, 352pp.
Publication Date: May 14, 2019
Other Editions of This Title:
MP3 CD (7/23/2019)
MP3 CD (8/11/2015)
Paperback (3/23/2009)
Paperback (1/1/2011)
Paperback (9/1/2009)
* Individual store prices may vary.
Description
The groundbreaking NEW YORK TIMES and WALL STREET JOURNAL BESTSELLER that taught a generation how to earn more, save more, and live a rich life—now in a revised 2nd edition.
 
Buy as many lattes as you want. Choose the right accounts and investments so your money grows for you—automatically. Best of all, spend guilt-free on the things you love.
 
Personal finance expert Ramit Sethi has been called a "wealth wizard" by Forbes and the "new guru on the block" by Fortune. Now he's updated and expanded his modern money classic for a new age, delivering a simple, powerful, no-BS 6-week program that just works.
 
I Will Teach You to Be Rich will show you:
• How to crush your debt and student loans faster than you thought possible
• How to set up no-fee, high-interest bank accounts that won't gouge you for every penny
• How Ramit automates his finances so his money goes exactly where he wants it to—and how you can do it too
• How to talk your way out of late fees (with word-for-word scripts)
• How to save hundreds or even thousands per month (and still buy what you love)
• A set-it-and-forget-it investment strategy that's dead simple and beats financial advisors at their own game
• How to handle buying a car or a house, paying for a wedding, having kids, and other big expenses—stress free
• The exact words to use to negotiate a big raise at work
 
Plus, this 10th anniversary edition features over 80 new pages, including:
• New tools
• New insights on money and psychology
• Amazing stories of how previous readers used the book to create their rich lives
 
Master your money—and then get on with your life.

 
About the Author
Ramit Sethi writes about money, business, and psychology for a million readers each month at iwillteachyoutoberich.com. He's been featured in Fortune, the New York Times, the Tim Ferris podcast, and the Wall Street Journal. He studied technology and psychology at Stanford and lives in New York.
 
Praise For I Will Teach You to Be Rich, Second Edition: No Guilt. No Excuses. No BS. Just a 6-Week Program That Works…
"Don't let the breezy, irreverent style of this book fool you. It contains serious advice on personal-finance decisions from budgeting and savings to spending and investing." —Burton G. Malkiel, author of A Random Walk Down Wall Street

 "Ramit Sethi is a rising star in the world of personal finance writing . . . one singularly attuned to the sensibilities of his generation . . . His style is part frat boy and part Silicon Valley geek, with a little bit of San Francisco hipster thrown in."—San Francisco Chronicle

"The easiest way to get rich is to inherit. This is the second best way—knowledge and some discipline. If you're bold enough to do the right thing, Ramit will show you how. Highly recommended." —Seth Godin

"Particularly appealing to the younger generation with its easy-to-read, no-holds-barred language."—Business Insider
"Ramit's like the guy you wish you knew in college who would sit you down over a beer and fill you in on what you really need to know about money—no sales pitch, just good advice." —Christopher Stevenson, Credit Union Executives Society
"Smart, bold, and practical. I Will Teach You to Be Rich is packed with tips that actually work. This is a great guide to money management for twentysomethings—and everybody else." —J. D. Roth, Editor, GetRichSlowly.org
". . . one of our favorite personal finance sites." —
Lifehacker