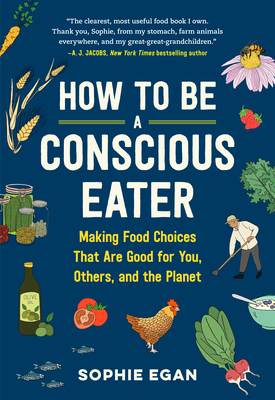 How to Be a Conscious Eater
Making Food Choices That Are Good for You, Others, and the Planet
Paperback

* Individual store prices may vary.
Description
A radically practical guide to making food choices that are good for you, others, and the planet.  
 
Is organic really worth it? Are eggs ok to eat? If so, which ones are best for you, and for the chicken—Cage-Free, Free-Range, Pasture-Raised? What about farmed salmon, soy milk, sugar, gluten, fermented foods, coconut oil, almonds? Thumbs-up, thumbs-down, or somewhere in between?

Using three criteria—Is it good for me? Is it good for others? Is it good for the planet?—Sophie Egan helps us navigate the bewildering world of food so that we can all become conscious eaters. To eat consciously is not about diets, fads, or hard-and-fast rules. It's about having straightforward, accurate information to make smart, thoughtful choices amid the chaos of conflicting news and marketing hype. An expert on food's impact on human and environmental health, Egan organizes the book into four categories—stuff that comes from the ground, stuff that comes from animals, stuff that comes from factories, and stuff that's made in restaurant kitchens. This practical guide offers bottom-line answers to your most top-of-mind questions about what to eat.
 
"The clearest, most useful food book I own."—A. J. Jacobs, New York Times bestselling author
Praise For How to Be a Conscious Eater: Making Food Choices That Are Good for You, Others, and the Planet…
"…smart and sensible approach to eating consciously…" —Michael Pollan, New York Times bestselling author 
"If you've ever stalled out in the refrigerated aisle debating the environmental merits of oat vs. almond milk, add this book to your bedside table. Sophie Egan provides clear, non-judgmental information... It's a practical guide that empowers readers to understand the plethora of labels and claims out there and make informed food choices every time you go to the store." —Bon Appetit.com 

"The clearest, most useful food book I own. Thank you, Sophie, from my stomach, farm animals everywhere, and my great-great-grandchildren."
—A.J. Jacobs, New York Times bestselling author

"Thought-provoking… Egan displays a talent for making the environmental complexities of food choices comprehensible… [A] thorough primer to combining health consciousness and environmental responsibility." – Publishers Weekly starred review 

"Egan (Devoured: How We Eat Defines Who We Are) presents a voice of reason in the cacophony of advice about food and diet that surrounds us…Recommended for everyone who eats, particularly those who hope to improve their own health and the planet's by doing so."—Library Journal starred review

"Readers will find much to take away, including reminders that our consumer behavior can drive change and that what's good for us and good for the planet often align."—Booklist
Workman Publishing Company, 9781523507382, 280pp.
Publication Date: March 17, 2020
About the Author
Sophie Egan, MPH is director of health and sustainability leadership as well as the editorial director for strategic initiatives at The Culinary Institute of America. Based in San Francisco, Egan is a contributor to The New York Times' health section, and she has written about food and health for The Washington Post, EatingWell, Time, The Wall Street Journal, Bon Appétit, WIRED, Edible San Francisco, and other publications. Her first book, Devoured: How What We Eat Defines Who We Are (William Morrow/HarperCollins, 2016), is a journey into the American food psyche. Egan holds a master of public health, with a focus on health and social behavior, from the University of California, Berkeley, where she was a Center for Health Leadership fellow. She also holds a bachelor of arts with honors in history from Stanford University. In 2016, she was named one of the UC Global Food Initiative's 30 Under 30. In 2018, she earned a certificate from the Harvard Executive Education in Sustainability Leadership program at the Center for Climate, Health, and the Global Environment.