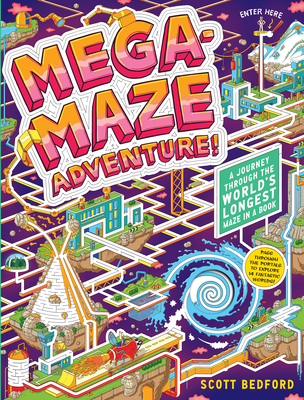 Mega-Maze Adventure! (Hardcover)
A Journey Through the World's Longest Maze in a Book
Workman Publishing Company, 9781523507443, 28pp.
Publication Date: July 7, 2020
* Individual store prices may vary.
Description
It is a-MAZE-ing! And in this case, the pun is 100% justifiable: There is nothing like Mega-Maze Adventure!, an ingeniously conceived and brilliantly executed idea that delivers hours and hours of screen-free fun for any child. 

This is not just a book of mazes—the book itself is the maze. A maze that is more than 600 feet long, to be precise. Printed on light card stock and consisting of fourteen spreads, the mega-maze begins on the front cover and, through the clever use of die-cut portals, continues page by page, zigging and zagging, until it finally ends on the inside back cover.

And as inventive as the portal concept is, what's truly dazzling are the mazes themselves. Each spread is conceived as its own stand-alone world marrying a kind of Where's Waldo? hypnotic detail with bright, swirling, richly colorful and complex illustrations. There's Robot World and Butterfly World, Ski World and Underwater World, Roller-Coaster World and Dragon World, Cave World and Skyscraper World. Hidden surprises are woven into all of the mazes, and fun facts add another layer of pleasure to a compelling adventure. The uncoated
pages are easy to write on whether you choose to work in erasable pencil or more daredevil ink.
About the Author
Scott Bedford is a London-based creative director who has worked for both global agency networks and cutting-edge technology start-ups. He is also the author of Made by Dad and a Webby Award–winning blogger who loves to make things and draw. He lives with his wife and two sons in Marlow, England.