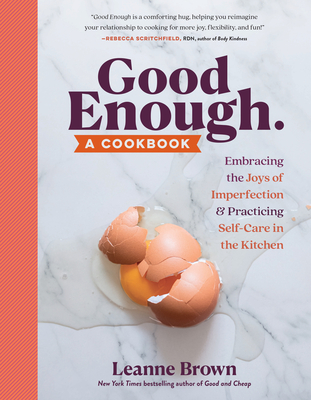 Good Enough
A Cookbook: Embracing the Joys of Imperfection and Practicing Self-Care in the Kitchen
Paperback

* Individual store prices may vary.
Description
After writing and launching Good and Cheap, the cookbook with a social purpose that has over 500,000 copies in print, Leanne Brown went into a tailspin. She was burnt out and depressed, and fell into a pattern of using guilt and fear to get herself back into facing the day. Her dream of becoming a cookbook author was turning into a nightmare. Something had to change. What changed, and how, is the journey of Good Enough, a deeply personal cookbook with a profoundly uplifting, relatable message.
           
A generous mix of essays, stories and nearly 100 dazzling recipes, Good Enough is about self-compassion, and knowing it's OK to have a cheese plate for dinner. About the practice of gratitude, and ten breakfasts to start your morning right, like Creamy Hands-Off Scrambled Eggs. About cooking as self-care, and healing your spirit with a comforting Salmon Dinner Pie. About overcoming barriers like social anxiety, and embracing entertaining with Smoky Honey Shrimp Tacos with Spicy Fennel Slaw. About knowing it's hard but you're completely worth it—and indulging yourself with My Spicy Umami Noodles. About giving yourself permission to feel great—so go ahead, have another Sticky Toffee Cookie. There are no judgments here.
             
And ultimately, it's about embracing the joy of imperfection to find peace and happiness in and out of the kitchen. Because good enough is great. 
 
 
Praise For Good Enough: A Cookbook: Embracing the Joys of Imperfection and Practicing Self-Care in the Kitchen…
 
"In a world cluttered by confusing messages about food, bodies, and where you belong, Good Enough is a comforting hug, helping you reimagine your relationship to cooking for more joy, flexibility, and fun!"
—Rebecca Scritchfield, RDN, author of Body Kindness 

"Good Enough is a cookbook full of tried-and-true, approachable and craveable recipes that will encourage even the most harried home cooks to enter their kitchens. But it's more than that. It's also a personal, moving meditation on the importance of self-care and self-nourishment through life's difficult times. Most of all, it is a testament to the life-changing power of radical acceptance."
—Gena Hamshaw, author of Power Plates and The Full Helping blog
 
Workman Publishing Company, 9781523509676, 288pp.
Publication Date: January 4, 2022
About the Author
Leanne Brown wrote Good and Cheap as the capstone for her master's in food studies from New York University. She and her husband live in New York City.