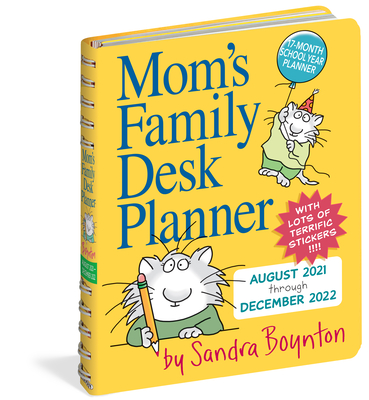 Mom's Family Desk Planner 2022
Desk

* Individual store prices may vary.
Other Editions of This Title:
Calendar (6/1/2006)
Calendar (7/1/2011)
Calendar (6/15/2012)
Calendar (6/25/2015)
Calendar (5/15/2010)
Calendar (7/20/2017)
Calendar (7/30/2009)
Calendar (7/5/2016)
Calendar (6/15/2014)
Calendar (6/15/2013)
Calendar (6/15/2008)
Calendar (6/30/2007)
Description
It's a portable personal assistant small enough to slip into a purse or tote so Mom can take it everywhere. The combination of practical and whimsical is irresistible in this purse-sized weekly planner, with abundant Boynton art that's droll and delightful to Mom and everyone else. Each spread features a smartly designed grid with two columns: one for Mom's goings-on and one for the rest of the family's. With just a glance, Mom can know who has to be where, when. And every facing page has a new Boynton illustration--befuddled cows, jaunty pigs, and skeptical cats galore. The planner includes storage pockets in the front and back covers, perforated grocery and to-do lists, and 150 stickers. (Because you can never have too many stickers.) Printed on FSC-certified paper.
Workman Publishing, 9781523512812, 220pp.
Publication Date: June 22, 2021