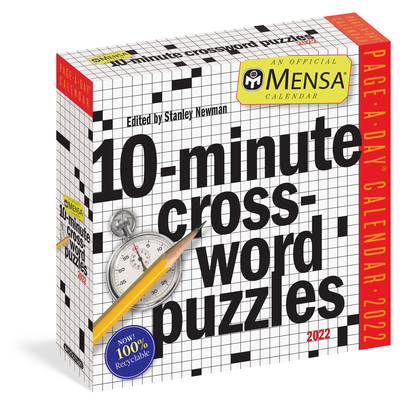 Mensa 10-Minute Crossword Puzzles Page-A-Day Calendar 2022
A Year of Difficult and Fun Puzzles
Calendar

* Individual store prices may vary.
Other Editions of This Title:
Calendar (7/19/2016)
Calendar (8/3/2017)
Calendar (7/21/2014)
Description
Begin every day with a short but high-intensity mental workout.

The perfect accompaniment to your morning joe, the crosswords in this calendar are tough enough to be sanctioned by Mensa—the international high-IQ society—but designed to be completed in ten minutes or less. Veteran crossword editor Stanley Newman is an expert at collecting puzzles with the perfect balance of difficulty and fun, covering a range of subjects that include pop culture, politics, sports, science, and more. In case you need a little help, solutions are printed on the reverse side of each page. Printed on FSC-certified paper and 100% recyclable.
 
Workman Publishing Company, 9781523513253, 320pp.
Publication Date: October 26, 2021