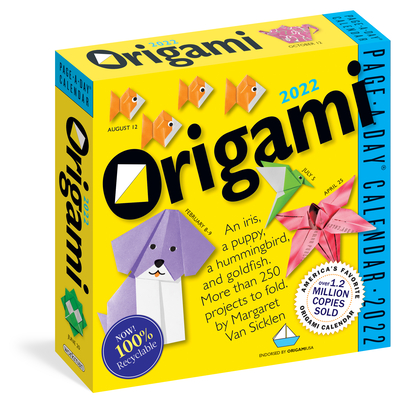 Origami Page-a-Day Calendar 2022
Happy Folding to You!
Calendar

* Individual store prices may vary.
Other Editions of This Title:
Calendar (6/1/2006)
Calendar (8/15/2010)
Calendar (7/15/2011)
Calendar (7/30/2009)
Calendar (8/31/2017)
Calendar (8/16/2016)
Calendar (6/15/2008)
Description
It's a bird, a boat, a beautiful lotus flower, a five-tiered pagoda!

With just a simple piece of paper—and a fold here, a fold there—see the magic you can create. From origami master Margaret Van Sicklen, the Origami calendar celebrates the art and the joy of paper-folding with hundreds of  creative models for newbies and experienced folders alike, including folds for napkins, for dollar bills, and for other unexpected materials. The
ingeniously designed pages are brightly colored and perfectly square to double as folding paper. Each model includes clear, easy-to-follow  instructions, and a downloadable "Origami Key" covers base folds, symbols, and other fundamentals. Happy folding! Endorsed by OrigamiUSA. Printed on FSC-certified paper and 100% recyclable.
Workman Publishing Company, 9781523513512, 320pp.
Publication Date: September 28, 2021
About the Author
Margaret Van Sicklen, self-described "origami swami," is the author of Joy of Origami and the bestselling Origami Page-A-Day calendar. She lives in New York City and Santa Barbara, California.