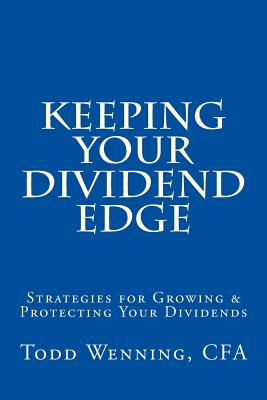 Keeping Your Dividend Edge
Strategies for Growing & Protecting Your Dividends
Paperback

* Individual store prices may vary.
Description
Dividend-paying stocks have long been a mainstay of individual investors. Over the past decade, however, the dividend landscape has become progressively more challenging to navigate. The rise of share repurchases as an alternative for returning cash to shareholders, the increasingly competitive global marketplace, and the massive dividend cuts incurred during the financial crisis of 2008 and 2009 have all impacted the way companies and investors view dividends today. This new environment requires a different approach for selecting and monitoring dividend-paying stocks. In this book, you will learn strategies for evaluating companies' competitive advantages and management teams, identifying promising dividends, recognizing risky dividends, and more. Todd Wenning, CFA is a professional equity analyst, investor, and writer based in Cincinnati, Ohio. His articles have been published by Morningstar, The Motley Fool, and Investors Chronicle. He is the author of the Clear Eyes Investing blog.
Createspace Independent Publishing Platform, 9781523756827, 142pp.
Publication Date: March 25, 2016
About the Author
Todd Wenning, CFA is an equity analyst, investor, and writer based in Cincinnati, Ohio. He is the author of the Clear Eyes Investing blog. His articles have been published by Morningstar, The Motley Fool, and Investors Chronicle. Todd's investing career includes experience as a sell-side analyst at Morningstar, a newsletter advisor and analyst at The Motley Fool, and an equity trader at The Vanguard Group. He is currently a buy-side analyst at Johnson Investment Counsel. Learn more at www.toddwenning.com