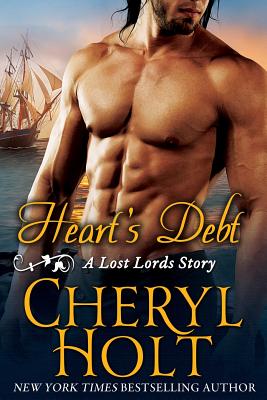 Heart's Debt (Lost Lords #5)
Paperback

* Individual store prices may vary.
Description
Three little lost lords, cast to the winds of fate... CHERYL HOLT tantalized readers around the globe with her Lost Lords of Radcliffe trilogy. She continues to dazzle with yet another story from the trilogy. In the three novels, no character was more fascinating or intriguing than the mysterious Mr. Drummond... DAMIAN DRUMMOND had his life ruined when he was wrongly convicted of a crime and sent to the penal colonies in Australia. He survived the ordeal by dreaming of the vengeance he would one day extract from those who'd wronged him. With his sentence complete, he's grown incredibly wealthy through criminal enterprise, and he's returned to England, intent on revenge. He begins by buying the bankrupt Kirkwood estate from the wastrel and gambler who betrayed him... GEORGINA FOGARTY has never been anything but a poor relative. She grew up at Kirkwood with her rich, spoiled cousins. Though she's worked hard to earn their favor and show her gratitude, she's never felt welcome or appreciated. When Damian arrives and announces he owns Kirkwood, that her cousin has gambled it away, Georgina is willing to make any sacrifice to save her family's home. But when she begs Damian for mercy, she has no idea of the high price he will insist she pay...
Createspace Independent Publishing Platform, 9781523838851, 366pp.
Publication Date: March 11, 2016
About the Author
CHERYL HOLT is a New York Times, USA Today, and Amazon "Top 100" bestselling author who has published over forty novels. She's also a lawyer and mom, and at age forty, with two babies at home, she started a new career as a commercial fiction writer. She'd hoped to be a suspense novelist, but couldn't sell any of her manuscripts, so she ended up taking a detour into romance where she was stunned to discover that she has a knack for writing some of the world's greatest love stories. Her books have been released to wide acclaim, and she has won or been nominated for many national awards. She is considered to be one of the masters of the romance genre. For many years, she was hailed as "The Queen of Erotic Romance", and she's also revered as "The International Queen of Villains." She is particularly proud to have been named "Best Storyteller of the Year" by the trade magazine Romantic Times BOOK Reviews. She lives and writes in Hollywood, California, and she loves to hear from fans. Visit her website at www.cherylholt.com.