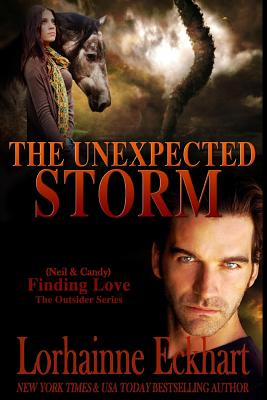 The Unexpected Storm (Paperback)
Createspace Independent Publishing Platform, 9781523882557, 158pp.
Publication Date: February 4, 2016
* Individual store prices may vary.
Description
He can have any woman, except the one he wants.
"You can't help but fall in love with Neil and Candy. Neil is Candy's knight in shining armor" - Reviewer - April
"It is nice to know that a story can be so powerful that a man can consider a woman's feelings and show her that love can conquer all and be lover's and friends" - Reviewer - Theresa
In THE UNEXPECTED STORM, Candy McRae is barely making ends meet. She's heartbroken and alone with her horses and baby donkey living hand to mouth on the most sought after oceanfront property. Everyone wants it, including the wealthy hunk who owns the estate next door. And when he offers to buy it she refuses. His first mistake was asking her out. His second was not meaning it. Even though he could solve all her problems, she'd rather sell to the devil himself.
Smart and sexy Neil Friessen is quite the catch. He's not only drop dead gorgeous with a body women dream of. He's wealthy, stubborn, arrogant and thoughtful. He attracts women, and million dollar deals, and plans to build a resort on the property next to his. He has the plans, the money, and the resources. The only thing standing between him and his sweet deal is the dark haired beauty who owns the property he wants.
When a storm forces everyone to evacuate Candy refuses to leave her animals, and her property. But it's Neil who shows up, Neil who rescues her. Except by the time he finds her, vulnerable and hurt, they can't get out. Neil is alone with the one woman he's always wanted. And he'll have to choose between this dark haired beauty that fills his dreams every night, and building his million dollar resort.
THE OUTSIDER SERIES:
The Forgotten Child (Brad & Emily)
A Baby And A Wedding (Bridge Short Story)
Fallen Hero (Andy, Jed & Diana)
The Search (Bridge Short Story)
The Awakening (Andy & Laura)
Secrets (Jed & Diana)
Runaway(Andy & Laura)
Overdue (Bridge Short Story)
The Unexpected Storm (Neil & Candy)
The Wedding (Neil & Candy)
Other Series you may enjoy:
THE FRIESSENS: A NEW BEGINNING: The return of The Friessen men and the women they love in this emotionally charged Family Saga which follows THE OUTSIDER SERIES.
THE FRIESSENS now spanning three series returns with the family fans worldwide have fallen in love with. A big family romance series filled with love, second chances, commitment, hope, strong flawed characters you can related to.
THE WILDE BROTHERS: Come and meet the Wilde Brothers of Idaho. Joe, Logan, Ben, Samuel, and Jake. You'll love the western flair and hot men and strong women in this romantic family saga.
THE SAVED SERIES is a hot military suspense with a love story set in a military setting. "This was a hard book to put down A tough captain of a war ship finds a pregnant young girl in a dinghy alone in the ocean " - Audrey
"The story that unfolds after Abby is rescued is a story of love and how it can change even the toughest man." From Crazy fast reader
WALK THE RIGHT ROAD SERIES: "The Choice will leave you questioning your own morals and motivations and leave you asking others what they would do in that same situation. This is a genre-bending novel that will surprise you" from JRA.
"Rarely have I spent time reading a series that had me feeling every thought and emotion." From Mary Ellen
KATE AND WALKER: DEADLY DANGEROUS & DESIRED: A high stakes suspense and sizzling red hot romance
MARRIED IN MONTANA: A western romance series filled with family, love and loyalty.

or
Not Currently Available for Direct Purchase