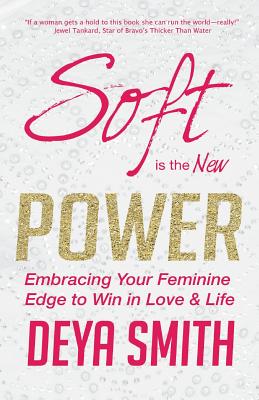 Soft Is the New Power (Paperback)
Embracing Your Feminine Edge to Win in Love & Life
Createspace Independent Publishing Platform, 9781523956326, 166pp.
Publication Date: March 31, 2016
* Individual store prices may vary.
Description
If it is possible for a book to be healing, spiritual, smart, and sexy at the same time, then this is it. From Bestselling author and creator of the Man Whisperer Multimedia Series comes the new book Soft is the New Power by Deya "Direct" Smith. What if everything you thought you understood about communicating with men was wrong? Would you be willing to re-calibrate your thinking to possess the love and life you desire? Do you realize that you have an innate power to attract amazing relationships through your ability to communicate using a soft and strategic strategy? Smith shows readers how to return to the organic softness that is feminine power. Many women are losing themselves in an effort to keep up with the male-dominated workplace and the new-age approaches to dating and relationships. Too many successful and ambitious career driven women for various reasons tend to use masculine or hard energy to survive or succeed, and as a result, not only are they exhausted, but they become hardened in communications. Smith encourages readers to take a stronger, yet softer position to gain what you want. Women have an innate power to attract amazing relationships through initiative, understanding and acceptance, coupled with the ability to approach life with a soft touch. Knowing how and when to turn on your power, does not negate the need to play hard ball when necessary, but it definitely gives you an advantage in work, play and at home. God made us the softer sex for a reason. Use it to your advantage This book will help you to: - Identify and embrace your feminine power and emotional intelligence; - Appreciate that being soft does not make you weak it makes you wise; - Maximize your soft power to attract and develop personal and professional relationships; - Give yourself permission to succeed and win like a woman and not like a man; - Become a 'Man Whisperer' and learn the art of speaking to a man's heart. PRAISES FOR SOFT IS THE NEW POWER: "The Man Whisperer" has created a powerful new guide. Soft is the New Power is a book that will speak to the soul of many women. Our generation has been taught that in order to achieve and succeed, we needed to deny our feminine powers. Miss Deya Direct dismisses this BS and tells the truth We need to bring all of ourselves to rule the world from the boardroom to the bedroom. Deya presents the keys to feminine power and success. If you want to rock your mission with woman-power, then this book is for you. I will definitely be sharing it with my life coaching clients and speaking audiences." - Abiola Abrams, ESSENCE advice columnist and founder of SacredBombshell.com "Ben & I have been married for almost 16 years...and I must say because of what Deya's book "Soft Is the New Power" is talking about every woman should go out and get it...because it's a key ingredient in that if a woman gets a hold to it she can run the world - really " - Jewel Tankard, Star of Bravo's Thicker Than Water, Author of Millionairess Lifestyle Understanding the Price and the Process "Deya "Direct" Smith has been the resident "Man Whisperer" for the Single Wives Club, and has helped us to manifest our soft power, in her much-anticipated new book "Soft is the New Power," I am excited that women everywhere will finally get the tools they need to realize that you don't have to be masculine because you can win like a woman, being fly & feminine " - Koereyelle Dubose, Founder of The Single Wives Club "Today's woman is stronger. She is a survivor. She is more prepared and better equipped than ever before to be a BOSS But during this transformation some of our women have lost their, sweet, sensitive, nurturing side. You can have your respect and adoration in every aspect of your life, but you can't be all soft and you can't be all powerful. Deya teaches us in her new book, "Soft Is the New Power" how to be both at the same time." - Steven James Dixon, Founder of LoveCapacity.com.
About the Author
Affectionately known as "Deya Direct!" -- Amazon #1 bestseller Deya Smith is an author of three books: "Touch Yourself, 30 Ways to Boldly Live, Love and Let Go," "Failure is Fuel," and now "Soft is the New Power: Embracing Your Femininity to Win in Love & Life." Deya is Lead Content Producer for the Award-winning, nationally syndicated Tom Joyner Morning Show (TJMS), which she has produced for over8 years, reaching an 8+ million audience daily; a former Miss Black USA and a creator of "The Man Whisperer Series" which is a multimedia panel and course that teaches women the art of connecting to a man's heart. As an active participant in her community, and the creator of the social media community Fly and Fabulous Women of Purpose, Deya has served as a spokesperson and advocate for multiple HIV/AIDS programs such as: The American Red Cross HIV/AIDS Program, The National Minority AIDS Council and the AIDS Healthcare Foundation. As a personality and veteran producer, her interviewing style and keen ability to create a safe space for even A-list celebrities to openly share, has garnered her the title of 'The Go-to-Girlfriend'. Her audience appreciates how she is able to address the heart of the matter in an empathetic and entertaining way. Known for her direct and provocative communication style, Deya has offered guest commentary on FOX News, America's Black Forum, NBC News Washington D.C., News One Now with Roland Martin on TV One, The Exhale Show on Aspire TV, HelloBeautiful.com, 100.3 The Beat. As a speaker, Deya has appeared at many universities including UCONN, Yale, Quinnipiac College, Hampton, North Carolina A&T and Florida A&M University. She has also been a frequent panelist and moderator for events including: The Tom Joyner Fantastic Voyage Cruise, TD Jakes' MegaFest, and more. In her recent title "Soft is the new Power," Deya shows readers how to tap into their God-given authority, intuition and femininity to experience the ultimate success in love and life. Originally from New Haven, CT., Deya is a graduate of Howard University with a BFA in Theatre. Deya now resides in Dallas, TX and is engaged to be married. Her third book "Soft is the New Power" is available for pre-orders now. For more information go to www.Deyadirect.net