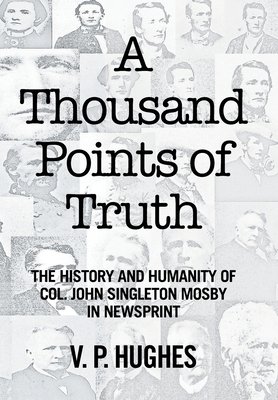 A Thousand Points of Truth
The History and Humanity of Col. John Singleton Mosby in Newsprint
Hardcover

* Individual store prices may vary.
Other Editions of This Title:
Paperback (8/18/2016)
Description
My interest in Colonel John Singleton Mosby began in 1950. However, it wasn't until 2002 that it led to extensive research on the subject, centered upon newspaper reports on the man begun during the Civil War and continued throughout-and even after-his life. And while I rejected Virgil Carrington Jones's observation on Mosby, contained in the preface of this work, I did not contemplate writing this book until an even more disparaging observation came to my attention during my research. The comment was contained in an article in the Ponchatoula Times of May 26, 1963, as part of a six-article series written by Bernard Vincent McMahon, entitled The Gray Ghost of the Confederacy. Mr. McMahon, in turn, based his comment upon General Omar Bradley's judgment of what might have been the postwar life of General George Patton: "Now substitute Mosby for General Patton in the book 'A General's Life, ' by Omar Bradley . . . 'I believe it was better for General Patton Mosby] and his professional reputation that he died when he did . . . He would have gone into retirement hungering for the old limelight, beyond doubt indiscreetly sounding off on any subject anytime, any place. In time he would have become a boring parody of himself-a decrepit, bitter, pitiful figure, unwittingly debasing the legend'" (emphasis mine). McMahon, however, only proffered in his writings the widely accepted view of John Mosby held by many, if not most. However, like General Ulysses S. Grant, I have come to know Colonel Mosby rather more intimately through the testimony of countless witnesses over a span of 150 years, and I believe that it is time for those who deeply respect John Mosby the soldier to now also respect John Mosby the man. A century ago, the book of John Singleton Mosby's life closed. It is my hope that this book will validate the claim he made during that life that he would be vindicated by time. V. P. Hughes.
Xlibris Us, 9781524527198, 792pp.
Publication Date: August 18, 2016
or
Not Currently Available for Direct Purchase