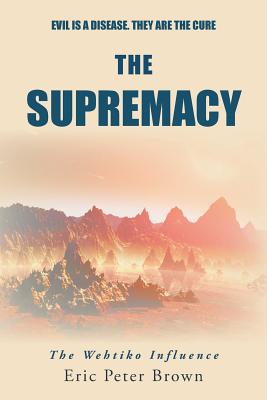 The Supremacy
The Wehtiko Influence
Paperback

* Individual store prices may vary.
Other Editions of This Title:
Hardcover (7/6/2020)
Hardcover (11/9/2016)
Description
In the Jhanctum galaxy, far beyond ours, a highly communicable contagion called the Wehtiko Influence has inexplicably escalated in its infection rate that is normally manageable by the unwavering vigilances of the Qi-Tahh Supremacy. The outbreak began thousands of years ago, but its origin remains unknown, its actions are unpredictable and the cure is still as elusive as the contagion itself. This insidious strain does not affect all who are exposed, it cannot be eradicated and once Influenced, neither the host nor their planet can ever be completely cleansed of its heinous effects. The Wehtiko is not an organism or a viral-based pathogen, it is an affliction of evil that unleashes the darkest nature of those Influenced.
Mobilized by the Council to combat the threat, the Supremacy fights to maintain order over the populists' gone mad and unravel the mystery behind the escalation. Planet Thada Argen is discovered to be ground zero, and home to two peaceful coexisting species, the Dir-nays, a pygmy race, and the Eanois; humanoids with whom they have shared friendship and trade for decades.
The Zahnobein Qi-Tahh are sent to inoculate the Influenced and prevent the Wehtiko from becoming a full-blown contagion that if not stopped here, will engulf their galaxy and spread beyond unchecked. However, during a skirmish with the Pygmies, the Elphah and eight Pridesmen are mysteriously whisked away leaving those remaining to cope with the Dir-nays and an unforeseen occurrence that jeopardizes the success of their mission. They must delay searching for their missing family members and complete the inoculation assignment within the allotted time, or the Life Protectors will be forced to eradicate all existing life on the planet...including their own Pridesmen.
Authorhouse, 9781524624811, 268pp.
Publication Date: November 9, 2016
or
Not Currently Available for Direct Purchase