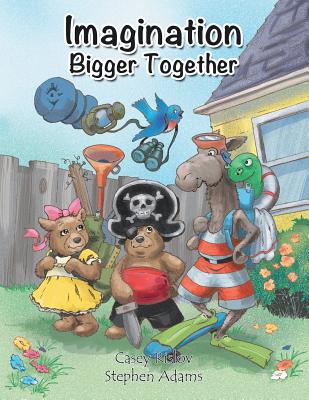 Imagination Bigger Together (Paperback)
Authorhouse, 9781524658335, 32pp.
Publication Date: January 13, 2017
* Individual store prices may vary.
Description
Imagination Inspires Adventure
What would life be without imagination? You would forget the taste of mud cakes, the touch of colorful gems on a short hike, and the smell of the salty sea as you look for treasure all within your backyard. You would miss seeing your child's smiles and great ideas, or the sound of laughter as he or she finds the new imaginary friend or foe. You would miss out on your child's next adventure play out in your own home. Read this story packed full of creativity and watch as your child is inspired to dream.
"This picture book is packed with fun ideas that even the best high tech device can't offer. Beware, though, it may include getting dirty " - Readers' Favorite Book Reviews
"From trudging through the mud to digging for dinosaurs, this book is full of adventures. Casey Rislov inspires children to be explorers of their very own imagination" - Leah Stover, Bookstore Owner
"With lively visual charm and an engaging text, this tale encourages children to explore worlds of their own imagining" - Kirkus Reviews