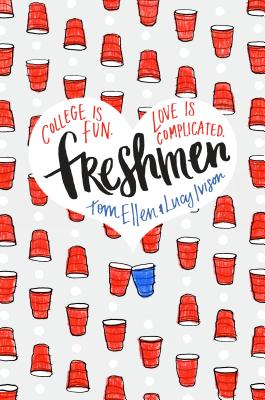 Freshmen (Hardcover)
Delacorte Press, 9781524701789, 368pp.
Publication Date: June 12, 2018
Other Editions of This Title:
Paperback (6/18/2019)
* Individual store prices may vary.
Description
A laugh-out-loud, realistic portrayal of a freshman year in college for fans of Emergency Contact, Broad City, and The Bold Type.

Getting in is just the beginning.

Phoebe can't wait to get to college. On her own, discovering new things, no curfew . . . she'll be free. And she'll be totally different: cooler, prettier, smarter . . . the perfect potential girlfriend. Convenient: the only person from her high school also going to York is her longtime crush, Luke.

Luke didn't set out to redefine himself, but as soon as he arrives on campus, he finds himself dumping his long-term long-distance girlfriend. And the changes don't stop there. In fact, being on a soccer team is the only thing that stays the same.

Just when things start looking up (and Phoebe and Luke start hooking up), drama looms on the horizon. Rumors swirl about the Wall of Shame, a secret text chain run by Luke's soccer team, filled with compromising photos of girls. As the women on campus determine to expose the team and shut down the account, Luke and Phoebe find themselves grappling with confusing feelings and wondering how they'll ever make it through freshman year.

"Ellen and Ivison absolutely nail teen dialogue, taking readers on a laugh-out-loud-funny journey through the ups and sometimes horrifying downs of freshman year. Flirty, bawdy, sloppy, and buckets of fun." --Booklist

"Marked by a refreshing absence of mean girl drama, well-rounded and caring boy characters, fluid writing, expert pacing, and genuine humor...full of heart." --Kirkus Reviews

"Captures the central experiences of starting college...[an] entertaining novel." --Publishers Weekly

"A realistic yet sharply humorous portrayal of two people trying to find themselves and their way forward." --VOYA
About the Author
Tom Ellen and Lucy Ivison met at the end of high school and quickly became sweethearts. Though they broke up in college, they remain best friends. Lucy is a librarian at a girls' school in central London, where she gets most of her inspiration. Tom is a journalist and has written for Time Out, Vice, ESPN, Glamour, and many other publications. Their first book, A Totally Awkward Love Story, was partially inspired by their own high school relationship, with Tom writing Sam's chapters and Lucy writing Hannah's. Freshmen is their second novel together. Follow them on Twitter at @lucyivison.
Praise For Freshmen…
PRAISE FOR FRESHMEN:

"Ellen and Ivison absolutely nail teen dialogue, taking readers on a laugh-out-loud-funny journey through the ups and sometimes horrifying downs of freshman year. Flirty, bawdy, sloppy, and buckets of fun." --Booklist

"Marked by a refreshing absence of mean girl drama, well-rounded and caring boy characters, fluid writing, expert pacing, and genuine humor...full of heart." --Kirkus Reviews

"Captures the central experiences of starting college...[an] entertaining novel." --Publishers Weekly

"[For] readers looking ahead to the tumult and triumph of being away from home and "adulting"...An engrossing story enhanced by its timely connection to the #MeToo movement." —SLJ

"Readers will experience a wild ride through a tumultuous first semester. Those heading to college—or even thinking about it—will appreciate the realistic yet sharply humorous portrayal of two people trying to find themselves and their way forward." —VOYA

PRAISE FOR TOM ELLEN AND LUCY IVISON'S A TOTALLY AWKWARD LOVE STORY:

"Laugh-out-loud, totally relatable." —Bustle.com 

"Filled with madcap, hilarious moments and deep romance, A Totally Awkward Love Story will have readers laughing out loud as they commiserate with Sam and Hannah and remember their own awkward moments." —Hypable.com

"An engaging and endearing story of what it is to find your place in the world and a person to share it with." —Kirkus Reviews

"Raunchy, irreverent slapstick in the vein of Louise Rennison's Angus, Thongs, and Full-Frontal Snogging." —Booklist

"A fun romantic comedy...surprisingly smooth, well-crafted, and enjoyable." —School Library Journal

"Well-written...will have readers chuckling throughout." —San Francisco Book Review

"Told in alternating narratives…both characters are relatable and charming in unique ways." —Horn Book Guide Reviews