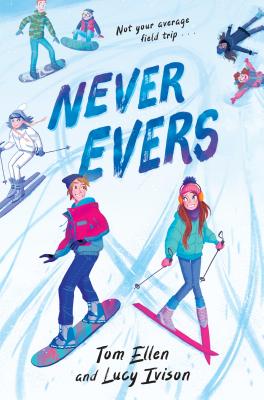 Never Evers (Hardcover)
Delacorte Books for Young Readers, 9781524701826, 304pp.
Publication Date: December 4, 2018
* Individual store prices may vary.
Description
For fans of Jacky Ha-Ha and Disney Channel's Girl Meets World, this hilarious, tween-friendly story about a middle school ski trip is full of friendship, crushes, and the mishaps and misunderstandings that are bound to occur in seventh grade!

An Amazon Best Book of December 2018!

Thirteen-year-old Mouse is pretty sure her life is totally over. Now that she's been kicked out of ballet school, she has to go on her new school's ski trip basically knowing no one. Well, except too-cool-for-school Keira and Crazy Connie-May (and her adorable hamster, Mr. Jambon).

Meanwhile, Jack's life is just about to begin. He's on the way to the slopes with his school too, and all he can think about is how to successfully get his first kiss.

But with new friends by her side, Mouse has more fun skiing and building igloos than she expected. And when Jack catches Mouse's eye in the at the ski resort, he's smitten. All's well--that is, until mega pop star Roland arrives on the scene and sets his sights on Mouse, too! A week in the snow is about to get complicated. . . .

"The entwined stories are brilliantly paced...[and] riotously funny...under, around, and through the laughs, there are questions (and answers!) about friendship, image, and forgiveness, for others and for oneself." --Booklist (starred review)

"Filled with awkward misunderstandings, mistaken identities, and missed opportunities...this is adolescent drama at its best." --Kirkus Reviews
About the Author
Tom Ellen and Lucy Ivison met at the end of high school and quickly became sweethearts. Though they broke up in college, they remain best friends. Lucy is a librarian at a girls' school in central London, where she gets most of her inspiration. Tom is a journalist and has written for Time Out, Vice, ESPN, Glamour, and many other publications. Their first book, A Totally Awkward Love Story, was partially inspired by their own high school relationship, with Tom writing Sam's chapters and Lucy writing Hannah's. Never Evers is their third novel together. Follow them on Twitter at @lucyivison.
Praise For Never Evers…
"This isn't, however, just about barely teen angst or romance; under, around, and through the laughs, there are questions (and answers!) about friendship, image, and forgiveness, for others and for oneself." —Booklist, starred review

"Filled with awkward misunderstandings, mistaken identities, and missed opportunities...this is adolescent drama at its best." —Kirkus Reviews

"Perfectly captures the struggle to be brave in face of crushed dreams and dreamy crushes....a worthy addition for middle grade and middle school collections." —School Library Journal