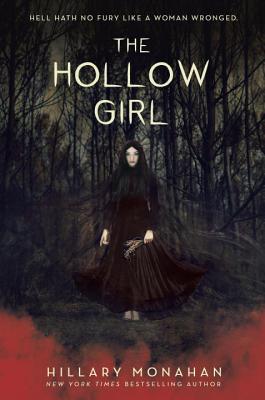 The Hollow Girl (Hardcover)
Delacorte Press, 9781524701864, 272pp.
Publication Date: October 10, 2017
* Individual store prices may vary.
Description
For fans of Asylum, Anna Dressed in Blood, and The Haunting of Sunshine Girl comes a new feminist horror novel from the New York Times bestselling author of Mary: The Summoning.
 
Five boys attacked her.
Now they must repay her with their blood and flesh.
 
Bethan is the apprentice to a green healer named Drina in a clan of Welsh Romanies. Her life is happy and ordered and modest, as required by Roma custom, except for one thing: Silas, the son of the chieftain, has been secretly harassing her.
 
One night, Silas and his friends brutally assault Bethan and a half-Roma friend, Martyn. As empty and hopeless as she feels from the attack, she asks Drina to bring Martyn back from death's door. "There is always a price for this kind of magic," Drina warns. The way to save him is gruesome. Bethan must collect grisly pieces to fuel the spell: an ear, some hair, an eye, a nose, and fingers.
 
She gives the boys who assaulted her a chance to come forward and apologize. And when they don't, she knows exactly where to collect her ingredients to save Martyn. 

"Hits the horrifying notes: dread and darkness and grisly ends, yet somehow still feels full of heart…I couldn't tear my eyes away." —Kendare Blake, NYT bestselling author of THREE DARK CROWNS

"A richly woven tapestry of magic, betrayal, and revenge told by a strong, spirited heroine who won my heart, broke it to pieces, and then healed it anew. Brava!" —Dawn Kurtagich, award-winning author of The Dead House

"A cathartic revenge fantasy...Quentin Tarantino-style." —Kirkus Reviews

"An eerie, unsettling novel that will linger long with readers." —Booklist

"Dark, intense, and full of magic." —VOYA
About the Author
Hillary Monahan lives in Massachusetts with her husband, hounds, and four cats. She loves horror, humor, feminism, and makeup. The inspiration for The Hollow Girl came from her Roma-born grandmother. Her YA book Mary: The Summoning hit the New York Times ebook bestseller list, and she is currently working on more dark things for the YA market.
Praise For The Hollow Girl…
"A riveting tale of pain and revenge, Hilary Monahan's The Hollow Girl hits the horrifying notes—dread and darkness and grisly ends—yet somehow still feels full of heart. There is magic here, and power, and Monahan's Romani background shines in every detail. I couldn't tear my eyes away." —Kendare Blake, New York Times bestselling author of Three Dark Crowns
 
"A richly woven tapestry of magic, betrayal, and revenge told by a strong, spirited heroine who won my heart, broke it to pieces, and then healed it anew. Brava!" —Dawn Kurtagich, award-winning author of The Dead House
 
"A dark tale of revenge and justice in which fighting back means pushing the boundaries of what it can mean to be female." —Mindy McGinnis, Edgar Award–winning author of The Female of the Species
 
"Hillary Monahan's The Hollow Girl is tense and raw, an excellent novel of pain and intimate magic. There is ugly human darkness here, but there is also hope and love and family. Monahan is a natural-born storyteller whose words kept me reading long into the night. Terrific!" —Christopher Golden, New York Times bestselling author of Ararat and Snowblind

"The Hollow Girl is required reading: a tour de force of female power, craft, and emotion." —Sarah Gailey, author of River of Teeth

"A cathartic revenge fantasy...Quentin Tarantino-style."—Kirkus Reviews

"Both compelling and terrifying, this is a tense tale of love and fear...has strong appeal for fans of horror, supernatural, or revenge stories." –SLJ

"Monahan portrays Bethan's slow physical and emotional recoveries with nuance and sensitivity. Bethan's righteous desire for retribution [is] tempered with an awareness of what she needs to protect and heal her own soul, and the conclusion leaves her looking toward the future with hope."—Horn Book Reviews

"Monahan, who was inspired by the stories her grandmother told, approaches this subject, and Bethan's culture, with delicacy and care...an eerie, unsettling novel that will linger long with readers." —Booklist

"[Bethan's] vulnerability, anger, and utter heartbreak bridge time to give voice to those experiencing and surviving assault and abuse." —Bulletin

"Dark, intense, and full of magic...a great addition for libraries with teen readers of dark magic and horror stories." —VOYA

"Both witchy goodness and classic body horror. Not for the squeamish, The Hollow Girl serves up revenge to absolutely everyone deserving of punishment."—Rue Morgue