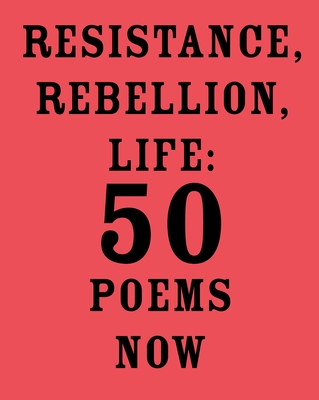 Resistance, Rebellion, Life
50 Poems Now
Paperback

* Individual store prices may vary.
Description
Poets on the march: 50 crucial poems written in response to the current political climate, selected and introduced by the Ohio Poet Laureate—and son of immigrants—Amit Majmudar.


In a political atmosphere where language and even meaning itself are continually under threat, poetry has a critical role to play. And our poets have been responding—in the streets and at their desks, demanding a full accounting from themselves and from their nation. Majmudar's elegant introduction to these vital poems reminds us that "false stories take a lot of killing because they are made of language. Because they are made of language, though, they can be killed." From Solmaz Sharif and Eileen Myles to Kevin Young and Juan Felipe Herrera, American poets of diverse styles and strategies have contributed their truths: scenes from the front lines of resistance, and from the interior of our collective conscience. A final cento by Majmudar—a poem including at least one line or phrase from each of the poems in the volume—celebrates the robust multiplicity of voices in this book and in America now.
Praise For Resistance, Rebellion, Life: 50 Poems Now…
"A pocket-sized literary insurgence . . . Such a souvenir—a dynamic creation, a reckoning." —Diana Whitney, San Francisco Chronicle

"The slim volume, which includes work by Robert Pinsky, Christian Wiman, Ada Limón, Sharon Olds, Kevin Young and Lucie Brock-Broido, questions how we reached this point in history, rails against fake news and explores the meaning of truth in the Trump era." —Elizabeth Lund, The Washington Post

"An anthology that asks readers to put themselves at the intersection of the personal and the political . . . A welcome tool for the essential task of patriotism, and many others." —Barbara Berman, The Rumpus

Knopf, 9781524711320, 128pp.
Publication Date: May 23, 2017
About the Author
AMIT MAJMUDAR is a diagnostic nuclear radiologist who lives in Westerville, Ohio with his wife and three children. He is the author of three volumes of poetry, most recently Dothead. His first collection, 0°, 0°, was a finalist for the Poetry Society of America's Norma Farber First Book Award; his second, Heaven and Earth, was selected for the 2011 Donald Justice Prize. His work has appeared in The New York Times, The New Yorker, The Best of the Best American Poetry, and many other places, including the eleventh edition of The Norton Introduction to Literature. He blogs for the Kenyon Review and is also a critically acclaimed novelist. His next volume, forthcoming from Knopf in 2018, is Godsong, a verse translation from the Sanskrit of the Bhagavad Gita.
or
Not Currently Available for Direct Purchase