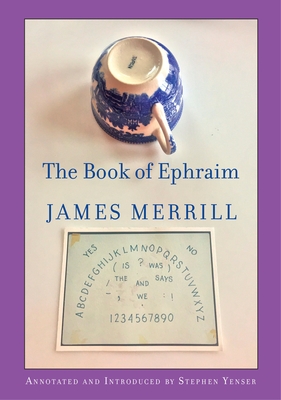 The Book of Ephraim (Paperback)
Knopf, 9781524711344, 216pp.
Publication Date: April 3, 2018
* Individual store prices may vary.
Description
For the first time in a stand-alone edition, the acclaimed poet's classic poem about his communication with Ephraim, a guiding spirit in the Other World, is here introduced and annotated by poet and Merrill scholar Stephen Yenser.

"The Book of Ephraim," which first appeared as the final poem in James Merrill's Pulitzer-winning volume Divine Comedies (1976), tells the story of how he and his partner David Jackson (JM and DJ as they came to be known) embarked on their experiments with the Ouija board and how they conversed after a fashion with great writers and thinkers of the past, especially in regard to the state of the increasingly imperiled planet Earth. One of the most ambitious long poems in in English in the twentieth century, originally conceived as complete in itself, it was to become the first part of Merrill's epic The Changing Light at Sandover (1982), the multiple prize-winning volume still in print. Merrill's "supreme tribute to the web of the world and the convergence of means and meanings everywhere within it" is introduced and annotated by one of his literary executors, Stephen Yenser, in a volume that will gratify veteran readers and entice new ones.
About the Author
JAMES MERRILL (1926-1995), one of the foremost American poets of the later twentieth century, was the winner of numerous awards for his work, including two National Book Awards, the Bollingen Prize, the Pulitzer Prize, and the first Bobbit Prize from the Library of Congress. From The Black Swan (1946) through A Scattering of Salts (1995) he published eleven volumes of poems, in addition to the trilogy comprising The Changing Light at Sandover. He also published two plays, two novels, a collection of essays and interviews, and a memoir. He was a chancellor of the Academy of American Poets and a member of the American Academy of Arts and Letters.

STEPHEN YENSER has written three books of criticism, among them The Consuming Myth: The Work of James Merrill, and three volumes of poems. He is Distinguished Professor Emeritus of English at UCLA and the coeditor with J. D. McClatchy of Merrill's Collected Poems,The Changing Light at Sandover, Collected Novels and Plays, and Collected Prose.
Praise For The Book of Ephraim…
"A work of remarkable range . . . Like no other poem in the English Language . . . The Book of Ephraim is a profound piece of occult narrative and chance compositional practices, overlaid with the virtuosity and penetrating wit Merrill was known for. . . . [Ready] to be discovered by a new generation of readers." —Meghan O'Rourke, Vulture

"The very best of the poetry of James Merrill . . . brilliantly annotated and introduced. . . . No other critic of James Merrill could have annotated this poem with such elegance and attentiveness, erudition and love . . . Thorough without being exhaustive; suggestive rather than definitive; a beginning of new explorations . . . Yenser generously allows for a multiplicity of meanings, rarely forcing a particular reading and at all times refusing to limit the complexity and capaciousness of Merrill's linguistic imagination and the inventiveness of his wordplay. He unravels intricate etymologies and draws connections between themes and theories from section to section of the poem, opening up the possibilities of Merrill's poem to readers rather than closing them down. . . One of the greatest of Merrill's literary achievements in his lifetime, [The Book of Ephraim] is also one of the great American long poems of the last century. Stephen Yenser's new annotated edition of the poem preserves and extends that legacy to ours." —Richie Hoffman, Los Angeles Review of Books

"Fascinating . . . Expansive . . . A compelling appreciation, orientation, and grotto of unexpected facts. . . . Yenser has a light touch: he leaves space for readers to form their own ideas about the poem's concerns, digressions, and connections. [His] references both help one get one's bearings, and help make one aware of the poem's vivid 'tribute to the convergence of means and meaning' . . . An absorbing, lively contribution." —Calista McRae, The Kenyon Review