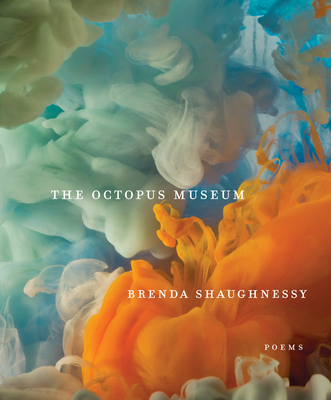 The Octopus Museum
Poems
Paperback

* Individual store prices may vary.
Other Editions of This Title:
Hardcover (3/19/2019)
Description
Now in paperback, this collection of bold and scathingly beautiful feminist poems imagines what comes after our current age of environmental destruction, racism, sexism, and divisive politics.

Informed as much by Brenda Shaughnessy's worst fears as a mother as they are by her superb craft as a poet, the poems in The Octopus Museum blaze forth from her pen: in these pages, we see that what was once a generalized fear for our children is now hyper-reasonable, specific, and multiple: school shootings, nuclear attack, loss of health care, a polluted planet. As Shaughnessy conjures our potential future, she movingly (and often with humor) envisions an age where cephalopods might rule over humankind, a fate she suggests we may just deserve after destroying their oceans. These heartbreaking, terrified poems are the battle cry of a woman who is fighting for the survival of the world she loves, and a stirring exhibition of who we are as a civilization.
Praise For The Octopus Museum: Poems…
*Named one of the 100 Notable Books of 2019 by The New York Times*
*Named a Best Book of 2019 by Publishers Weekly and Library Journal*

"Her poetry has a lovely in-betweenness, toggling back and forth between beauty and abruptness, humor and pathos . . . [Her poems] offer a strikingly original meditation on what it means to be a human with moving parts and contradictions." —Marie Myung-Ok Lee, Oprah Daily

"Stirring . . . Wildly inventive and sharp to an edge . . . The award-winning poet's work catapults us into an imagined future: octopi rule mankind after we have destroyed their oceans and our own civilization. They keep us as museum specimens (perhaps for our own good) . . . The museum is crowded with human mistakes—racism, sexism, violence. But Shaughnessy's humor offers a respite. She presents a book of surprisingly funny post-apocalyptic poems . . . This brilliant and tightly crafted collection acts both as a warning and an investigation into where we are now." —Sarah Herrington, Los Angeles Review of Books

"Like octopuses, Shaughnessy's poems manage to be both fleshy and cerebral, concerned with a self that breathes through fragile skin. She offers up these beautiful innards through her words; they twist agony into acceptance only to return and be picked apart again, a recognizable cycle of motherhood and womanhood—humanhood, depending on your definition." —Nikki Shaner-Bradford, The Paris Review
 
"In a heightened conversational tone, utterly accessible yet with a punch of ideas so swift and rich as to make multiple readings a necessary pleasure, this new collection investigates identity, human hunger for what we maybe can't have, and how we see and feel the world differently when we have children." —Library Journal (Best Books 2019)

"Shaughnessy can write the kind of line that is confusing in its beauty, whose beauty exceeds its sense, [lines] that can be read and reread without exhausting their potential meaning." —Elisa Gabbert, The New York Times Book Review

"An immersive tour of social and ecological calamities, as well as an elegy for the present." —Matthew Johnstone, BookPage

"A highly original look at the world as it is today and the dangers we seem intent on inflicting upon ourselves . . . Shaughnessy writes startling poems that are both intellectually wide-ranging and emotionally riveting." —Ginny Lowe Connors, New York Journal of Books

"Part sci-fi and part reality, The Octopus Museum is as unsettling as it is hypnotic. The poems take you into an alternate reality where, because of humanity's shortcomings, cephalopods rule the earth. Brimming with maternal anxiety, scathing humor, and enduring terror, these poems are nothing short of a call to action." —Logan Voss, Fupping

"Musical, expressive lines that triumph in their complexity and grace . . . With an unparalleled ear for language, Shaughnessy excels at making the tragic transcendent." —Publishers Weekly (starred review)

"A breakthrough book . . . Ambitious in concept and structure." —Nick Ripatrazone, The Millions

Knopf, 9781524711498, 96pp.
Publication Date: June 29, 2021
About the Author
BRENDA SHAUGHNESSY is the author of five books of poetry, the recipient of a 2018 Literature Award from the American Academy of Arts and Letters, and a Professor of English and Creative Writing at Rutgers University-Newark. She lives with her family in New Jersey.

or
Not Currently Available for Direct Purchase