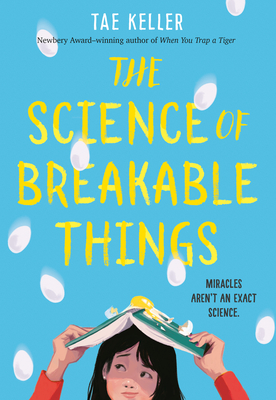 The Science of Breakable Things (Hardcover)
Random House Books for Young Readers, 9781524715663, 304pp.
Publication Date: March 6, 2018
* Individual store prices may vary.
Description
An emotionally-charged new classic about the science of hope, love, and miracles! Natalie's uplifting story of using the scientific process to "save" her mother from depression is sure to take root in readers' hearts!

How do you grow a miracle?
For the record, this is not the question Mr. Neely is looking for when he says everyone in class must answer an important question using the scientific process. But Natalie's botanist mother is suffering from depression, so this is The Question that's important to Natalie. When Mr. Neely suggests that she enter an egg drop competition, Natalie has hope.

Eggs are breakable. Hope is not.
Natalie has a secret plan for the prize money. She's going to fly her mother to see the Cobalt Blue Orchids--flowers that survive against impossible odds. The magical flowers are sure to inspire her mother to love life again. As Natalie prepares for the competition, she will discover that talking about problems is like taking a plant out of a dark cupboard and giving it light.

An extraordinary debut about the coming-of-age moment when kids realize that parents are people, too. Think THE FOURTEENTH GOLDFISH meets THE THING ABOUT JELLYFISH.

"A compassionate glimpse of mental illness accessible to a broad audience."
--Kirkus Reviews, STARRED REVIEW

"Keller crafts a winning story full of heart and action."
--Booklist, STARRED REVIEW

"Natalie is an engaging narrator whose struggles at home and with her peers ring true. . . . Readers will be eager to see what Natalie chooses to investigate next."
--Deborah Hopkinson, award-winning author

"Inspiring, emotional, and heartwarming."
--Melissa Savage, author of Lemons
About the Author
TAE KELLER grew up in Honolulu, Hawaii, where she wrote stories, ate spam musubis, and participated in her school's egg drop competition. (She did not win.) After graduating from Bryn Mawr College, she moved to New York City to work in publishing, and now has a very stubborn Yorkie and a multitude of books as roommates. Visit her at TaeKeller.com, follow her on Twitter at @TaeKeller, and be sure to join her newsletter bit.ly/taekellernews.
Praise For The Science of Breakable Things…
A Booklist Reader Best Book of the Month
A Brightly Best Children's Book of the Month

"Natalie is an engaging narrator whose struggles at home and with her peers ring true."
—Deborah Hopkinson, award-winning author

"Inspiring, emotional, and heartwarming."
—Melissa Savage, author of Lemons

"A compassionate glimpse of mental illness accessible to a broad audience."
—Kirkus Reviews, starred

"Aside from the obvious connection to STEM, Keller's layered, accessible story has offers beautifully crafted metaphors, a theme of mending old friendships and creating new ones, and an empowering teacher to a variety of readers. . . . A winning story full of heart and action."
—Booklist, starred

"Natalie's Korean heritage is sensitively explored, as is the central issue of depression."
—Publishers Weekly

"Natalie learns that, as with the egg, people, too, are fragile and need support and padding to break their falls. An emotional story that explores parental depression with realism and empathy."
—School Library Journal

"A sweet and hope-filled story."
—Brightly