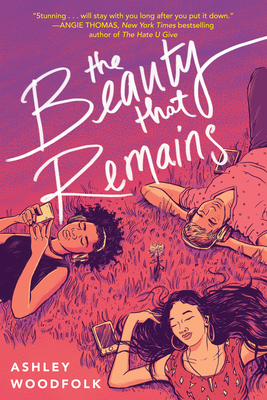 The Beauty That Remains (Paperback)
Ember, 9781524715908, 336pp.
Publication Date: March 12, 2019
Other Editions of This Title:
Digital Audiobook (3/5/2018)
Library Binding (3/6/2018)
Hardcover (3/6/2018)
* Individual store prices may vary.
Description
Told from three diverse points of view, this story of life and love after loss is one Angie Thomas, the #1 New York Times bestselling author of The Hate U Give, believes "will stay with you long after you put it down."

We've lost everything . . . and found ourselves.

Loss pulled Autumn, Shay, and Logan apart. Will music bring them back together?

Autumn always knew exactly who she was: a talented artist and a loyal friend. Shay was defined by two things: her bond with her twin sister, Sasha, and her love of music. And Logan has always turned to writing love songs when his real love life was a little less than perfect.

But when tragedy strikes each of them, somehow music is no longer enough. Now Logan can't stop watching vlogs of his dead ex-boyfriend. Shay is a music blogger who's struggling to keep it together. And Autumn sends messages that she knows can never be answered.

Despite the odds, one band's music will reunite them and prove that after grief, beauty thrives in the people left behind.

"Woodfolk's debut cuts deeply, and then wipes your tears away. Wrenching, heartfelt, and vividly human." --Becky Albertalli, author of Simon vs. the Homo Sapiens Agenda
About the Author
Ashley Woodfolk has loved reading and writing for as long as she can remember. She graduated from Rutgers University with a bachelor of arts in English and currently works in children's book publishing. She writes from a sunny Brooklyn apartment, where she lives with her cute husband and her cuter dog. The Beauty That Remains is her first book, and her sophomore novel, When You Were Everything, comes out in March 2020. Follow her on Twitter at @AshWrites.
Praise For The Beauty That Remains…
"The Beauty that Remains is a stunning, heart-wrenching look at grief that will stay with you long after you put it down. Be prepared to be broken, be prepared to feel whole again." —Angie Thomas, New York Times bestselling author of The Hate U Give

"Woodfolk's debut cuts deeply, and then wipes your tears away. Wrenching, heartfelt, and vividly human." —Becky Albertalli, author of Simon vs. The Homo Sapiens Agenda
 
"The Beauty That Remains is haunting, heart-wrenching, and powerful. A tale of grief that grapples with what's next after you lose a loved one, this book will remind you to hold fast to those you love, share your heart while you have time, and find the music that makes this wild ride of life better. A tearjerker must-read for teens!" —Dhonielle Clayton, author of the Belles series and coauthor of the Tiny Pretty Things series

"This book hurts so good. With three distinct narrators and lyrical prose, Ashley Woodfolk stakes her claim as a fresh new voice to follow in the world of young adult literature." —Julie Murphy, author of Ramona Blue and Dumplin'

"The Beauty That Remains burns warm and bright with the fires of loss, love, and longing, and hums with poetry and song. This is the sort of book that pieces a broken heart back together, stronger than before. —Jeff Zentner, author of The Serpent King 

"If you're looking for a book that truly hits the heart strings, The Beauty That Remains is it." —Seventeen

"A breathtaking YA read about life, death, grieving and healing." —HelloGiggles

"A beautiful, touching, and heartbreakingly realistic portrayal of love and loss from the lives of three different teens." —BuzzFeed

"The Beauty That Remains is an emotional, must-read story of the way music connects us, the way tragedy threatens to break us apart, and the way life can change, for better or worse, in an instant." —Bustle

"In her debut novel, Ashley Woodfolk delivers a moving tale for young readers that will touch mature audiences as well." —Essence

"The self- and life-defining nature of grief and loss captured so well by authors such as John Green isexplored here with humor, intelligence, and grace."—School Library Journal, starred review

"Woodfolk has done an exemplary job of character creating and building. Her three co-protagonists are fully realized, empathetic individuals for whom readers will care. They grow and change believably as they begin to find ways to deal with their grief, and the resolutions of their emotional crises are lucid and deeply satisfying, as, ultimately, is this fine first novel." —Booklist
 
"An ambitious debut from a writer to watch."—Kirkus

"Woodfolk eloquently depicts how 16-year-olds live in the digital and physical worlds, how the latter can amplify the former, how relationships shift after someone dies, and how life goes on, if you let it. "—Publishers Weekly

"The Beauty That Remains is a gut-wrenching tear-jerker that teens are sure to love." —VOYA