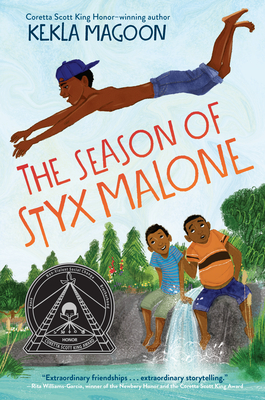 The Season of Styx Malone (Hardcover)
Wendy Lamb Books, 9781524715953, 304pp.
Publication Date: October 16, 2018
Other Editions of This Title:
Digital Audiobook (10/15/2018)
Library Binding (10/16/2018)
* Individual store prices may vary.
Description
A CORETTA SCOTT KING HONOR BOOK

Meet Caleb and Bobby Gene, two brothers embarking on a madcap, heartwarming, one-thing-leads-to-another adventure, for fans of As Brave As You by Jason Reynolds, Merci Suarez Changes Gears by Meg Medina, Front Desk by Kelly Yang, and One Crazy Summer by Rita Williams-Garcia. Friendships are forged, loyalties are tested . . . and miracles just might happen.

Caleb Franklin and his big brother Bobby Gene are excited to have adventures in the woods behind their house. But Caleb dreams of venturing beyond their ordinary small town.

Then Caleb and Bobby Gene meet new neighbor Styx Malone. Styx is sixteen and oozes cool. Styx promises the brothers that together, the three of them can pull off the Great Escalator Trade--exchanging one small thing for something better until they achieve their wildest dream. But as the trades get bigger, the brothers soon find themselves in over their heads. Styx has secrets--secrets so big they could ruin everything.

Five best of the year lists!
NPR, HornBook, Kirkus Reviews, SLJ, Shelf Awareness

Five starred reviews!
"Reminiscent of now-classic works by Katherine Paterson, Natalie Babbitt and Lois Lowry, The Season of Styx Malone brings the darkness of fear and trauma into the bright sun of summer days." --Shelf Awareness, Starred

"Interweaving themes of risk taking and trust, betrayal and forgiveness, Magoon crafts a novel that is genuinely funny, heartbreaking, and uplifting--extraordinary, in fact." --Publishers Weekly, Starred

"Spending time with Styx, Caleb, and Bobby Gene is an experience no reader will soon forget." --The Horn Book, Starred

"Heartening and hopeful, a love letter to black male youth grasping the desires within them, absorbing the worlds around them, striving to be more otherwise than ordinary. Please share." --Kirkus Review, Starred

"A summertime romp filled with trouble-making, camaraderie, and substance." --School Library Journal, Starred
About the Author
Kekla Magoon grew up in Indiana but wanted to see the rest of the world. Now she travels all over the country meeting young readers and sharing her books, which include The Rock and the River, Camo Girl, and Shadows of Sherwood (The Robyn Hoodlum Adventures series). She has won numerous awards for her work, including two Coretta Scott King Honors, an NAACP Image Award, the Walter Award Honor, and inclusion on the National Book Award Long List. She holds a BA from Northwestern University and an MFA in Writing from Vermont College of Fine Arts, where she now serves on faculty. Visit her online at keklamagoon.com and you'll see: she is anything but ordinary!
Praise For The Season of Styx Malone…
"Reminiscent of now-classic works by Katherine Paterson, Natalie Babbitt and Lois Lowry, The Season of Styx Malone brings the darkness of fear and trauma into the bright sun of summer days."
—Shelf Awareness, starred review

"A summertime romp filled with trouble-making, camaraderie, and substance."—School Library Journal, starred review

"Heartening and hopeful, a love letter to black male youth grasping the desires within them, absorbing the worlds around them, striving to be more otherwise than ordinary. Please share."—Kirkus Review, starred review

"Spending time with Styx, Caleb, and Bobby Gene is an experience no reader will soon forget. "—Horn Book, starred review

"Interweaving themes of risk taking and trust, betrayal and forgiveness, Magoon (How It Went Down) crafts a novel that is genuinely funny, heartbreaking, and uplifting—extraordinary, in fact."—Publishers Weekly, starred review